Welcome to The Bad Beekeeper's Blog
---
A Quick Buzz Back through 2014
With another year behind us, we look back at some of our favourite stories from 2014.

Jan 25, 2014    

   Scientists discover: Honey bees that drink wine live longer.

Feb 9, 2014

   Researchers outfit 5,000 bees with RFID tags and watch them pollinate apples.

Mar 23, 2014

   The National Farmers Union came out with a strong environmental position,
   "Corporate profits trumping ecological needs."

Apr 14, 2014

   Beekeepers claim a quarter of bees died while pollinating California's almonds from a toxic mix of poisons used on the trees.

Apr 27, 2014

   The rise of honey prices and cost of bees has led to a rise in bee thefts.

May 25, 2014

   My posting about an anti-GMO march in Toronto that included a funeral for bees resulted in hate mail sent to this blog.
   I must be doing something right!

June 5, 2014

   Our annual participation in the ALS walk/run/wheelchair roll.
   Later in the year we took the ALS Ice Bucket Challenge, too.

June 12, 2014

   A look at the environmental impact of spreading an invasive insect species - the honey bee.

June 26, 2014

   Glow-in-the-dark bees are invented by scientists who genetically modify the humble honey bee.

July 9, 2014

   An indoor beehive is designed by Philips, the super-huge Dutch medical and household manufacturing company.
   What could possibly go wrong?

July 17, 2014

   "Our Bees, Ourselves" is the name of a New York Times Op-ed piece written by UBC's Mark Winston.
   We talk about it so you don't miss the story.

July 23, 2014

   We look at how canola was invented by agriculture scientists.

July 27, 2014

   The Canadian Prime Minister's wife saves a crowd from bee stings by putting the lid back on a mean hive of bees.
   Laureen Harper - Cool in the line of fire.

Aug 2, 2014

   Actor Morgan Freeman takes up beekeeping in a big way on his Mississippi farm.

Aug 24, 2014

   Robotic bees are being built to replace honey bees for pollination.

Sep 4, 2014

   "See You in Court," says Ontario beekeepers who sue Bayer for $450 million.

Sep 9, 2014

   A scientific study of the worst body part to get stung on. It's not where you are thinking.

Sep 19, 2014

   Someone is poisoning honey bees in Manitoba by dumping poison on or in hives. Who could it be?

Oct 9, 2014

   Newspapers around the world claimed that 800,000 bees attacked and killed people in Arizona.
   But the story wasn't quite true.

Oct 18, 2014

   Honey prices, adjusted for inflation, have never been higher.
   Congratulations, beekeepers, for finally getting paid for your work!

Nov 8, 2014

   In A New Origin for Bees? Maybe bees did not originate in Africa, contrary to what we used to think.

Nov 22, 2014

   Is climate change putting bees and flowers "out of sync" with their mutual pollination needs?

Nov 24, 2014

   What does it take to pack 50,000 combs of honey?

Dec 2, 2014

   Hive beetles arrive in Europe - yuck!

Dec 8, 2014

   Radioactive sterile Medflies are sent to Croatia to save fruit crops (and maybe bees).

Dec 10, 2014

   An elephant charity uses honey bees to save villagers and elephants.

Dec 29, 2014

   A "Honey Bee Sauna" looks at using heat to kill varroa mites.
---
Honey Bee Sauna: "Keeps Bees from Roaring"
A German "crowd sourcing" fund wanted 10,000 Euros to build honey bee saunas. Within a few weeks, they had over 60,000 Euros in pledges - that's about $75,000. I guess that the contributors don't realize bees can die in a sauna. Back to that in a minute.
Varroa mites kill bees. To eat, the nasty mite-creatures grab hold of bees and suck up their insides. Eventually, all colonies with booming varroa mite infestations die. That's why beekeepers try to poison varroa mites - usually treating their bees with pesticides. Pesticides can leave trace chemicals inside the hive and become dangerous to bees and bee handlers. The mites may evolve resistance against the poisons. Presently, various chemical treatments seem to be the only effective and widespread weapon against the deadly varroa mites. But other methods are being tested.
Just as mites evolve to resist chemicals, honey bees may evolve to resist mites. This is the idea behind the celebrated Russian bee. Honey bees found in eastern Russia seemed to have evolved to live with mites. The claim is that most untreated honey bees will die, but a small subset will have some genetic quirk that will allow them to survive varroa attacks.
Genetically quirked bees will reproduce and repopulate the ecological niche lost by their vanquished sisters. This may have happened in isolated areas, such as Siberia. Unfortunately, when the Russian bee was brought to North America, its genetic advantage was quickly diluted by other honey bees already extant in the hives of commercial beekeepers. You see, queen and drone bees fly many kilometres to clandestine rendezvous hangouts where they indiscriminately mate. This evolved habit prevents honey bees from becoming inbred and fosters genetic diversity - within the same colony any two randomly selected co-working workers are likely to be half-sisters, not full sisters. Although this diversity gives many advantages to a colony, it almost kills the idea of maintaining pure-bred naturally mated lines of pest-resistant bees. It takes a good queen breeding program to maintain stock that keeps a line of honey bees imbued with hygienic behaviours and other strategies that suppress varroa populations. There are such queen breeders around and it can be done - but you can see that without discipline and diligence, varroa will creep back into an operation.
So, if chemical treatments eventually fail and genetic solutions are hard to maintain, what might be done to fight the dreaded varroa mites? Some beekeepers have lured mites to drone brood, then discarded the comb; others have reported some success dusting powdered (icing) sugar on bees to extricate mites. Greasy vegetable oil sprayed on the bees may slow down mite infestations. A completely different idea - heat - has been occasionally promoted and seems to be going through a bit of a popularity surge. Varroa mites, it seems, can't cling to honey bees if the temperature is hot. This has led to a number of schemes that warm the inside of a hive (or a cage of bees) until the mites fall off. Unfortunately, this does not kill the varroa mites, it just dislodges them - chances of success are likely pretty sketchy using this system.
The USDA studied this idea 15 years ago. You can read their report at this link. Here's the problem: at temperatures of 40ºC (104ºF) and higher, mites slowly fall off honey bees but bees begin to suffer heat stress. Honey bees, as you likely know, try to keep their nest temperature at about 35ºC (95ºF). Way back in 1791, Francis Huber discovered that even on the hottest summer days, bees did not allow their nest to rise above 99ºF. Remember, mites fall off at 104ºF. So it is hard to get a high enough temperature inside a hive to dislodge varroa mites. The bees will fan and evaporate water and reduce the hive temperature so they do not die of heat exhaustion and so their wax home doesn't melt into a candle-like blob. High air temperatures dislodge mites if the temperature is warm enough for a long enough period of time. Higher temperatures (over 45ºC or 113ºF) will make the mites fall in just a few minutes, but will also kill honey bees more quickly. The USDA study shows that bees get crispy if they are exposed to too much heat - or even a little heat for too long a time. Quoting the USDA 2001 study: "Overall, heat treatment is a risky procedure. Even 40ºC, the lowest temperature that can remove all the mites is perilously close to temperatures that kill bees."
With these potential problems in mind, I was surprised to see that a German Crowd Sourcing Fund was able to quickly raise a huge amount of money to build a Bee Hive Sauna. The crowd sourcing goal was 10,000 Euros. They have over 60,000 Euros in pledges - that's about $75,000. Their self-promotion site includes the non-Einstein quote ("...if all the bees die, in 4 years you will too...") and it includes lots of Wir retten Bienen ("We save Bees") subtexts. So, the promoters know how to appeal to the heart-strings of the misinformed. My guess is that the contributors/donators/funders don't realize that bees can die in a sauna. The trick that keeps the bees alive, according to the inventor, is that (with his Bienen Sauna) "The Bees do not roar." (OK, maybe it's the Google Translator. The original German is Die Bienen brausen nicht.) I have never heard of roaring bees, but roaring seems like a problem to be solved. I will probably get the story wrong, so let's allow the inventor, Engineer Richard Rossa, to explain:

     "The bees do not roar"
     "In my trials I came to the realization that roar of bees is not caused by a slow 
     heating of the ambient temperature, but by increased CO2 content of the air. However, 
     this effect does not occur in the treatment with the bees sauna. If necessary, fresh 
     air is supplied at any time. This is done controlled so that no draft is produced.
	 
     "Holding the air temperature constant between 40°C and 42°C, all Varroa mites, 
     which are long enough exposed to this temperature, irreversibly damaged. Should any 
     of Varroa mites survive, they are so damaged that they can no longer reproduce. 
     Broodless colonies are treated for 45 to 60 minutes. Those with brood take two hours 
     because it takes longer to warm through the brood cells. Then the device switches off 
     automatically. In the entire time temperature and humidity are constantly monitored 
     and regulated in the hive."

It appears that by ridding CO2 from the hive, the bees won't roar. If you read their website, you will see that (for about $1,000 per unit) it will be just the varroa mites that do the roaring. Rossa says that the temperature inside the hive/sauna will be kept at 40 to 42ºC. As we have already seen, this is a good bit warmer than the bees like, so I suspect some energy will be wasted by the bees as they gather water and circulate air to get the hive temperature down to their preferred 35ºC. Or I could be wrong. It could be that I am just an old-fashioned cynic who is spouting off about any product that has been tried in a number of commercially available guises over the past few years (see the Mite Zapper and the Varroa Controller.
Maybe I am cynical because some gullible people will quickly fund any cool yuppish idea - even if the procedure has been shown problematic by USDA researchers. However, I do not have a PhD in "Co-operative Communication Strategies for Politics and Media", whereas Richard Rossa's partner, Dr Florian Deising does. He was "a management consultant, financial manager [who] led international projects in large corporations... [But 2 years ago, he] got out to make as it were full time our world a better place". I suppose these guys have their heart in the right place and they obviously know how to work a crowd for money. And perhaps they know how to keep bees from roaring in the sauna. It would be great if some sort of well-engineered hot-hive can actually kill varroa mites without hurting bees. That would eliminate chemical treatments. But at almost $1,000 for each device, the Bee Sauna will probably meet limited success. Personally, I think the long-term future for varroa control will be in genetic manipulation, not in heat. But check out the Bee Sauna at wir-retten-bienen.org ("WE SAVE BEES.ORG") for yourself and make your own decision.
Richard Rossa, inventor of the Bee Sauna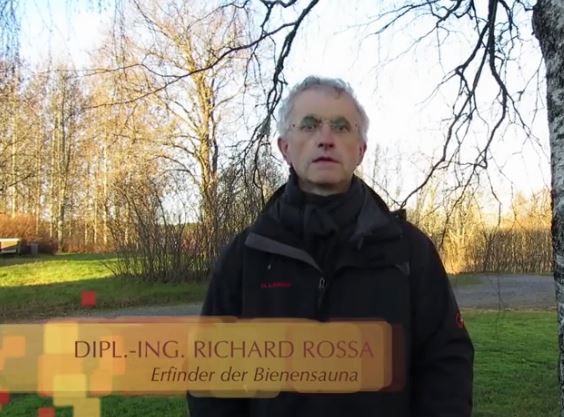 ---
Honey has its uses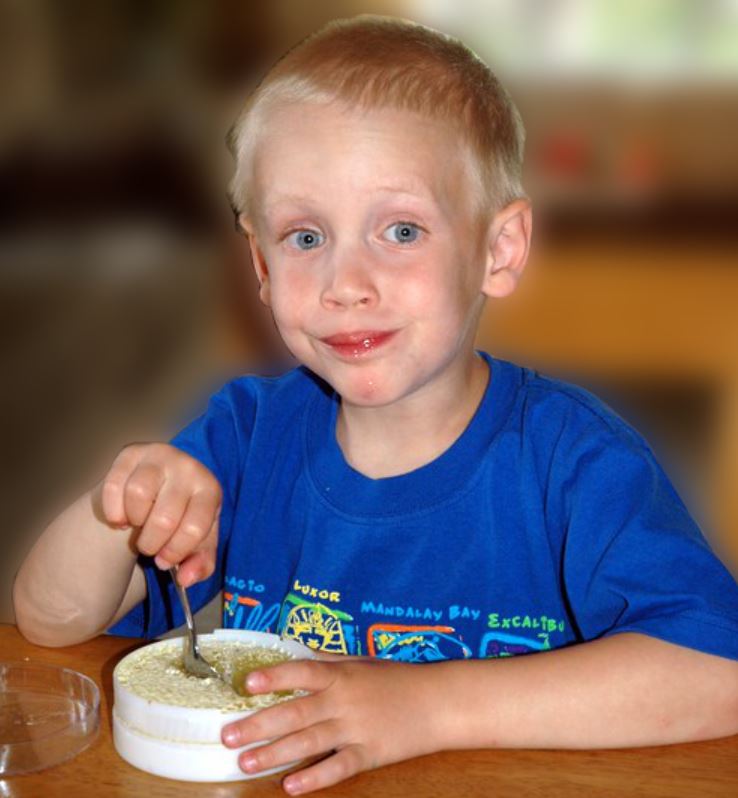 15 Amazing Incredible Uses for Honey!
I came across a list. It's one of those "7 Amazing Habits of the World's Most Successful Dogs" sort of lists. But this one is about honey and the title wasn't written as run-of-the-mill click bait (such as today's headline on my blog), but it is more subtle: "15 Household Uses For Honey".
Fall is honey-using season. But now the autumn holidays (Rosh Hashanah, Thanksgiving, Halloween) and the final honey harvests are behind us. We realize that honey sells better and disappears from pantries more quickly in the fall. Winter is just days away. Still, beekeepers can initiate a few extra sales during the upcoming cold and flu season. To that end, the Mother Earth Living's piece ("15 Household Uses For Honey") deserves a visit.
I am not going to list all '15 household uses' for honey. Several on the list are redundant. Burn Balm and First Aid, for example, both encourage spreading honey on ailing body parts as an antiseptic and as a healing home remedy. Home remedies, in fact, make up 8 of the 15 Household Uses for Honey - including treatments to fight drunken hangovers, sore throats, nervous tummies, stubborn coughs, and persistent pimples. Somehow, I doubt revelers will be looking for honey on January 1st, but it's worth mentioning.
Of the fifteen honey uses (you can think of more) only two are appetizing (drizzle on cheese; dab on fruit), one recommends honey as an energy food ("Workout Booster"), and four are beauty-bath and handsome-hair regimes. This breaks down honey's advantages to culinary, medicinal, energizing, and beautifying. Not a bad bunch of attributes. (In a very old bee journal I saw a whole new category - automotive maintenance... it seems a Model T radiator will not freeze up in winter if a judicious amount of honey is mixed in with the water.)
I am of a mixed-mind when it comes to making these sorts of honey-use recommendations. I think a beekeeper can appear rather flaky if he/she pulls out a long list of miracles that honey performs. I do think that most of the list is valid and accurate - anecdotally, I have witnessed honey healing nasty burns and settling anxious stomaches - but as a consumer, I am always leery when any food or supplement is touted as all-inclusive. It suggests that either some exaggeration or some desperation is going on. However, I think it is useful for the salesperson-beekeeper to know these uses and be able to respond to each in an informed way. Any valid application that encourage honey consumption (and is beneficial to the customer) is worth knowing about - even if it is best not heralded as part of a sales pitch.
---
Buy a pig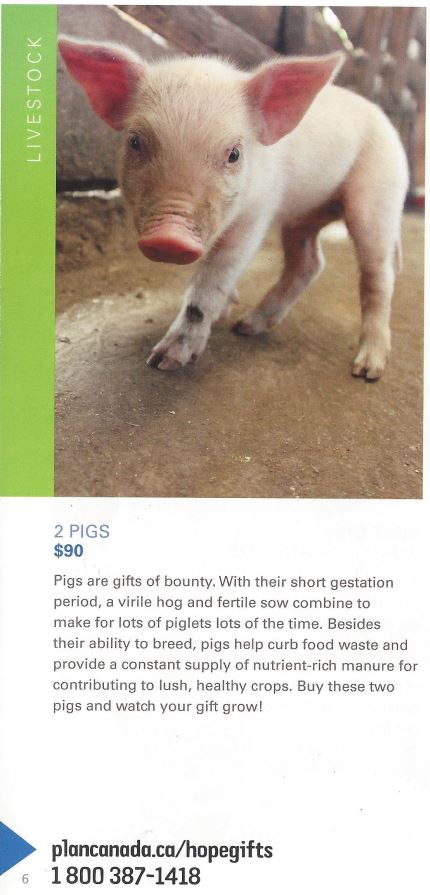 Our Pig
We bought a pig. We will keep it in Africa. It wouldn't be fair to make our pig live in our house in the city. So Wilbur will be staying with a family in Africa.
As I am sure you have figured out, our family made a contribution to a charity. Our kids (ages 12 and 8) broke open their piggy banks and we all put a few dollars towards this ungulate project. $90 buys a (married?) couple which goes to a family that will benefit from the boars.
The charity that will provide the porkers is Plan Canada. It has been around for about 80 years. Other Plan Canada projects include the anti-malaria Spread the Net program, Because I Am Girl, and a variety of community programs. The thing I like about this outfit is that they try to break the cycle of poverty by providing tools to families. Those tools may include a couple of pigs which (in theory) are not to be eaten but rather will be used to raise more pigs, some of which may be sold or, well, maybe cooked. But you get the idea. You can donate money for sheep, goats, chickens, or seeds, shovels, and hoes. These are intended to enhance economic security, but Plan Canada also provides wells for clean water, builds schools, and makes sanitation systems for villages. The group also sponsors women and girls' education in a big way.
In past years, Plan Canada would also provide beehives if that's where you wanted your money to go. Their blurb mentioned pollination, "saving the bees", honey, wax, and self-sufficiency - but their accompanying photograph was of a modern, white, two-storey Langstroth hive. I had trouble with the idea and didn't donate to it. I thought Plan Canada should find a way to help local beekeeping by offering local equipment. Our western hive-style might work in some places, but maintenance of such equipment would be a hassle in many parts of the world. Plan Canada seem to have agreed.
Anyway, if you would like to help, Plan Canada seems a worthy outfit. If you live in the USA or elsewhere, I think Plan Canada is part of Plan International so you could contact them. If you are not keen on farm animals and clean water, there are other groups that provide famine and emergency relief for the truly desperate. It seems Plan Canada is trying to use donations responsibly with the goal of helping families become self-sufficient. And who wouldn't love to buy a pig - and keep it at someone else's house?
---
Beehives vs Drunken Elephants
Drunken elephants have been a problem for as long as I can remember. Elephants are known to booze-up, get rowdy, and attack farmers - sometimes even entire villages. A herd of elephants got drunk on rice beer in Assam, India, and then looted and destroyed a nearby community. Reportedly, they were mostly young elephants and were just looking for more beer. But unfortunately, four people were killed in the ensuing skirmish. Worldwide, over 100 people are killed each year by irritated elephants. The worrisome fact is that not all the elephants are drunken beasts during their murderous escapades - many of the killers are stone-cold sober.
Some environmentalists are (at least partially) excusing the elephants' riotous behaviour, suggesting it is in retaliation for human activity which continually encroaches upon elephant land. I think the environmentalists have a point. But no species has the right to take the law into their own hands - and revenge is a slippery, retaliatory slope which can only lead to an escalation of the Hatfield and McCoy sort. However, if the elephants are fed up with us, they certainly have their reasons.
Goons have been poaching and slaughtering elephants for generations, turning elephant legs into drums and flower pots and tusks into trinkets. Elephants are migratory mammals, traveling long distances as they follow seasonal changes for healthy dietary variations and for meet ups at watering holes and salty mineral springs. There they may share stories or even fall in love. But we have taken most of their rangeland for our own growing population, turning their trails into our roads and their meadows into our fields. The forest elephant in the Republic of Central Africa lost 60% of its population to poaching - the ivory is sold to fund human wars and, in other parts of Africa, terrorism. Elsewhere, humans in Laos, Sri Lanka, India, and 37 African nations have expanded cropland to prevent their own starvation. In the process, elephant numbers have plunged in the past few decades - the African elephant population, for example, has fallen from 4 million (1930) to 300,000 today.
For centuries, people have used elephants for work, warfare, and entertainment. As you can see in the pictures below, elephants have been employed in temples as living totems of Ganesha and executioners in India (the second image below is fuzzy, but it is an 1868 sketch of an elephant being forced to kill the man whose head is on the block). Elephants have given us circus entertainment in North America (as in Dumbo and Jumbo among thousands of others) and they have worked as draft animals throughout southeast Asia and general labourers in Europe (the last photograph below was shot by a US service man in Hamburg in 1945 - the elephant is cleaning up WWII debris after Allied bombing).
Well-behaved elephants: Temple duty (2010); Executioner (1868); Circus performer(1880); Farmhand (1855); Labourer


| | | | | |
| --- | --- | --- | --- | --- |
| | | | | |
We have been abusive. But human women, children, and farm peasants pay the price when marauding elephants trample conventional fences and destroy crops. Elephants have learned to lift latches on gates and they have sought weak spots in wire and wooden fences when gates are locked. Subsistence farmers are sometimes ruined when elephants trash fields. But the pachyderms recognize beehives and steer clear of potential stings. So, a very bright Oxford scientist, Dr Lucy King, came up with a potential solution. It is based on the fact that elephants are afraid of bees.
For inventing a fence of beehives that reduces clashes between humans and elephants, the United Nations presented Dr King with the prestigious Conservation of Migratory Species award. She received the recognition because her fence is innovative, uses local resources, provides farmers with honey and wax, and because it actually works. First tested in 2008, it has stopped 84 out of 90 attempted raids in three different regions. It seems to fit culturally - three different African tribes have adopted the system. Beekeepers reading this will also recognize that the hive is elevated on posts and suspended by wires. This prevents nasty brood-eating mammals (as well as ants) from accessing the bee colonies. African bees typically nest in trees so these hanging hives are accepted by the bees - I suspect unoccupied boxes would attract swarms. (Since the elephants have learned to recognize the units as hives, dummy hives can be hung among populated hives - these are equally effective at barring the elephants.) Beekeepers will also recognize the construction shown here is a TBH (Top Bar Hive), which uses local materials, but Langstroth hives (as nucs) can also be used.
I think this is a brilliant idea. It satisfies the defensive needs of the local people without killing the endangered migratory elephants (they simply skirt the bees and the crops and continue ambling along their way). Dr King has placed a manual (which she wrote) on the internet so other groups may adopt her idea. Meanwhile, testing, refinement, and distribution of the beehive fence continues. You can - and should - visit elephantsandbees.com to learn more. You may also contribute to this effort by going to the Elephants and Bees donor page or through the UK's Save the Elephants charity. We are told that "100% of funds will go towards project-running expenses."
---
A sterile radioactive kibbutz bug
(Image PD by FAO)
Sterile Radioactive Bugs Arrive in Croatia
Why did a kibbutz in Israel ship 380 million sterile, radioactive fruit flies to Croatia? That might be the most unusual introduction this blog has ever used. Here's the backstory...
Ceratitis capitata - the lovely but insidious Mediterranean Fruit Fly - is indigenous to the fruit belt surrounding the Mediterranean Sea. This includes Croatia. Normally, the Medfly does not wander far, so it spreads slowly. Unless it's boxed up in a crate of tangerines. Or figs, apples, peaches, blueberries, pomegranates, grapefruit, or some other wormy but nutritious carton of fruit. That's how the Medfly reached the States, New Zealand, Chile, and (I think) Australia. In Chile, New Zealand, California, Texas, and Florida, the bug was successfully eradicated. Hawaii is still fighting it. If you don't like worms in your oranges, it needs fought. The bug's life cycle prompts it to poke holes into ripening fruit and deposit eggs under the fruit's skin. The eggs hatch and the larvae (worms) eat, grow, and pupate. Even those of us who are free-range omnivores find the results a bit disgusting.
Not fussy - Medfly larvae enjoy a healthy variety
of fruit - including peaches and figs.
The Medfly can be sprayed into oblivion. That's how California eventually ridden itself of the scourge. Back in 1989, Governor Jerry Brown resisted aerial spraying on environmental principles. He authorized a ground assault, but the Medfly moved ahead of the program. Reluctantly (and almost too late), Brown agreed on blanket sprays which finally destroyed the fruit flies. (By the way, Brown is again governor. He is 76 years old now. He took over a bitterly divided, bankrupt state (only partly due to Arnold the ex-terminator, who was formerly in charge). California, under Brown, has recovered remarkably. There is finally a government surplus - The Economist says Brown is "so tight-fisted he is not above eating off other people's plates." Potentially a bit disgusting, but I digress.) In the end, helicopters sprayed malathion at night while the California National Guard inspected vehicles fleeing infested areas. Later, entomologists released sterile Medflies to seduce any holdout Ceratitis capitata.
This brings us back to Croatia and the friendly kibbutz. In 1934, Jewish settlers from Germany began the Sde Eliyahu religious colony. They built their stockade and tower settlement near the Sea of Galilee at 200 metres (660 feet) below sea level where malaria swamps and summer heat affected the early settlers and their precarious crops. They persevered, transforming their worthless tract of land into an agricultural oasis. Today the kibbutz and its 750 residents are entirely dependent on farm-related activities. Here is what Sde Eliyahu says about itself: "Many of our field crops and fruit are special in that they are cultivated according to the principles of organic agriculture. We were real pioneers in this sphere in Israel fighting for the exclusion of toxic fertilizers and sprays. To replace the latter, natural enemies of pests have to be found and activated." Pursuing natural solutions led to the establishment of BioBee, which is mainly involved in bumblebee pollination within greenhouses, and Bio-Fly, which raises indigenous Mediterranean fruit flies and sterilizes them.
Bio-Fly, a subsidiary of BioBee, was founded "for the purpose of developing and supplying biological control solutions for the Mediterranean fruit fly (Medfly) and other pests, using the Sterile Insect Technique," according to the outfit's website. The newspaper Haaretz says that the Israeli Atomic Energy Commission supervises the radioactive sterilization of the fruit flies while the kibbutz has a collaborative agreement with the Palestinian Authority, Jordan, and several Mediterranean governments for the distribution of the sterile flies. The company has a mass rearing facility and supplies sterilized male pupae, as well as sterile male flies for dispersal in agricultural fields. The latest swarm of flies were scattered along the border areas of Croatia and Bosnia. Normally, about 15 million sterilized pupae are produced each week at Bio-Fly. The sale to Croatia was over a third of a billion flies, so perhaps production has ramped up recently. (The 380 million flies were weighed, not individually counted.) By the way, the reason that only male fruit flies are sold is that it prevents a potential disaster if some flies are not effectively sterilized - no egg-layers are shipped abroad. The sterile males successfully mate with indigenous females who then remain infertile their entire week-long adult life.
Croatian fruit and veggie stand
(photo - Miksha)
I was surprised that the Croatian tourist haven has a big tropical fruit industry. The coast is mostly craggy with mountains that encroach upon the sea. Almost everywhere along the coast, there isn't much more than a skinny (but inviting) beach. But when I approached the Croatian coast from Sarajevo, driving south through Bosnia, a friend and I found ourselves on the broad Neretva Delta - a warm lowlands of rich soil and dense gardens and groves. It was quite a switch from the barren stone-filled hills to the north. Until the moment Neretva's river valley opened before me, I was unaware of Croatia's huge citrus industry. But as a Mediterranean country, Croatia's burgeoning fruit-producing area suffers from the Medfly. (For more, and some great pictures, see the UN's FAO report about Croatia's fruit fly pests.)
Despite the flies, I was enthralled with the orange groves - something I missed since my Florida beekeeping days. Seeing all these small acreages owned by independent farmers who peddle their fruits and veggies at roadside stands was a slightly nostalgic trip back in time. I didn't see any honey bees in the groves, but my trip was in October, not March, so the trees were not blooming. Migratory beekeepers would have moved their colonies north in early summer. The bees would not have been back until perhaps November. But when they did return, the beekeepers would not have to deal with clouds of malathion drifting over their bees, thanks to 380,000,000 imported radioactive male fruit flies.
Croatia's fruit delta, along the Neretva River
(photo - Miksha)
---
"It's the Beetles!"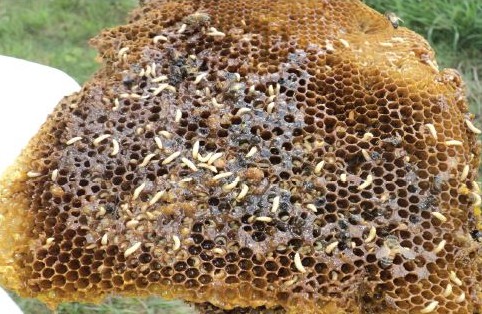 No Cheery Welcome for the Beetles
"Ladies and gentlemen, The Beetles!" ** That's how Ed Sullivan introduced John, Paul, George and Ringo to the American public. The introduction was followed by a lot of screaming, some disruptive noise on Ed's stage, and general hair-pulling by the audience. Not so different when The Hive Beetles entered the world stage. The latest stop on their uncelebrated global tour is southern Europe.
A friend in Europe wrote to me, wanted to know my thoughts about these new beetles. They were found this year in southern Italy. According to the Invasive Species Compendium, hive beetles (Aethina tumida) "are considered to be a minor pest in [South] Africa, but a major problem in areas where they have been introduced." So far, the beetles have been introduced to the USA, Canada, Jamaica, Australia, Italy, and possibly Egypt. Indeed, they are on a world tour. They are not very active here in Canada - I think it is too cold, at least out on the prairies. The hive beetles either flew across the border from the states (They can fly a few kilometres at a time.); or, more likely, they arrived on imported equipment a few times, but never gained permanent residency status. I have only seen hive beetles once, on a trip to Florida. So, I am not an expert. However, I told my correspondent what I know from my perspective, but it is not from first-hand experience. (Lack of experience has never stopped me before.)
The hive beetle is certainly an ugly and nasty insect - most of the damage is done during its larvae stage - creepy, densely populated worms that cause a lot of trouble. No one wants the pest in their hives. They destroy comb equipment and make a big mess. When they were first found in the USA, beekeepers and researchers were frightened. Bee equipment was quarantined and it was difficult to get approvals to move between states. Equipment was sometimes burned by government inspectors. Scary movies were shown at beekeepers' meetings. (I know - I sat through one such thriller here in Alberta.) Then people settled down and the hive beetle is now considered a minor (albeit grotesque) pest. But the initial infestations were an opportunity for excitement. I think it will follow a similar trajectory in Europe: initial fear and panic, oppressive regulations, then finally acceptance and control. This was precisely the story of the honeybee tracheal mite - HTM caused the initial Canadian-American border closure while some petty bureaucrats did their best to cow the beekeepers. Today no one seems to even look for HTM.
Beekeepers will learn a few tricks that will reduce the problem. Most beekeepers will be annoyed by hive beetles, but few (if any) will be put out of business. Some of my friends and family have commercial bee businesses in central Florida which has had substantial populations of the beetles for a few years. Hive beetles are not their biggest headache. Here are some of the tips they have found to keep things that way:
Keep things clean. The beetles can infest stacks of old combs - devouring pollen, tunneling, burrowing, defecating, and making a really fine mess of things. Stacks of equipment should be covered. Floors should be clean - a lot of beekeepers are sloppy, allowing wax and pollen debris to build up in the workshops - these harbour and feed the hive beetles. If you are a messy beekeeper, your days may be numbered.
Handle honey promptly. If honey is taken from the bees and the boxes and combs are allowed to sit inside a shed for a few days, hive beetles may move in. The result is a slimy mess that ruins the honey and the equipment. The beekeeper should process honey right away and not wait - that's always good practice anyway. If you are a procrastinator, your days as a beekeeper may be numbered.
Keep bee colonies strong. The small hive beetle does not kill bees or eat brood, but can wreck a weak colony that does not defend itself. The bees may be so distraught that they abscond (abandon) their nest. Good healthy colonies don't have serious problems, but a few beetles may hide in hive crevices and if the colony becomes weak, queenless, or neglected by the beekeeper, the population of hive beetles swells. The best defence against hive beetles is a strong colony of bees. If you are a negligent beekeeper, your days are certainly numbered.
There are a few other tricks - beekeepers in susceptible areas may set traps, use chemicals (see the links below), or assist specific nematodes (tiny worms) in the soil in the apiary to act as guards against infiltration.
For more, here are a few links to follow:
** Yes, I know. The English Beatles misspelled their name, but indulge me, OK?
---
Above, temporary packing crew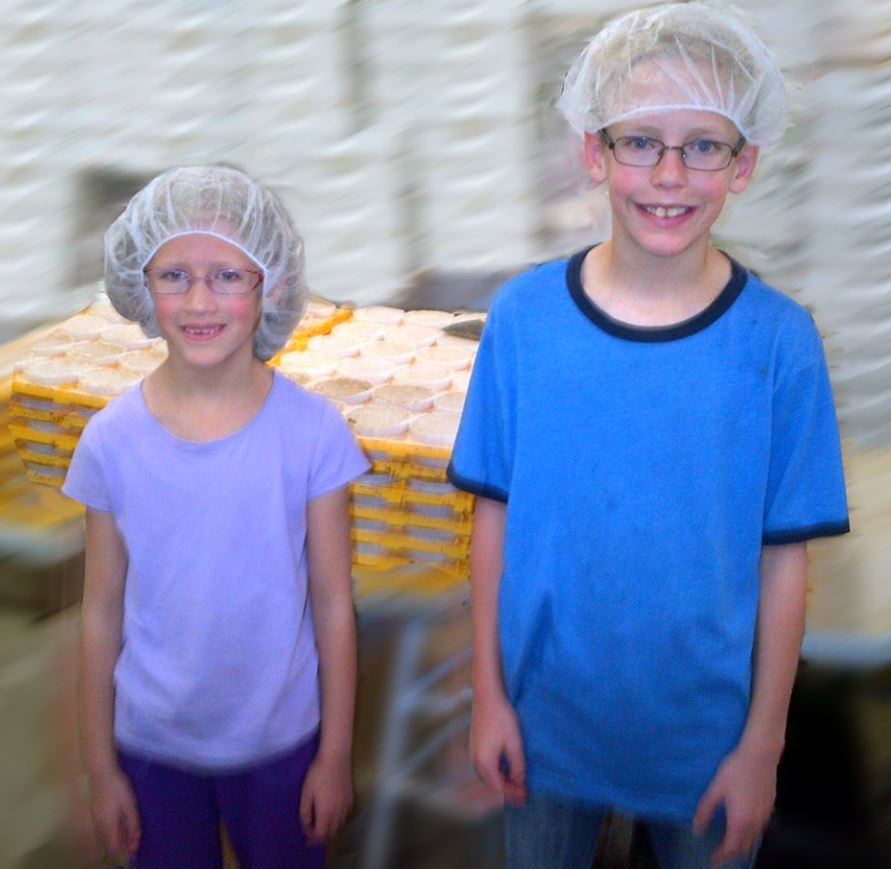 Packing Honey Combs
With a break in the weather, my kids and I made a trip down to the farm. It is in Vulcan County, aptly named for heat. Vulcan can be really, really hot is the summer. But it is late fall and we've already seen a few days of minus 20! However, the past couple of days were pleasant, so my two youngest and I went to the countryside to give my older daughter a hand at packing honey. Erika and her husband have owned, managed, and operated our old farm for the past four years. This season was good. The couple are running Canada's largest comb honey farm, producing tens of thousands of combs a year. (Sorry buyers, they are completely booked and sold out already.)
Today I am repeating some pictures I put on line last year. I didn't take photos this weekend, but not much has changed in the past year. (Except the younger kids are taller.) These pictures will give you a tiny peak inside the comb honey packing shop.
Left, honey combs ready for packing - - - Center & Right, our packers at work

| | | |
| --- | --- | --- |
| | | |
Above, combs waiting for labels
---
In-sync - and in it together
photo by in CC by John Severns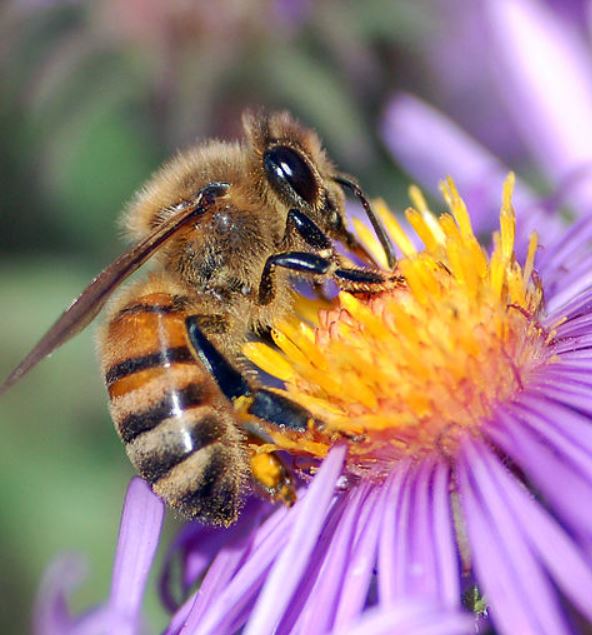 Buzzing Out-of-Sync
If flowers bloom a month earlier than usual - as they reportedly did last year in Maryland - what does that mean for bees? According to Will Plants and Pollinators Get Out of Sync? it could mean trouble. The story appears on NASA's website and explains how plants and pollinators have co-evolved: "the two species time their cycles to coincide, for example, insects maturing from larva to adult precisely when nectar flows begin."
Before we consider the implications, I'd like to dismiss the notion that the species got together over beers one evening to "time their cycles." As the NASA correspondent undoubtedly knows, cycle-timing is entirely an accident of nature, an accumulation of evolutionary mishaps that include genetic mutations and selection. Rather than coincidental planning, pollination synchronization results from an exclusionary rejection. If, for example, a plant suffers a mutation which results in early blooming (say, a rewrite of the base pair in a gene that produces a protein benefiting from heat stimulation) and if no bees are around at the new earlier flowering time, the flower simply does not reproduce. There are no seeds and there is no next generation of similarly off-sync flowering plants. However, if there is also a type of pollinator bees that coincidentally suffers a genetic mutation resulting in an ability to rapidly build a large spring population, the mutated flower will have pollinators available to "meet up" with it. That plant will produce similarly inclined seeds and the bee colony with its tendency to build an early spring population will also thrive and spawn more early-risers.
Mutations are rare, nevertheless mutual coincidental genetic disruptions happen frequently amongst the billions of creatures involved. It's a numbers game and the numbers are big. Each year, about one in ten million of each DNA base unit is altered during replication. This happens by exposure to natural radiation or chemical hazards. If there are over a hundred million individual seeds in a field (the number of alfalfa seeds produced in a quarter-section, for example), each year ten seeds in the field will suffer genetic damage to the coding affecting the proteins that result in early flowering. So, it does happen - and at a surprisingly fast rate when we consider the billions and billions of seeds produced each season around the world. This is how plant scientists genetically alter plants (unless they are "genetically engineering" by manipulating bits of genetic code). Plant scientists expose millions of seeds to high-level radiation, resulting in accelerated rates of mutation. Then they grow the resulting plants and measure the results: A brighter colour? A longer stem? A tastier fruit? Nature plays this same game over a longer period of time. Wild flowers in meadows and seeds in fields are nature's genetic laboratory. (If you would like to understand mutation rates, this easy article by Toronto professor Larry Moran discusses estimating the rate of human mutations - which average about 150 genetic mutations per person each generation.)
What is the effect of a warmer climate on plant pollination? First, we know that temperature is not the only factor that determines when a plant will bloom. It is not even the most important factor. Length of day is. Photoperiodism is a fascinating subject. Plants have 15 different types of cell receptor that sense light. Humans, by the way, have just 3 and ours are stuck inside our eyeballs' retinas - a plant's eyes cover its entire body. The thing that triggers blossoming is the period of time between the last flash of "far red" at the time of the setting sun and the next full spectrum sunshine, the following morning. Greenhouse managers know this and they sometimes toy with the plants' transducers, forcing off-season flowering, by exposing plants to artificial light.
But for this discussion, let's assume ambient temperature actually triggers flowering - as it does in some plants. Will flowers and bees become "out of sync" because of climate change? According to this Independent newspaper article, "Higher temperatures may result in fewer bees, scientists claim", the future is dire. "This is because the more out-of-sync pollinators and plants become, the more difficult it will be for each to find opportunities for pollination – potentially threatening a wide variety of plants, including crops of seeds or fruits, most of which depend on pollination," says the Independent, adding "it will raise fears that popular foods such as apples and pears could be affected." However, those popular foods (Pears are popular? Not in our house.) will survive because the orchard managers contract beekeepers to supply honey bees. If the season slides forward, the beekeeper will adjust his schedule, developing stronger colonies earlier. This has already happened in California's almond groves where big colonies are required in February and beekeepers react by stimulating their bees in early January. Farmers will somehow manage. The ever-popular Bartlett pear will remain a staple food (in homes other than ours*). But wild bees and birds might not be so lucky, according to both common sense and the NASA article.
Hummingbirds are at risk. "Honeybees aren't the only pollinators affected by climate change. Hummingbirds and other migratory pollinators may be even more susceptible if their seasonal migrations become out of sync with the flowering and nectar availability in their breeding habitat," says NASA's Earth Observatory website. I think the bottom line to this story is that humans, driven by profit and self-interest, will continue to enjoy juicy pears for generations to come, but the rest of the animal kingdom will be left to survive by the luck of evolutionary adaptation. Some species will adjust to the warmer climate, others will join the ranks of the extinct. Beekeepers will become more adept at manipulating colony populations to provide bees for commercially valuable crops while roadside asters (as seen in today's photo, above) will mutate or perish. If man's role in the changing environment fascinates you, you may like to read a piece I wrote for my Earth sciences blog, at this site.
(* We do eat the occasional pear. It's just hard to describe the fruit as popular.)
---
Dead pollen-collecting bees

Dead Swiss Bees
Something odd was killing bees in Switzerland. It was sudden. It was peculiar. It was devastating. This past spring - in April, 2014 - beekeepers in the Zäziwil and Möschberg region found almost 200 colonies dying. They quickly recognized signs of poisoning. Local farmers denied using neonicotinoids or other insecticides. They were honest. They had not. Yet nearby bees were in rough shape.
Swiss investigators moved in. They demanded the farmers' receipts. What had the farmers bought? What had they used? The investigators discovered that orchards in the area had been treated with the fungicide Folpet, which is allowed in Switzerland. Folpet is not an insecticide, it is a pesticide. The pests that it attacks are fungi. This fungicide is closely related to a much older fungicide, captan, which some of my more ancient readers will recall from their childhood. I do. I fondly remember running in a white cloud of dust, chasing after the family tractor as my father planted long rows of captan-treated seed potatoes. Because of the treatment, our potatoes did not suffer from Rhizoctonia, and neither did I. Recently, the EPA stated that captan and its sister fungicide Folpet are non-carcinogenic, except in "high doses and prolonged exposure." Interesting. Used in orchards, captan and Folpet enhance the outer beauty of fruits - making them spot-free and shiny. This may be why I was allowed to follow in captan's shadow when I was a child.
I have brought you no closer to finding the Swiss bees' killers. But we've learned something about the fungicide Folpet. And so did the Swiss inspectors. They learned that the Folpet came from a factory is Israel. The factory also makes a non-neonicotinoid insecticide called Fipronil, which is banned in Switzerland. Just before making the Swiss batch of the fungicide, the factory had filled American and Brazilian orders for Fipronil. Allegedly there was still some insecticide in the factory's system when the fungicide was made. It seems that the equipment was not cleaned before they started to produce Folpet. The Swiss government removed the suspect batches from their local market.
This story points out how tough it is to avoid poisoning our honey bees. The farmers were not using insecticides (or so they thought); the Swiss government had outlawed Fipronil and it could not enter the country (or so they thought); and the bees were pollinating fruit trees and collecting life-sustaining pollen (or so they thought). If this is the story in its entirety, it also suggests that even a small amount of poison (the residual left in a system when the factory switched from fungicide to insecticide) can kill a lot of bees.
---
Haeckel's 1879 Tree of Life

A New Origin for the Bee?
Years ago, we learned that honey bees developed in Africa, then spread north and evolved into different subspecies. It is not surprising that the bee could adapt to the much colder northern climates - you don't even need to accept evolutionary science to see how that might work. With moderate genetic mutations from damaging gamma rays or localized environmental hazards, changes occur. With vast and rapidly reproducing populations such as bees, some mutations inevitably are beneficial to survival. In the presumed case of bees out of Africa, as bees slowly migrated north, the most cold-hardy descendants reproduced. From Africa's adansonii or scutellata (or their earlier representatives), descendants became Europe's mellifera, ligustica, caucasica, and carnica. These are the black bee, the Italian, the Caucasian, and the Carniolan respectively. But this simplified collection leaves out a host of other non-African races - the Middle Eastern anatoliaca, syriaca, lamarckii and meda, for some examples.
Did the honey bee originate in Africa? The out of Africa idea was developed a hundred years ago and was based on phenotypical traits (physically visible and measurable characteristics) and the assumed effects of geography and climate on the bees' divergences. But now we are not so certain. In 1992, mitochondrial DNA (mtDNA) was analyzed from 68 colonies in ten different regions. The scientists found 19 different subspecies represented by the mtDNA. On the basis of their best fit "Tree of Life" model, they clumped these into three different clades, or branches. These lineages are African, Mediterranean, and European. But these scientists had a surprising result. They found that the oldest mitochondria could be traced to the Mediterranean branch while the African branch showed greater change. They surmised that the original dispersion of honey bees was from the Middle East: "The pattern of spatial structuring suggests the Middle East as the centre of dispersion of the species." This result, from "Evolutionary history of the honey bee Apis mellifera inferred from mitochondrial DNA analysis", published in Molecular Ecology also included the suggestion that the present subspecies divided less than one million years ago, as indicated by a 2% variation in the relevant mitochondria DNA.
The Middle East origin for honey bees was a surprising result. It went against prevailing notions, so other researchers were reluctant to accept the findings. However, in August of this year, confirming evidence was published. Using a larger sample set (140 honey bee genomes and 8.3 million SNPs) and more modern equipment, results were published in Nature Genetics in late August. Matthew Webster, researcher at the Department of Medical Biochemistry and Microbiology, Uppsala University (in Sweden) says, "The evolutionary tree we constructed from genome sequences does not support an origin in Africa." Instead, our modern honey bee originated from common ancestors in the Near East and began a rapid dispersion about 300,000 years ago into Europe and Africa.
You may wonder if the study of the bees' genetic tree has much relevance for today's beekeeper. Here is something to note. Almost as a passing thought, researcher Matthew Webster adds, "In contrast to other domestic species, management of honeybees seems to have increased levels of genetic variation by mixing bees from different parts of the world. The findings may also indicate that high levels of inbreeding are not a major cause of global colony losses." We can trust Webster on the factual part of this discovery - he is telling us that his world-wide samples of kept honey bees are more genetically diverse than other domestic species (i.e., pigs, sheep, goats, bananas, potatoes). It should then follow, he suggests, that Colony Collapse Disorder is not due to inbreeding of honey bees. Instead, it is more likely that some other factors are culpable in the disappearing disease that sporadically hits apiaries.
---
The first bee blog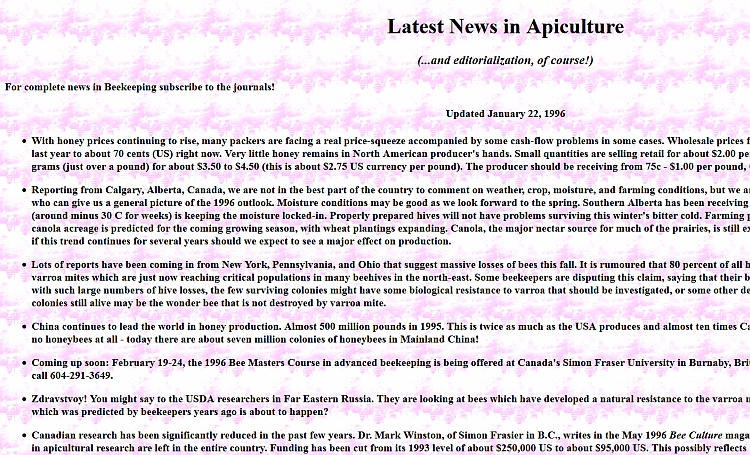 A Long Time Bloggin'
Web logs - blogs - have been around for 20 years this month. That is according to this piece from (where else?) someone's blog. I have been writing this bee blog - these pages about the politics and science behind beekeeping - for 19 years. I started in October 1995, and from the start, my pages included a ranting and raving page similar to a modern blog. The image above shows you what my January 1996 'bee blog' looked like. When I began this exercise, I was in my 30s, had mostly dark hair, and quite a lot of enthusiasm. As best I can tell, the blog you are reading right now might be the first one ever started. In case you missed that start-up, here is a link to the Beekeeping News Page in my archives.
What good is a bee blog? There is a certain voyeuristic element to reading a beekeeping blog. It is like sneaking a peak under someone else's hive cover. Except with a bee blog, the beekeeper is tipping the lid for you. Today there are easily 10,000 personal beekeeping sites and probably a thousand of those have blogs. Many of them are great. Part a beekeeper's education is to study the tricks, tips, and thoughts of other beekeepers. And then borrow what makes sense. You won't get a lot of clues from my blog here as this is more news and opines than practical bee culture. But if it is the latter you are after, you will find my book, Bad Beekeeping, is stuffed full of beekeeping advice. Not that any of it is good advice - but it is all interesting.
---
The tired honey man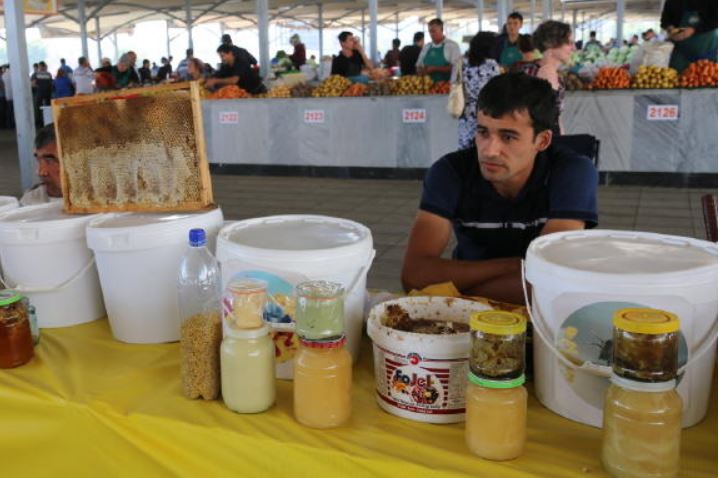 The Tired Honey Man
Friends just back from Uzbekistan shared this photo with me. The gentleman is selling honey and he doesn't seem too happy about it. We'll get to that in a moment. First, what is Uzbekistan? It's a place on the other side of the planet. From me. If you live in Uzbekistan, then I guess I'm the one on the other side. Uzbeks were taken over by the Russian Empire 200 years ago, then fell under Soviet rule for a couple of generations. One legacy is the Cyrillic script you see almost everywhere. Another legacy is incredible pollution and general despair in daily life. The country is ruled by a "strong man" who enforces allegiance and law and order in an otherwise unruly nation. Uzbekistan has the odd distinction of having more Stans as neighbours than any other place on Earth - its five abutting Stans are Kazakhstan, Kyrgyzstan, Afghanistan, Turkmenistan, and Tajikistan. Uzbekistan is generally perceived as dusty, repressed, depressed, and difficult. I suppose that's not entirely unfair. The country has slavery, pollution and water problems.
Uzbekistan is cursed with a near-perfect cotton-growing climate. Cotton is the main business in that country, but the fiber has a brutal history. It is tough to grow and in Uzbekistan, cotton is mostly picked by hand. Cotton picking, of course, contributed to slavery in America and elsewhere. In Uzbekistan, Human Rights Watch says that as many as 2,000,000 men, women, and children will be used as slaves to harvest this month's cotton crop. The government says it is everyone's national duty to pick cotton. Well, not everyone - just the poor. The result of their national duty is the export of over a billion dollars worth of cotton. It props up the poor country's economy and keeps the leader in power. But people die in the fields, according to Human Rights Watch, while performing their national duty - unpaid forced labour.
Then there is the water. Cotton thrives in Uzbekistan's desert climate - if it is irrigated and heavily fertilized. Water is diverted from entering the Aral Sea and directed into the cotton fields. This has quickly turned the world's 4th largest salt lake into a puddle. Once half the size of England, almost all of Aral has disappeared in the past 40 years. The environmental disaster began in the era of the Russian Empire, but the Soviet overlords brought industrial-scale cotton-growing and landscape degradation to an art.
Along with pillaging the water, there is ubiquitous pollution. Typical for huge monoculture plantations, cotton is targeted by weevils and other evils. The solution is harsh poison - not systemic insecticides, but aerial and boom-spray applications of cancer-causing insecticides. Further, the continuous cropping is sustained only by industrially-produced fertilizer which has polluted what is left of rivers and lakes in the country. The air, I am told, has a stench of poison everywhere. There is little escape for ordinary folks - conscription, dust, and pollution are the reality.
Honey, including Nutella flavoured

Which leads me back to the honey man in today's picture. He doesn't seem very enthusiastic does he? But who could be in his position? Undoubtedly his bees have also tasted the chemicals in the air. It is hard going for Uzbekistan's beekeepers. The government - the same one responsible for the poisons and the slavery - is expanding beekeeping by seeking bee equipment. Maybe it is some sort of 5-year plan. I imagine their plans will compete against beekeepers such as the one shown above. Last year, the government estimated honey production at about 4 million pounds. They think they can expand it. Much honey is sold in recycled containers, including the Nutella jar you see here. Plastic wrap is often used for lids. There is no fault in that - beekeepers do what they must to survive. Including gloomily retailing honey at the big Tashkent market as the honey man pictured above is doing. He may be exhausted, he may be tired. Or he may be thinking about his trip nexy week into the countryside cotton fields in the back of a big transport truck. Slave labour - the national duty - for his country's kings of cotton.
---
Golden wheat, but not golden rice

Who is the Saint?
On this day in 1970, Norman Borlaug accepted his Nobel Peace Prize. You probably never heard of him. A few days ago, I read an interesting piece in an old New York Times column, written by author/philosopher Steven Pinker. He had a few words to say about Mr Borlaug. I'll tell you what Steven Pinker said, but you can read the story yourself - it is at this address.
Steven Pinker was writing about how we perceive morality. He noted that if we were asked to pick the most moral person from this group - Mother Teresa, Bill Gates, and Norman Borlaug - we would almost all choose the saintly little lady who went to India. We might reject the billionaire who was accused of monopolizing software. And, about Norman Borlaug, we would likely ask "Norman who?" Mother Teresa moved from Kosovo to Calcutta, tended the poor, sick, and weak, and developed the Missionaries of Charity. She is the obvious choice and directly helped thousands. But Bill Gates adopted the problems of the developing world - malaria, among others - and has (somewhat) quietly contributed billions to find solutions. His work has possibly saved millions of lives. Then there is Norman who. His Nobel Peace Prize recognized his almost invisible work that revolutionized agriculture and invented the Green Revolution. By some accounts, Borlaug is credited with saving a billion people from cruel slow desperate deaths by starvation. A billion lives - that's more than anyone else in history.
Of course it is unfair to ask who among the three is the most moral without presenting a definition of morality. But on the strength of saving human lives and reducing suffering, Norman Borlaug's contributions were astounding. During the 1960s, dire predictions of the eminent tragic starvation of the majority of Chinese, Indians, and Africans was prognosticated by the most knowledgeable minds. But it didn't happen. Norman Borlaug, an American geneticist, applied the latest ideas in bio-engineering and found a way to feed the billions. India, once deemed to decay in misery and starvation, now has 1.1 billion souls and is a net exporter of food.
In the 1950s, Norman Borlaug worked mostly with wheat, genetically dwarfing the plant so it wasn't spindly and prone to falling over and losing its seeds in the field. He dramatically increased seeds per stalk and developed resistance to disease. The result was wheat that revolutionized food production in Mexico (where he did most of his research), and Pakistan and India which were becoming desperate for the help his wheat brought.
Why write about better farming and morality on a bee blog? Occasionally it is good to commemorate unselfish contributors such as Borlaug. Early in his career, Borlaug was employed by DuPont. He was offered twice the salary to stay with them, but he left for an NGO in Mexico instead. His young family would have appreciated the money. But he took the job that he thought could make the most impact and help the most people. It is also important to occasionally remember that without genetic manipulation and the application of science to solve a desperate problem, a billion people would have died. Today we find a vocal group of wealthy and comfortable folks (wealthy and comfortable by world standards) who are trying to stop scientific progress that could - for one example - allow a genetically altered form of rice to provide nutrition that would save a million children from blindness. Some well-off people with no risk for themselves or their children of suffering vitamin deficiency in America or Europe nevertheless campaign to prevent golden rice from being used in India. It is a twisted sense of smug self-interest that causes this tragedy. A billion people are lucky such people were not able to stop Norman Borlaug's work fifty years ago.
---
No longer almost free
At a get together with a small group of beekeepers, we all started bugging one of the fellows about the price of his honey. At $10/kilo (less than $5/pound) one lady figured we could do well buying his entire crop and selling it ourselves. She might - she's a born sales person. Me, not so much. But it got me thinking about the price of honey. And how hard it is for a beekeeper to decide how much to get for the stuff. Many beekeepers, it seems, are embarrassed to ask for the market price for their honey. To them, almost free is almost too much.
Honey has reached a record high price in North America. It has never been worth more. US bees are increasingly diverted into pollination, leaving fewer to gather honey. Much honey is imported into the states (2/3 of all US-consumed honey is imported) but the foreign sources are getting harder to buy because of growing world-wide prosperity - countries that used to export their honey now use it locally. And some countries - such as China, for example - have begun to buy North American honey. I know, first hand, that this is true. So honey prices are up. But I was still shocked to see how big the price increases have been.
Bee Culture magazine has had a group of faithful honey vendors provide prices on a monthly basis for decades. In September 2006, one could sell packaged cases of jars at a wholesale price of $2.80 per pound. Eight years later, the average price for the honey has almost doubled, to $4.98 per pound. Of course, that is filtered and packed and labeled and ready for the store. The USDA reports that the wholesale bulk price (in drums or totes) has more than doubled - from $1.03 per pound to $2.12 per pound in 2013. So, if you are selling a few hundred pounds of your finest wares, check prices at the local stores, tell your customers that your honey is better than the store stuff (It probably is.) and don't be shy about getting the market price for your effort.
---
Caught in the middle
Are they staying or are they going? The Globe and Mail, "Canada's newspaper," has an editorial written by Margaret Wente. She calls her piece "Caught in the Middle of the Bee War" and it is about the vanishing honey bees. This is not the first time Ms Wente has written about bees. The first such story that I can remember described her husband's beekeeping adventures and it appeared around 2004. It was an unusual piece because it was quite funny - Margaret Wente usually shares more serious opinions about politics and economics. Yesterday's column was fittingly Wente, commenting on the politics of disappearing honey bees.
The Globe and Mail piece surprised me. It begins with the usual "bees are going extinct" and "neonicotinoids are to blame," but then Ms Wente seems to indicate that she believes neither. Which is refreshing, because managed colonies of bees are certainly not going extinct. World-wide, the number of kept hives is 45% higher than it was 50 years ago. Since Colony Collapse Disorder was first noticed (around 2006), and since neonics became widespread (also around 2006), the number of bees in North America increased from 2.2 million colonies to 2.4 million today. Not exactly extinction. Nor is it likely that neonicotinoids are playing the leading role where sudden colony collapse is noticed. I say this because I live in Alberta, a place where neonics are used extensively, and Albertans have not suffered colony collapse. Not yet, anyway.
The column by Ms Wente mentions the Ontario lawsuit. The suit pits two Ontario bee outfits against Bayer, a manufacturer of neonicotinoids. But it was set up as an "opt-out" class action suit. Beekeepers are automatically part of the suit, unless they expressly ask to be left out. Here is what the Globe and Mail piece says about Alberta: "Alberta's beekeepers, which produce nearly half of Canada's honey, aren't joining the lawsuit. They say the new seed treatments actually reduce the bees exposure to harmful pesticides."
A bit more from the Globe's piece:

   "There's no doubt that something is ailing the bees, or at least some of them. 
    Ontario has been hit particularly hard by bee die-offs lately. But a lot of experts 
    say the problem isn't neonics. In Australia, the bee population is stable even 
    though neonics have been in use there for years. The Australian regulator recently 
    reported that neonics are better for crops and the environment than the products 
    they replaced."
---
Educating the humans
Killer Bees in the News

Killer bees used to be big news. Enough people are nervous around bees (even the pleasant, nearly harmless, garden bees) that the idea of massive stings is terrifying. "Bee venom is a cocktail of biologically active components that are designed to inflict pain. The honey bee stings only defensively — they don't try to kill, they try to educate," says May Berenbaum, a professor at the University of Illinois. Unfortunately, the Africanized honey bee sometimes forgets this important rule. Yesterday, four landscapers working at a southern Arizona house were attacked. One man died. The Douglas Fire Department Chief reported, "A witness said his face and neck were covered with bees." That 32-year-old man died of cardiac arrest. Another man, stung more than a hundred times, was treated at the local hospital and released. The workers were part of a program teaching work skills to developmentally challenged adults. Our thoughts are with the families and friends of the people attacked and with the directors of this worthwhile charity.
It is claimed that the offending bees came from a nest of 800,000, according to the press. If that is true, it would be ten times larger than any colony I ever heard of. Most likely, someone miscopied 80,000 bees (which would still be an enormous hive) and wrote 800,000 and that numbered has been repeated over and over again in all the news coverage, all of which seem to buy the same story and repeat the same mistakes.
Once an error is published, it takes on a life of its own and is almost impossible to eradicate. If you look at this link, you can see how the number was picked up and unquestionably reproduced. The Weather Channel headlined with the absurdity "Arizona Landscaper Dies After 800000 Bees Attack" - only a small percentage of any hive attacks. Isn't it enough to report the fact that hundreds of bees attacked the unfortunate workers? The Weather Channel headline is either hyperbolic exaggeration or careless fact-checking - both of which are unforgivable errors from an outfit that reports the weather. Meanwhile, the New York Daily rounded up: Nearly 1 million bees swarm Arizona men, killing one. Others repeating the 800,000 number include Gawker, Inquisitr, United Press International, The Mirror, and NBC News. Interestingly, a reporter closest to the source of the attack (Tucson News Now) wrote, "One person is dead and several others are recovering from bee stings after a huge swarm of about 300,000 bees attacked landscapers working outside a home in Douglas." Hours after the story initially ran, CBS has written, "A swarm of about 300,000 bees killed one landscaper and critically injured another... The [Douglas Fire] Station initially reported that an estimated 800,000 bees were involved in the attack." Better, but still not right. And why didn't the initial reporter ask the fire department which entomologist at the station counted the bees?
Deaths from Africanized honey bees are still rare enough to make front page news as this story did on Canada's National Post, UK's Telegraph (which accompanied their story with a picture of a tiny cluster of bees in a tree), and the other sources (or repeaters) that I already mentioned. When the Africanized bee first arrived in the USA, there were concerns that thousands of deaths would quickly follow. This angst was led by an overly eager press and encouraged by researchers (some seeking grants to study the problem) who often were inexperienced around bees. To the novice, three bees chasing after an exposed face may elicit thoughts of a fifth apocalypse horseman. Place a young, untested grad student in Brazil next to an Africanized swarm, and he will live to tell some scary stories about the bees. So, for a few years in the mid-1970s, Africanized bees dominated the press whenever honey bees were mentioned. Today, of course, unfounded rumours of bee extinction lead the news stories. I guess that's a bit more upbeat than the tales of wonton destruction and fears the Killer Bees once conjured. Nevertheless, exaggeration and hyperbole very quickly become tedious.
---
Bees as a small business
A lot of North American beekeepers operate huge operations. These days, 2,000 colonies is about average for a commercial operation. Help is usually imported seasonally and the beekeeper/owner is sometimes a bookkeeper/trucker who has more than a veil and gloves between himself and his bees. I asked one of these operators about this. He told me that's the only way he can keep bees full time and feed his family. He is probably right.
Real beekeeping - shirtless, shoeless, without gloves and veil - is mostly confined to sideliners. This includes operations like the 26 hives run by actor Morgan Freeman (who probably doesn't need the extra honey money). And it includes perhaps a thousand or so others in the USA and Canada who run 20 to 100 hives on weekends. For these folks, the bees (when profitable) provide a bit of income, but are mostly kept as a hobby. However, I know of a few others who keep a small number of hives to supplement retirement income.
I have great respect for a beekeeper in my area who retired at age 45 from a rather good job that had him traveling all over the world. He had saved some money, but certainly did not have enough money to live on. But he was determined not to work for anyone ever again. For the past 25 years, he has been keeping about 50 hives of bees. Each year he makes about 8,000 pounds of honey. He owns one small truck, makes his own equipment, hires no one, sells all the honey out his backdoor, and grosses $40,000 a year. With expenses at around $10,000, the profit nicely enhances his unpretentious lifestyle and supplements his modest income from retirement investments. And he genuinely enjoys beekeeping.
There is another beekeeper, this one a world away in northern Russia, who wrote a short interesting piece in a recent issue of American Bee Journal. This fellow, age 63, is a retired professor. He has been running bees for a long time. He has a lot of experience. He stays fit, enjoys the outdoors, and makes a complementary income from his 60 colonies. About the numbers, he writes:

     "One ton of honey I produce yearly for about $6 for one pound. 
     In addition, I sell 10-20 overwintered colonies, about 100 kg (220 lbs) 
     of sealed [comb] honey and about 50 kg of a homemade mixture
     of pollen and honey. So it all adds up to about US $20,000 of 
     gross income. I net about $17,000 a year."

Both of these beekeepers are retired from professional careers and have found satisfaction and a modest income from keeping a small number of colonies of bees. It can be done. I suppose it can also be done by beekeepers who decide to retire from 40 years of running 2,000 colonies - though most of these folks can not dismount from their behemoth bee businesses (and associated obligations and mortgages) and will never get back to the small scale endeavours that would evince more pleasure than meeting pollination deadlines and payrolls.
---
Hives as Art
Sharpening the keeper's tongue

North Americans are missing a great canvas. The beehive. Solid, often white and publicly visible, it should be used by artists more often. I've been lucky enough to work hives in the USA, Canada, Mexico, Europe, and South America. Surprisingly, the most decorated colonies are in one of the most traditional cultures. Slovenia - a tiny country wedged between Italy, Austria, and Croatia - is known for its somber, hard-working folks. Slovenians honour seriousness. They tend towards understatement and practical good sense in their homes, architecture, and businesses. One might think them dour but they sure have some funky beehives. Like the one to your left. Hideous, isn't it? It shows a woman - the village gossip - with her tongue against the sharpening stone, held in place by devils. The hive panel, called a panjske končnice, is nailed to the front of the hive, near the hive entrance. It helps the bees find their home. Slovenian hives are sometimes stacked atop each other, sometimes squeezed onto semi-permanent trailers, sometimes lined up tightly on the porch near the kitchen door. Without colourful markers, bees could easily flounder. The entrance panels serve a dual purpose - they keep both bees and souls from being lost. Traditional thought remains strong in Slovenia. These message boards are still pretty common, as are their moral messages.
Creative queen nucs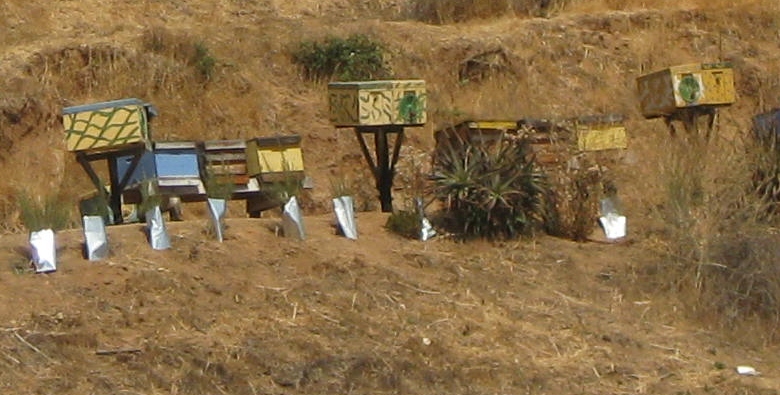 In Chile, my friend Francisco Rey stocks queen-mating nucs like the ones in the next picture. He told me that he turns his helpers loose with paints and brushes, telling them, "Divertirse!" And they do have fun. The only instruction is to be creative. The Chilean paint job serves the same function as the Slovenian entrance board - to help bees find their way home. This, as you likely know, is particularly important when young queens are on their nuptial flights. It would be too easy to end up in the wrong nuc if the boxes looked like houses in Smalltown, Indiana. And residents would be like so many party girls coming home late on a weekend night, not quite sure where they belong. (For that, the Slovenians also have an appropriate hive panel.)
The artistic hive

Meanwhile, in North America, we aren't much into hive art. I think that's a legacy of our puritanic heritage. Functional and practical and white are preferred. I am just as guilty as most beekeepers here, as you can see in the picture below, from an incredibly dull bee yard we have in Vulcan County, Alberta, Canada. The bees might make more honey if their boxes had eccentric colours and if the hives were aligned less straightly. But don't they look great?
Our colourless bee yard

Exciting beehives are rare on this continent. It is so uncommon, in fact, that painted hives make the news. At least, beekeeping news. American Bee Journal featured artist Jill Sanders' great hive art on their June, 2014, magazine cover. And out at UCLA Davis, Diane Ullman's half-acre bee garden, the Haagen-Dazs Honey Bee Haven, has a whole bunch of interestingly painted beehives. In this case, too, the painted bee boxes are cool enough to be written about, as you will see if you follow this link. I like the colourful hives, they certainly help bees find their homes, but we North Americans mostly employ drab monotonous unaesthetic hives, rarely straying from "white" as a fashion statement.
---
It's Bee Time!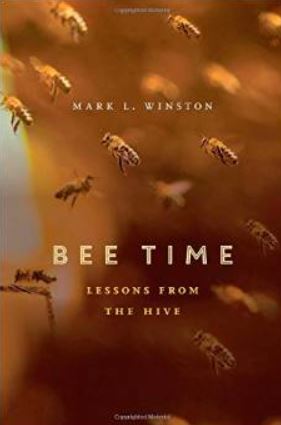 Lessons from the Hive
In the mood for a good read? Looking for a holiday gift? Mark Winston's latest book, Bee Time: Lessons from the Hive, is as good as his other bee-related books. Which means it is very, very good. I haven't read it cover-to-cover yet, but I have jumped around a bit like a bee in clover - so much to take it! Those of you who have read some of my reviews on other books (and movies) know that I can be pretty harsh. So, if I tell you that this book is worth more than the $20 Amazon is asking, you know that it is.
It's a personal story. I especially appreciated the last segment of the book, the Epilogue - Walking Out of the Apiary. But I will quote from the penultimate section, from Winston's chapter called Lessons from the Hive. It'll give you a bit of the flavour of the book:
"Bees can be the richest of guides to the most personal understandings about who we are and the consequences of the choices we make in inhabiting the environment around us. Conversations with beekeepers about how they are affected by their time in the bee yard show a remarkable consistency. Words like "calming," "peaceful," and "meditative" come up over and over again, and beekeepers visibly relax when talking about their bees." - Mark Winston, 2014
---
Bees Back Up on their Knees?
In today's unlikely Op-Ed article in the New York Times: Are Bees Back up on their Knees? beekeeper Noah Wilson-Rich makes the case that the worst of the mysterious colony collapse syndrome may be over. He reviews what many of us have been saying for a long time - this isn't the first time bees 'disappeared' from their hives. This fact does not reduce the seriousness of the current malady nor does it mitigate the expensive - sometimes bankrupting - losses many beekeepers suffered in the past few years. However, Noah reminds us that unexplained collapses occurred in "the years 950, 992 and 1443, when Ireland's beekeepers noted remarkably high mortality events. Reports from the Cache Valley in Utah in 1903 described thousands of dead hives; around the same time, the Isle of Wight in England faced a near total loss of honeybees." My father told me similar stories of almost totally empty hives a couple of seasons in the 1950s in Pennsylvania and New York. Anyway, the New York Times piece is an interesting read and gives a little balance to today's situation. As the editorial points out, all is not well and rosy, but neither is it all dire and death. The writer makes valid points about the difficulty commercial beekeepers face in a world of diseases, chemicals, and habitat loss.
---
Shanah Tovah!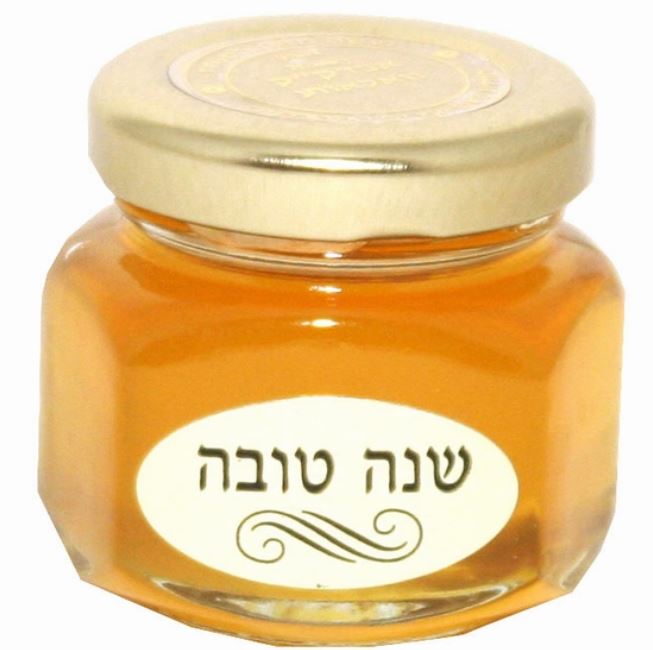 Sweet New Year!
Shanah Tovah! Rosh Hashanah, or the Jewish New Year, is the only holiday I can think of where honey is an integral part of the celebration. Without honey, the New Year just isn't as sweet. I came across a really neat article published in the Toronto Star about the sweet new year connection - the article even tries to explain how honey can be kosher, even though it is made by bees. But the main part of the article is about Jewish beekeepers in the Toronto area who have a strong commitment to the environment and to connecting with the soil. It is an interesting story.
By the way, the gorgeous jar of honey in this photo is in season even after the holiday. You can check it out on the Oh! Nuts website.
---
Bees: Targeted and Poisoned!
Three million bees were apparently poisoned. The RCMP is investigating. A commercial beekeeper with about 1,200 colonies now has fewer than a thousand. The Winnipeg Free Press says that Manitoba beekeeper Jason Loewen suffered a "targeted attack." Beekeeper Loewen told the press, "If there was a disease, or if farmers had sprayed pesticide, those bees would've all been hit." Instead, apparently random colonies within four bee yards were attacked and residue was found on the boxes and lids. The hives are being tested to determine what sort of poison was used. Loewen lost 60 hives and another 40 were badly weakened.
Dispute Resolution Centre

Who kills bees? Other beekeepers, usually. Although, of course, I have no idea who would have wrecked Mr Loewen's bees, in other cases where honey beehives have been systematically ruined, the culprit often turned out to be other beekeepers. When I kept bees in Florida, it occasionally happened that big commercial outfits with dozens of outyards competed with other similar outfits for bee locations. Apiaries are often hard to get. If one fellow is doing just fine with his hives and someone else (usually from a northern state) suddenly appeared with a couple thousand hives, the first beekeeper would sometimes lose control of his rationality and damage the newcomer's property. A cheap way of hurting the other man's bees was to enter unguarded apiaries at night, dislodge lids, and dump gasoline from a jerry can into each cluster of bees. (I suppose you'd want to do this without lighting a smoker.) Cruel, mean, and effective. And one way to find oneself in the county jail. I was never targeted like that - I didn't have enough hives to make anyone nervous, but I knew people who were hit.
In the Manitoba case, reported to the police a couple of days ago, it is hard to imagine that the damage was done by a competing beekeeper. It is almost impossible to over-graze western Canada's flora and farmers usually are eager to have beekeepers on their land, so fights over forage and locations shouldn't exist. Besides, this is Canada. Such disputes are supposed to be settled over coffee at the village cafe. Not in the cover of darkness, jerry can in hand, eh?
---
Neonicotinoids and western Canada
Canola's flea beetles - enjoying a taste of heaven

I am still trying to understand why neonicotinoids have not been a problem in western Canada. 40% of all seeded crops in Manitoba, Saskatchewan, and Alberta are canola. And 100% of the seed is treated with neonics. So, at least 40% of western Canada's cropland is treated with neonicotinoids every year. (I say "at least" because some of the other crops out here are also treated.) I just attended a meeting in which guest speaker Greg Sekulic, a canola growers' agronomist, spoke about the importance of bees to the canola growers. Greg spoke about the relationship of canola and bees, which can be boiled down to this: Canola needs bees; bees need canola. What's good for bees is good for canola. Simple enough. Canola seed is vastly more plentiful if healthy bee populations are around to pollinate it.
Unfortunately, canola can not survive without pesticides. This monocultured oil seed is heaven on earth for the little flea beetles, which seem to imagine that the gods planted all those yellow flowers just for them. In the past, farmers ran across their fields with spray booms - or hired airplanes - to kill the nasty pest. I know, because beekeepers used to lose hives when foliar sprays were used exclusively in the old days. Beekeepers who have never stared in horror in a bee yard as spray planes pass overhead don't understand this. It would be tragic to go back to the old ways and the old chemicals. I wish farmers would grow canola without pesticides, but I don't think that will happen in my lifetime. Canola, related to cabbage, is affected by cabbage worms, cabbage root maggots, cabbage pod weevils, aphids, thrips, cutworms, blister beetles, grasshoppers and locusts, lygus bugs, flea beetles and their cousins the striped flea beetles. Poisons will be part of the farming business for a long time.
So we have the odd situation that a hugely important mid-summer nectar source for honey bees has been treated - 100% - with neonicotinoids for years, yet bees are not suffering. Before the hate mail starts again, let me remind you that I know neonicotinoids are poisons and I have written about this many times in the past. One tragic case of neonics sprayed on blossoming orange trees in Florida killed millions of bees and cost beekeepers hundreds of thousands of dollars. (The offending party had not followed label instructions which clearly state no spraying during blooming. The state of Florida slapped a couple of tiny little $1,500 fines on the bad guys who killed the bees - which turned out to be a huge multi-million-dollar conglomerate. You should read the whole story.)
Last winter Ontario beekeepers suffered horrific losses - almost 60% of the hives put into winter died. Some are blaming neonics used on corn seed. Maybe they are right. But southern Alberta beekeepers with their hundred thousand hives sitting in nico-treated canola fields lost only 15% of their colonies. Figuring out this paradox should make a fascinating - and important - research project.
---
Alberta has been 'Harvest Mooned'
Last night's Harvest Moon in Calgary - with snow on our pines!

Usually the Harvest Moon is appreciated by farmers. It heralds the cool night that may put the first frost on the pumpkins. The cool weather sweetens apples and brings on the colours of fall. The Harvest Moon is the full moon closest to the first day of fall, and that's what we had a couple of nights ago. Sometimes the sun is just setting when this moon rises. Since it is equinox time, the moon is a lot brighter. This means a little extra time in the field for the farmers' harvest. This year, Alberta was mooned in an unusual way. The weather turned nasty with a record snowfall (half a metre, or 19 inches, in places). The snow crushed unharvested wheat and buried drying canola. First estimates are that yesterday's snow will cost farmers tens of millions of dollars. For many of them, what was shaping up as a nice crop is no more.
Not a good day for leaves

Branches on deciduous trees were snapped throughout Calgary. Mayor Naheed Nenshi sent out a dozen crews of arborists, teamed with workers from city parks, city roads, and some sanitation engineers. They were assigned to a 24-hour emergency plan. The mayor warned us that we may be woken in the middle of the night as those crews with their chain saws worked to clear the roads. Chain saws at 3 a.m.?? Well, this isn't Texas, so we weren't worried. Folks here were making snacks and coffee for the chain saw guys. The city estimated that about a million branches were broken. Power was out most of the day for 30,000 people. Our electricity died; the local schools were closed. We lit the fireplace. Got cozy. An hour later, power was back on.
Deciduous vs conifers. Although leafy trees were damaged, the pines were not. They just whispered jokes about all the broken arms among their neighbours. Most deciduous trees can't stand the weight of heavy snow. Their gangly limb structure can't take the strain. It made me think about the way these different trees evolved. It took a long time. In the early Devonian (420 million years ago), no plants were even shoulder height - you could see over the tallest of them, if you had been around then. (But you'd be pretty old today, so it's better that you missed that.) But 60 million years later, tree-things were 30 metres (100 feet) tall. By the Carboniferous, when most of our coal beds formed, trees reached 50 metres. All that in just a few hundred million years of competition and natural selection. It was an arms race, each plant trying to grab rays of sunshine while shading its neighbours to death. Conifers as we might recognize them today developed around 250 million years ago. Leafy, flowering trees only 100 mya. Flowering plants have a faster maturity, more genetic diversity and mutations, and have been slowly pushing conifers aside almost everywhere - except where heavy unexpected snowfall gives the conifers an edge. Here in Calgary, in an act of retro-evolutionary defiance, the needles beat the leafies yesterday.
How does a storm like this affect bees and beekeepers? Well, bees didn't gather much nectar during the past few days. And after the storm, the sky cleared and the temperature plunged - we had a light frost. So, serious nectar collecting is done for the year. Beekeepers are reluctantly dragging the last honey boxes back to their shops and preparing their bees for winter. They are working long hours. Even beekeepers appreciate the light of the Harvest Moon.
---
The Worst Place to Get Stung
Where is the worst place to get stung? The correct answer is not "on the picnic table." According to Cornell University graduate research scientist Michael L. Smith, in a study funded by the United States National Science Foundation, the worst place to take a sting is either the nostril or the upper lip. He places both within the same range of scientific error, though he admits that the nose sting was tearful. Smith's neurobiology paper, Honey bee sting pain index by body location, does not miss a single body part.
The folks at Dadaviz, a cool website that makes charts and graphs out of all sorts of weird data, sent me their data visualization for Smith's bee sting pain study. I reproduced their chart above, and you can see all the detail clearly by either clicking on the chart, or clicking here and going straight to the data at dadaviz.com. (Once you arrive there, you can click on the data visualization and it will expand to fill your screen.) I encourage you to take a close look, then come back here and I'll tell you how these data were collected.
I had imagined that a team of white-jacketed doctors at Cornell experimented on hundreds of volunteer grad students, inflicting each with an exquisite sting. Turns out, it was not done that way. If you read the original research paper, you will learn that Mr. Smith self-inflicted 75 honey bee stings to gather the data. He stung himself (well, actually, he let bees sting him) five times daily between 9 and 10 o'clock each morning. Each location was stung 3 separate times, on different days. The researcher then rated the painfulness of each location's sting. It seems the softer body parts (his nose, lips, and, yes, genitals) hurt the most following a sting. The nose stings, reported Smith, "were especially violent, immediately inducing sneezing, tears and a copious flow of mucus." Not surprisingly, the least painful spot to take a sting was on the skull. We are hard-headed for a reason.
I know you are wondering where the thesis advisor was during all of this. That leads to one of the many interesting parts of this research paper. Smith wrote, "Cornell University's Human Research Protection Program does not have a policy regarding researcher self-experimentation, so this research was not subject to review from their offices. The methods do not conflict with the Helsinki Declaration of 1975, revised in 1983. The author was the only person stung, was aware of all associated risks therein, gave his consent, and is aware that these results will be made public."
In my last blog post, I wrote about Beetox. What about Bee-agra? Alas, Smith reported only the pain levels, not the amount of swelling. No photographs were available in the research paper.
---
Joan Rivers, without Beetox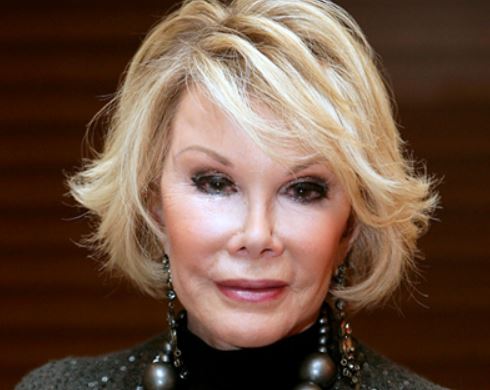 Beetox: Sting relief for tired skin
81-year-old comedian Joan Rivers died last week. The world is now without one of its truly acerbic wits. Ms Rivers loudly paraded her much-sculpted face before crowds, saying that it wasn't right to pretend she wasn't getting Botoxed. Lying about having Botox treatments "says to the average woman: I'm naturally beautiful and you are not." When Gwyneth Paltrow said she was afraid to try Botox again because she was scared she'd end up looking like Joan Rivers, the comedian cleverly retorted "She should see what I look like without Botox - that's really scary!"
Gwyneth is afraid of Botox. Maybe she should be. Botox is a paralyzing toxin derived from botulism, a sometimes fatal illness. She might prefer being stung on the face instead of poked with Botox needles. Beetox, instead of Botox. Adventurous entrepreneurs are advocating this weird bee therapy to smooth tired skin. I have seen products - creams and gels - made of bee venom. Some people are enthusiastic and say it works; others not so much.
But perhaps skip the expensive creams and go straight to the source. A few stings on the face stretch the skin as smooth as a baby's tummy. By the way, the young lady in the picture to the left took a nasty sting, but she will be alright. If you should accidentally undergo a Beetox adventure, be sure to scratch the stinger loose without squeezing the venom sac. Some clever folks pull bee stingers with tweezers grasping the poison bag - that injects an extra dose of venom, making the cure worse than the ailment. So please scratch, don't squeeze.
Should Joan Rivers have tried Beetox? Certainly her dear friend Prince Charles could have rustled up a few bees from the Royal Hives for her. But does Beetox actually work? I don't know. But I can tell you that most beekeepers get stung on the face. And beekeepers are undoubtedly among the most handsome people you will ever meet.
---
See You in Court
A few hours ago, Bayer and Syngenta were hit with a $450 million lawsuit for producing a pesticide which has allegedly hurt beekeepers' businesses. This might be the largest claim ever filed in the history of beekeeping. Two Ontario honey-producing outfits - Sun Parlor Honey Ltd and Munro Honey started the nearly half-billion-dollar class-action lawsuit against the neonicotinoid manufacturers. I had never heard of either Sun Parlor or Munro, so I checked their websites.
As of this morning when I looked, I didn't notice anything on Munro's website that indicates their beekeeping activity (maybe I missed seeing that), but Sun Parlor's website (September 4, 2014) says that "This year their 1,600 hives . . . will produce more than 300,000 pounds of award winning Ontario honey" - a very respectable 187 pounds per hive. Since Ontario's long-term historic average is only around 100 pounds, that tells me that Sun Parlor's beekeepers are exceptionally good. Congratulations to them for achieving something that most beekeepers are finding very challenging!
Despite Sun Parlor Honey's self-reported anticipated bumper honey crop, Ontario beekeepers have generally been suffering. Last winter, losses were reportedly 58%, according to Better Farming's article "Cold weather blamed for high bee hive losses in Ontario". Some Ontario beekeepers are directing blame towards pesticides. But others point out that viruses, destructive varroa mites, nosema, monoculture farming practices, a harsh winter, and bad beekeeping are among the causes of Ontario's beekeeping woes. They also point out that Alberta - Canada's most productive honey province - is saturated in neonicotinoids, but has not seen the devastating losses experienced by Ontario's beekeepers. In fact, southern Alberta's canola-growing zone saw only 15% winter kill last year. In Alberta, neonics are used on the province's most prolific honey source, canola. In Ontario, neonicotinoids are mostly used on corn which doesn't secrete nectar and does not attract bees as seductively as canola does. The difference between Alberta and Ontario has been difficult to understand. Neonics are, of course, insecticides and they kill bees. If bees are fed toxic levels of neonicotinoids, it has been, well, toxic. But the levels fed in such cruel experiments have been greater than the amounts bees normally encounter. Perhaps Alberta will yet see huge losses of bees, but neonics have been used in the west for nearly ten years and Alberta has yet to see the dramatic problems encountered in Ontario.
Will the beekeepers win their lawsuit? The rebel in me wants to say "Yes!" But here in Canada, litigation is extremely expensive, extremely time-consuming, and is very much fact-driven. The Statement of Claim was filed in Ontario's Superior Court. I have read its 30 pages, and you can, too - it is at this link. (I will comment on the Statement of Claim in a future blog entry.) The claim was filed on Tuesday asking for $289 million dollars, but was amended the next day, now seeking $400 million dollars for general and specific damages plus another $50 million dollars in punitive damages - or such other sum as the "Honourable Court finds appropriate." The claim alleges that Syngenta AG and Bayer CropScience were "negligent" in the "design, sale, manufacture and distribution" of neonicotinoid pesticides. This may be true, but it will be difficult to prove. Lengthy discoveries will question the beekeepers' management skills, sales receipts, expenses, and the pesticides generally used by beekeepers to fight varroa - and lots more. I don't envy the beekeepers who will need to provide documentation and answer those questions. Eventually, years from now, there will be a trial. Considering the long battle ahead, these beekeepers are brave crusaders.
The courts may decide that the product is legal and safe except when misused. This would be a result similar to failed attempts to punish car and gun makers when their products are used irresponsibly. If beekeepers lose the case, it would probably be effective to issue claims against individual family farmers whenever they are deemed guilty of handling pesticides unsafely. On the other hand, it may turn out that neonicotinoids are viewed by the court as similar to tobacco and the makers may be forced to pay damages - especially if the manufacturers have not accurately portrayed their products, have not divulged all their studies' results, or have otherwise misled users. If the product is found culpable by the courts, then corn farmers could be bankrupted by statements of claim for having used the nasty stuff. Either win or lose, I can see lots of future litigation directed at bean and corn farmers in Ontario - after all, they were the ones actually applying the poisons. But whatever the courts decide, it may take five years for a decision. And then there will be an appeal to the Supreme Court of Canada, with litigation lingering on for several more years.
---
An itchy growth of facial bees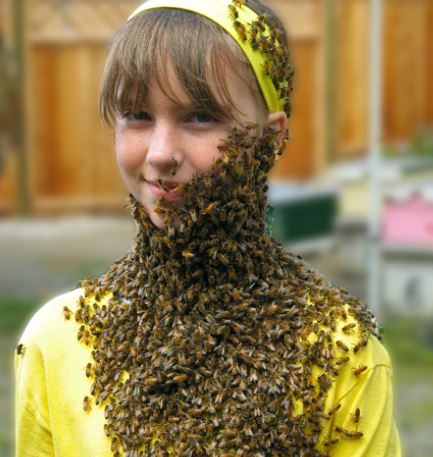 Braving the Beards
Almost anyone can grow a beard. Especially if honey bees are the nubs. The young lady in the picture to your right is showing off a sporty growth of facial bees. Surely there is some medicine or therapy that could have prevented this? A few days ago, the web master of a new beekeeping site (Beekeeping Planet) sent me a link to his site's Top Ten Bee Beards page. So, it got me thinking about bee beards.
Perhaps a stylish bee jacket?

What is the fascination with bee beards? Not everyone likes the appearance of a shaggy face. (Although Darwin, Lincoln, Marx, and Castro all got good mileage from theirs.) And not everyone enjoys having small stinging creatures buzzing the cheeks. But combine the two, and you could make a documentary feature for PBS. I suppose that photos of bee-bearded folks are almost as old as photography. I guess it's because the bee beard combines the yucky, the creepy-crawly, and the daring-do in a delectable way. Having a potentially dangerous motley crew of stinging creatures hanging under one's nose has an almost universal appeal.
I started this blog entry with the idea that almost anyone can grow a bee beard. But then I was reminded of this tragic story about a 34-year-old gentleman in Vermont: Man Has Trouble Growing Full Beard Of Bees. It seems to be true - patchiness, uneven color, itchiness, and the odd stray gray bee seem to plague the young man whose father "always had a full thick beard of bees his whole life." There is a solution, which The Onion news story didn't report: some young men have been going for the full bee jacket to take attention off the lack of bee beard. It is easier to maintain and has just as much "Wow Power" as the facial bees. However, the bee jacket is not recommended attire while motorcycling.
---
This hunter eats honey.

Back to the Cave
Not long ago, a friend of mine was on The Caveman Diet. He devoured raw seeds and nuts, burnt meat, and handfuls of fruits and berries. It was probably a healthy diet. But he couldn't give up either coffee or cigarettes. (I'm not making this up - he told me that cavemen must have had vices, too.) He moved away. I don't know if he is still a caveman, but I am pretty sure he is still sipping coffee and smoking expensive cigars. I had forgotten about his culinary habits until this afternoon when my National Geographic magazine arrived. The magazine devoted 20 pages (mostly pictures) to an essay about the dinner habits of our paleolithic ancestors. It's a good article. Partly because one of the best pictures in the story features a Hadzu gentleman (the story suggests he has a "caveman" diet) gnawing on a chunk of heavily brooded honeycomb.
Some modern dieticians are advocating a return to the primitive diet. The theory is that our forefathers evolved bodies adapted to stone-aged catching and cooking habits and we would be healthier to eat as our bodies expect us to eat. Evolutionary nutritionalist Loren Cordain, author of The Paleo Diet suggests that we could lose weight and get healthy by "eating the foods we were designed to eat." Cordain studied modern hunter-gatherers and found that a huge amount of the calories in their diet is meat. As much as 70% or so. I guess that's why we have canine teeth. The Colorado State University scientist recommends we eat lots of lean meat and fish and eggs and avoid foods that were tamed since the agricultural revolution 10,000 years ago - that means skipping cereal, bread, beans, peanut butter, milk and cheese. Among a whole lot of other things. But you don't have to pass up the honey.
Caveman ate honey. Likely brood and bees, too. The modern African Hadzu diet includes baobab fruit, berries, and plenty of game. But they - and their ancestors - must have loved honey. Who wouldn't? If the caveman diet works, people could be eating a lot more honey. If it really works well, people will be living longer, and will remain honey customers for a long, long time. Especially if they give up their coffee and smokes.
---
US Navy's flying bug prototype, 8 years ago!

Robo-Bees to the Rescue!
Beekeepers are having a tough time keeping their hives alive. So far, they have been succeeding - there are more colonies of honey bees in the world now than there were 20 years ago. (Contrary to hype, honey bees are not becoming extinct.) However - and this is big - beekeepers have been losing more colonies than usual because of mysterious ailments. To cope with losses, beekeepers raise more queens than usual, make more increases each year than usual - and spend more money than usual. This is expensive, very expensive. In places like Ontario and parts of the American mid-west, over half of all kept colonies died during the winter of 2013-2014. This means those unfortunate beekeepers had to shell out a lot of cash to stay in business. This has also forced beekeepers to charge more to the groves and orchards that rent honey bees for pollination.
Growers are getting nervous - with the high cost of rental bees and all the hype about honey bee extinction, growers have begun to look at other ways to pollinate crops. Enter Robo-bees.
Harvard University researchers are coming to the rescue. Harvard's Robobees website says that autonomously pollinating a field of crops using a fleet of tiny robotic bees is 20 years away. I think the scientists are being modest. In the U.S. Navy photo above, you can see the big clunky insect robot developed in 2006; below, you can watch a video of the newest device. The contrast is amazing. With the ever-accelerating pace of electronic technology, I think the engineers will be able to work the bugs out of their creation much sooner - and in turn, work the real bugs right out of the pollination business. (The pace will also be hastened by the military application of using spy-bugs. The U.S. Army Research Laboratory just signed a $38 million deal with a company called BAE which will lead development of spying dragonflies.)
So what's next? Beekeepers as mechanics and computer technicians? Robo-bees that both pollinate and carry nectar? Mechanical bees that are drones? Mechanical bees with a honey tummy as big as a bus? I can see the future... Robots harvesting and extracting the honey produced by robo-bees that pollinate robo-trees and gather nectar from... dandelions. Let's face it, there will always be dandelions.
---
Judgment Day for Honey

Thoughts on Being a Fair Fair Judge
What makes first-class honey? Is it the taste? The flavour? The colour? A lack of bubbly foam, dirt, bee lips, and assorted bee organs? It's a personal choice, of course. Some like it spicy; some like it mild. But the honey judge at the County Fair has to rise above personal quirks and has to select the Blue Ribbon Best of Show on something approaching non-biased criteria.
I was a honey judge at the Millarville Fair today. For some reason, the number of entries was small. A few years ago, there were 40 jars of honey to critique. This year, there were far fewer - it is turning into a good honey year, so maybe all the beekeepers were busy with their bees. Nevertheless, judging proceeded and in the photo to your right you can see the First, Second, and Third Ribbon winners. It takes courage - and time and patience - to enter your honey into a contest. Kudos to those who dare to compete. And filter, fill jars, and finally present their homemade treasure for inspection by some odd character such as I. I tried to be fair. But we all know that wine and honey connoisseurs are snobs.
Well, here is how you, too, can be a honey snob. If you can see the chart in the photograph, you can see how the honey entries are scored here in southern Alberta. Most of the graded factors are entirely objective. Container, for example, worth 10 of the 100 points, includes the appropriateness of the jar (sorry, re-used pickle bottles get fewer marks), cleanliness (not too sticky, please), and the container's lid and surface condition (no chips on the glass or bent metal on the lid). And so it goes through the list. The only somewhat subjective attribute relates to flavour and taste. But this has nothing to do with the judge's appreciation of honey. I may like the foulest, blackest buckwheat (an obvious personal defect in my psyche), but I have to rise above that and treat the whitest, mildest honey with equal respect. The attributes of flavour and taste must associate with the honey entry's degree of suitable (or unsuitable) in quality despite any ravishes of heat or water. Too much heat in the processing spoils otherwise wonderful honey, darkening it and imparting a caramelized flavour. Too much water (moisture) in the honey quickly results in a sour or vinegary flavour - it will spoil. These are the things the judge is judging when flavour and taste are being examined. In the end, then, honey should be judged on its suitability as a food and on its bright and clean presentation. If you would like a copy of the scoring sheet I used for this purpose, you can download it here.
---
Super-strength Beekeepers
Have you heard of the Robo-Suit? Japanese scientists are responding to the problem of creaky-boned farmers in their country by designing muscle suits that can be worn over the farmer's khakis. Two-thirds of Japan's farmers are over the age of 65. And much Japanese agriculture operates on small, hand-tended estates. Not so many big tractors there. If the farmer reaches down to pluck a carrot, the exoskeleton provides back support. If the farmer holds a heavy load, the exoskeleton can straighten, strengthen, and support legs. Grape-picking farmers are provided upright posture. One prototype has eight motors, multiple motion sensors and voice recognition software that allows the user to give it commands. When the machine recognizes that a load is becoming too heavy or muscles are getting too tired, it compensates for the human's strength with its metal and plastic frame.
Not just building boats

They are working on this idea in Korea, too. Your next Hyundai might be assembled by a small army of bionic men. Or at least loaded onto a ship built by bionic men - the sprawling Korean Daewoo ship-building yard has begun testing human-robot hybrids. Workers strapped into a prototype exoskeleton can effortlessly lift 30 kilos (65 pounds) - about the weight of a super of honey. New models will lift almost 200 pounds. The shipyard has just inked a contract to build 10 of the world's largest freighters (each will be nearly half a kilometre long and hold 18,000 containers). The men in suits will soon be hoisting and holding and welding pieces of steel heavier than themselves. The suit itself is heavy (about 50 pounds) but the worker feels none of that weight because the aluminum and steel frame's mass is distributed through the skeleton down into the wearer's boots.
The military has been watching. And for years, they have been developing their own exoskeletons. The goal is to have a platoon of soldiers trudging hours on end, carrying 200-pounds of gear, possibly even napping while their robo-suits are marching forward on auto-pilot. Special-Ops and Navy Seals are expected to be outfitted with some model of Iron Man suits by late-summer 2018. A beekeeper might not benefit from all the nifty flame-throwers and razor-fingers, but the fact that military use exists makes the suit's reality and rapid development more likely.
Meanwhile, the other big segment of America's economy, health care, is also beginning to see exoskeletons as a part of the rehab for patients who have suffered strokes and accidents which limit mobility. But the really remarkable breakthrough will come when light-weight, easily donned robo-suits allow paraplegics to stand and walk. This has already been accomplished in trials. In June, the FDA approved the sale of ReWalk units, a robotic system developed by an Israeli tech company. It was tested at Mount Sinai (the hospital, not the hill) by Errol Samuels, a former athlete who says getting out of his wheelchair was "like a breath of fresh air." Indeed, exercise and mobility are tough for people forced into a sedentary life by disease or accident. This system would improve circulation and general health, to say nothing of mood and quality of life. As my own paralysis advances year-by-year (I have a motor neuron disorder, similar to Stephen Hawking's illness), so anything that can increase my activity level is eagerly sought.
I want one. Beehive honey boxes often weigh 40 kilos (over 80 pounds). And the average beekeeper's age is now 57. This exoskeleton-robo-suit would find a ready market in the army of honey-harvesters in North America. Imagine working through an apiary in half the time at a third the effort. The farmer's friend has been on sale in Japan for a million yen (about $10,000) per suit, but the price is expected to drop to about $5000. For beekeepers, the robo-suit would strap overtop the bee-suit. Five thousand dollars is beyond the reach of most beekeepers, but if it eliminates back surgery later in life, it's a worthy investment. And if you are already having trouble walking, such an outfit could keep you active a lot longer.
---
Not a beekeeping book

The Mountain Mystery
Ever wonder why the world has mountains? Where do those things come from? Ask most school kids and they will tell you about plate tectonics - the continents are moving, they bump into each other, mountains are the wreckage from continental collisions. But just fifty years ago, geologists were still thinking mountains are the result of a shrinking Earth. Or an expanding Earth. Or they would have mentioned some complicated system of deep trenches, heat, pressure, and - look out - mountains come springing up. That was 50 years ago.
The idea of mountains puzzled me, too. When I discovered that the science of mountains is about as old as I am, I thought I'd read up on the people who figured out continental drift and plate tectonics. It turned out to be so interesting that I gathered up everything I could find (about thirty books and a thousand scientific papers) and I wrote a book about the people who figured the whole thing out. The book, The Mountain Mystery, is a "people book," not a science book, though you will accidentally learn a bit about the nature of science along the way. I'd like you to read it, then send me your thoughts about the story.
If you are among my many friends who believe the Earth is 6,000 years old, I'd especially like to hear from you after you have read this book. But be forewarned - I have been a geophysicist and a scientist too many years and the system has corrupted me into seeing the world as over four billion years in age. But science is an open book and I would change my mind in a flash with evidence to the contrary. If you are among the folks who don't think continents can move, you might not be aware that over 2,000 GPS monitors are stuck like pins into our planet and are tracking the Earth's movements in real-time, even as you read these words. The continents are moving. Finally, if you are among my many, many friends who are fascinated by everything in science and nature, but don't know anything about geology or earth sciences, then this book is absolutely for you. You can buy The Mountain Mystery from Amazon - it went on sale earlier this week. By the way, honey bees make a cameo appearance near the end of the book, but this is not a beekeeping book.
---
They are watching...

Under surveillance
Alberta beekeepers have initiated a nation-wide program to monitor the health of Canadian bees. Even though Alberta has been largely untouched by heavy losses (so far), the Alberta Beekeepers Commission wants to stay ahead of potential disaster. Alberta beekeepers lost an average of 18% over this past winter (2013-2014). Tragically, Ontario beekeepers lost 58% of their colonies, according to a new CAPA publication you will find at this link. Beekeepers, according to the professional apiculturalists' report, cited weather as the leading factor in winter losses this past year. The winter weather resulted in higher levels of starvation than normal. Secondary losses - as listed by the beekeepers managing the hives - were poor queens and nosema issues. Excluding the disaster in Ontario, the overall average for Canada was 19.2% of wintered hives lost. Beekeepers have already made splits and purchased packages and nucs to make up the losses - in fact, Canadian beekeepers are expected to operate more colonies in 2014 than they did in 2013.
The new Alberta-initiated surveillance project will yield real data about the prevalence of disease and pests across Canada. These numbers are needed to calibrate and understand what might cause bee deaths. This is part of the reason the Alberta beekeepers have begun this massive study. The work will be led by Dr. Carlos Castillo at the National Bee Diagnostic Centre in Beaverlodge, Alberta, and honey bees from all ten provinces will be sampled for common pests and diseases as well as exotic high-risk invaders. Some of this work has been done on a regional level, but never nation-wide. It will take four years to complete the project as currently designed. Important to the work will likely be factorial and statistical analysis that might collate the various factors that occur simultaneously in failing colonies. As this blog pointed out not long ago, combinations of factors very often outweigh the sum of individual problems affecting bees. In other words, a mild varroa infection or a mild nosema infection might be manageable individually, but when they strike together, the results could be bitterly painful. This sort of thing requires data, not speculation, to understand. The new nation-wide honey bee surveillance program is designed to gather that sort of data.
---
Killing our problems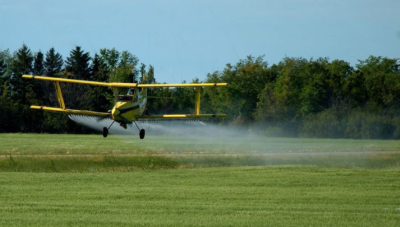 Happy Dusty Anniversary
You know what they say about new technology - someone always finds a way to put it to nasty use. Combine airplanes and chemicals, and what could possibly go wrong? Let's fly back to 1921 and visit a grove of catalpas covered in Sphynx moth caterpillars. They are dead now, mostly because 1921 was nearly a hundred years ago and worms don't live that long. But it did little for their longevity that the 6-acre grove of trees they once feasted upon was assaulted by lead arsenic from the air. It was the world's first aerial dust application, the birth of crop dusting. It was hugely successful according to the Cleveland, Ohio, entomologist who suggested the scheme. The dusting killed all the bugs. All of them. And probably some rabbits and deer, too. And added to the arsenal used to slaughter bees.
The slaughter continues. A year ago, I posted a blog entry about bees killed in Florida by poisons used by one on the state's largest citrus companies. I sent two e-mails to Florida's Natural marketing cooperative, asking their representative how they felt about having one of their members found guilty of violating state law. That was a year ago. They did not respond to my e-mail. So, I thought I'd repeat the piece from September 4, 2013. Here it is:
A bee-kill decision in Florida. According to Palm Beach's The Ledger, beekeepers Barry Hart and Randall Foti lost $390,000 worth of bees and honey production when one of Florida's largest citrus producers sprayed pesticides. (The loss does not seem exaggerated. For example, Foti's honey production was off by 200 drums of orange blossom honey and millions of dead bees were piled in front of his hives.) According to a Florida state investigation, the spraying was illegal. The grower, Ben Hill Griffin Inc, was ordered to pay a fine. Of $1,500. That's the fine?? Destroy two beekeepers, pay $1,500? It would be bad enough if the pesticide use had been legal and all those bees were killed. But $1,500 for an illegal application of poison resulting in this sort of damage? This sends the signal that one might spray whenever and however it best suits the grower, then shell out the trivial fine. The state pointed out that the maximum fine is $10,000 per instance of abuse. The state says pesticide laws were violated by Ben Hill Griffin Inc on February 21, February 22, March 8, and March 19, 2013. That would sort of indicate four violations and up to $40,000 in fines. According to one of the beekeepers, Randall Foti, every four days they were spraying where his bees were working. The insecticide application occurred while the orange trees were in full bloom. Millions of bees died.
This is all very interesting, but, as it turns out, there is much more to this story. The company accused of using the pesticides is a green, natural citrus grower, indicates Florida's Natural Growers, a marketing cooperative. The fellow in charge is a fourth-generation grower - apparently a gentleman with a deep love for the environment, for the aquifer, for wildlife. According to Florida's Natural website, the groves' operator, Ben Hill Griffin IV, "prides his grove operation on environmental stewardship, as it helps to recharge the aquifer, generate oxygen, and provide a home for an abundance of wildlife. Many of the family's decisions in the groves are made to accommodate both the health of the citrus trees and the land they grow from." I could almost hear frogs croaking and birds tweeting as I read about the way oranges are grown by Ben Hill Griffin Inc. What I read were all very nice words and who can doubt what Florida's Natural Co-op says? Certainly not I. So, I wrote to Florida's Natural and asked how the company that stands accused by the state of Florida (and is ordered to pay the pittance of a fine) fits with the Florida's Natural brand. Natural, right? If they write back, I'll amend this blog entry with their information.
In reading the family biography and the Ben Hill Griffin company details on the Florida's Natural website, I felt compassion for the corporation. They love the land. They must be heart-broken about the tragedy they have apparently caused. They have a fleet of pickup trucks painted in "Griffin Green." Green. The clean color. The present owner started in the family business at age 11, "working with the baby trees in the family nursery." Sigh. But Ben Hill Griffin Inc is a huge corporation. The University of Florida's football stadium is named after the founder of that huge corporation. Ben Hill Griffin Jr, now deceased, was majority share holder of a company that owned the land the Atlantic Coast Line Railroad was built on - and various sugarcane, citrus, cattle, forestry, and sod farms. He was on the Forbes List of richest Americans. When he died, his $300,000,000 estate was bitterly contested in court by his four daughters who seemed to feel the one son (Ben Hill Griffin III), who was the sole trustee, had grabbed the bulk of the money, according to the Orlando Sentinel. In the newspaper's story "Drama Ends With Heirs Splitting Citrus Millions," they describe the fight as tabloid stuff: "The closet door swung open and out fell the skeletons..." This is not your average grove-owning family. Among Griffin Jr's grandchildren are several Republican politicians. You might remember Katherine Harris, a Griffin granddaughter, who was Florida Secretary of State in 2000 when the 'hanging chad' issue contributed to George Bush's election. Other members of the family have been in the Florida Senate and House. This is a powerful family. So it is really reassuring that their company is so anxious to do good things for the environment.
Beekeeper Foti has said that he saw empty containers of Montana 2F insecticide in a burn pile in the groves. If this is true, what does it say about one's love for aquifers, the land, the wildlife? Or maybe empty canisters of Imidacloprid stacked in a burning pile are OK? I have read Montana 2F's label. Surprisingly, yes, old containers may be burned if so allowed by the state, but the label also warns: "If burned, stay out of the smoke." Always good advice. Stay out of the smoke. The label also says:

   "This product is highly toxic to bees exposed to direct treatment or residues
    on blooming crops or weeds. Do not apply this product or allow it to drift 
    to blooming crops or weeds if bees are visiting the treatment area. 
    This product is toxic to wildlife and highly toxic to aquatic invertebrates."   

In issuing its fine the Florida regulators also said that in using insecticides, "The label is the law."
Morgan 'Beeman' Freeman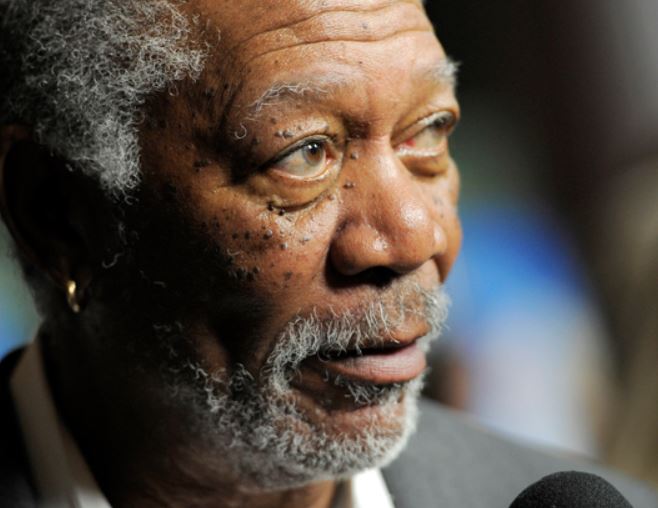 Beeman Freeman
Morgan Freeman is incredible. Whether you enjoyed him driving over Ms Daisy or gaining redemption after Shawshank, you likely admired the way the man can perform. I really began to appreciate Freeman when I started watching his series of science documentaries on Discovery, the astrophysics lectures called Through the Wormhole. Respect for the actor is deep - he was born in Tennessee, grew up in rural Mississippi, yet became comfortable in Hollywood. To top it off, at age 65 he earned his pilot's license and he flies a Cessna 414. Now 77, he decided to become a beekeeper. And it's not just a one-hive gimmick. He is keeping 26 colonies on his Mississippi farm. He's the beekeeper. (You'll enjoy his interview on Jimmy Fallon's Tonight Show where he told us about his new business.)
So, it's acting, flying, lecturing, and beekeeping. What's not to like? That's what I was wondering when I saw a Facebook page, owned by someone called JD, gushing with pride that Morgan Freeman has taken up with the bees. Facebook, as most readers of this blog know, sometimes turns into a rowdy forum with deadbeats and losers leaving their entrails and brain droppings scattered under even the most innocent of postings. Here is what one respondent replied to JD's enthusiasm. "Freeman is a creep. Animal scat." That was it. Nothing more. No explanation, no sources, no references. Just raw, juvenile arrogant opinion. Nothing at all to back up the stupidity, just mindless trolling rants. And this is a problem with much "social media." Here in Canada, the RCMP have just arrested someone for allegedly bullying a former co-worker by allegedly posting crap about the co-worker, co-worker's friends, and co-workers family on the net. The alleged bully, with over 100 charges against him, allegedly went to the trouble of creating fake Facebook accounts under the victims' names and then, for years, he apparently wrote all manner of insult about them. If ordinary people can be attacked, how does a person like Morgan Freeman defend himself against tirades that have no substance? Why are so many people cowardly bullying and lying, while hidden behind somewhat anonymous walls? I have received my share of mail from the stupids. You, of course, learn to ignore it and you worry about the safety of the sender's family, but it still burns up a little bit of your soul when you are hit by spitballs.
By the way, if you suspect Freeman is not really the Beeman Freeman, read on. He was asked what he is doing with the bees right now. "Feeding them sugar syrup. I mix two parts water and one part sugar." He is also (so far) not using a bee suit in his apiary rounds. How does he keep from getting stung? "I resonate," the new beekeeper said.
---
Bee People, rescuing a barn by killing a colony

Bee People
I previewed a new beekeeping movie, something a little different. I have to give Bee People a mixed review. I'll walk through some of what I liked, do my thumbs down bit, then try to wrap up with some overall impressions.
The good news. First - and this is a big positive - the photography was excellent. Lots of good close-ups of bees, occasionally interesting scenery, and smart, well-positioned camera angles. As a beekeeper, I enjoy seeing hives, seeing bees, seeing honey. But I also like watching people. Bee People lives up to its title with lots of interesting characters. Their interactions, though sometimes clumsily staged, are mostly genuine. A third aspect which makes the film appealing to me is the general lack of in-your-face the-sky-is-falling-in commentary. This is not yet another movie about colony collapse disorder, or the New World Order's conspiracy to starve us by poisoning our bees, or an exaggerated re-take on the statement that Einstein is credited with, but never said. Instead, the very real and very difficult situation of severe losses of bees for some beekeepers is obliquely referenced. Sometimes such a subtle approach is more palatable and makes a stronger case. So instead, the movie focuses on a small group of Colorado beekeepers (with a brief scene in NYC and New Jersey, and a cameo of the film's only real expert, Dr Larry Connor). The beekeepers shown are almost all newbies: enthusiastic, but unskilled.
I had three issues with the Bee People movie. These shouldn't stop any lover of all things bee, but they stood out in my mind. First, I had trouble finding a theme, or raison d'etre for the film. I found myself asking, "What the heck is this about?" and "Who's the audience going to be?" There is a long string of vignettes - some interesting, some not so much - but I couldn't find the glue that was supposed to hold them together. That might have been my own problem. Others might see it as a look at people who care about bees, but for me, there is little incentive to watch a movie about people I can see anytime.
I hope absolutely no one takes Bee People as an educational documentary because this is my second criticism. Factually, the film is a mess. Although it does not play up sympathy for dying bees, there are the statements "Commercial beekeepers lose 60% of their hives every year." and "Every time commercial beekeepers open their hives, they find 75% of their bees are dead." Simply not true. Winter losses for commercial beekeepers have been rather high, averaging 31% for the past 8 years, but commercial beekeepers make up the winter losses from splits in the spring (or they buy queens and packages from beekeepers who specialize in such sales). Overall numbers of hives in the USA have not dropped in the past few years - there are actually several hundred thousand more kept colonies today than there were in 2006 when CCD was first reported. (And world-wide, the number of colonies has increased much more.)
But more egregious errors surface in the beekeeping practices that are shown. At one point someone shows us how to put an active hive back together without squashing bees. And does it wrong. And then sort of shrugs and says that you will always kill a few. In another scene, the Bee Guru performs a "bee rescue" which turns into a major farce. He and his friends spend 8 hours ripping open a barn which is home to a huge, thriving, well-established colony. From the dark combs, heavy propolis, and kilos of honey stored by the bees, this is a colony which clearly did not need humans "rescuing" it. They were doing just fine and likely were headed by a queen with superior genetics - the bees had lived without meds and chemical treatment for years in the barn. The landowner apparently wanted the bees out, but she herself was a beekeeper, so the removal wasn't because she was afraid of bees. Maybe this was a "barn rescue" and not a bee rescue. Because they took so long removing the bees, the fiasco turned into a robbing frenzy with neighbourhood bees descending on the open combs lying about. This "rescue" was in September so the bees that were hoovered up had no chance to re-establish themselves before winter. Instead, the "rescued" bees were coated with powdered sugar and placed atop an established hive at a new location so the two colonies might fight it out, or possibly merge. No mention was made of the queen. I was actually sick to the stomach watching the brutal demise of the old colony.
In the last major scene of the movie, the Bee Guru flies to New York City to help the Bee Cop who, it seems, called the Bee Guru as a reinforcement to remove bees from a house. They get to the house, use a $7,000 heat sensor to locate a nest behind a wall, rip into it, and find abandoned combs, no bees. The combs were occupied by fat ugly wax worms. Bee Guru and Bee Cop both seemed surprised that the wax worms give off heat - which was what the sensor had detected. This made a rather surreal scene for the movie. The effect, to me, is simply a big Yuck! because of the webby wormy mess - with great photography - and the scene comes near enough to the end to make it one of my last mental images of the film.
My third problem with the movie: Some of the bee people showcased by Bee People seem less than endearing. I couldn't like the Bee Guru, though I tried. He came across as rather self-assured and self-important. (To his credit, there is a clip of the Bee Guru telling us how brilliantly innovative beekeepers are, then telling himself to "Deflate, deflate.") In a particularly strange scene, one of the beekeepers pushes on the tail end of a squat pig named Pickles, forcing her from his house - sorry, I could neither identify with this nor see how it added to the film. On the other hand, there was the Bee Medic who seemed like a nice guy, a new beekeeper, someone I could have a beer with. The Writer (Leslie Ellis) was the nicest of all and I'd gladly have two beers with her. She was enthusiastic and self-effacing and the sort of person one wants to see keeping bees. A briefly-spotlighted family of beekeepers also seemed like totally nice folks, as did a new kid beekeeper harvesting a great honey crop. Unfortunately, he was being coached by the Bee Guru who told onlookers that beekeepers get stung on the nose more than any other place. Totally untrue, real beekeepers mostly get stung on the hands and fingers. But then again, the Bee Guru was rarely (if ever) working bees without gloves, so maybe in his case it is true.
Here is my recommendation. If you are new at beekeeping, you might identify with some of the characters. If you have a friend getting into bees, you might watch this and learn that beekeepers are strange birds, but if you have a friend who is a beekeeper, you already know this. If you are looking for hints and tips or profound knowledge, that will only come from Larry Connor, near the end of the flick when he says he likes the new beekeepers who are getting involved, but cautions against becoming a "drive-by beekeeper" the most apt term I'd never heard before. Larry tells us to beware the beekeeper who jumps into the hobby, drives by the bee supply store, drives by the bee yard - in other words, never engages, never becomes a real beekeeper. That person's bees will die. Instead, says the master, find a good mentor and make a real commitment to beekeeping. For a new beekeeper, that's the best advice possible.
---
Someone had to put the lid back on the hive...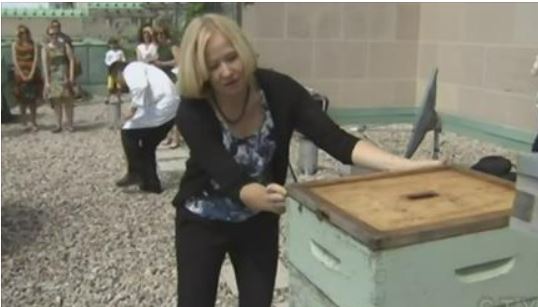 Cool in the line of fire
Gotta give the prime minister's wife credit. She was cool and calm. Unlike the unfortunate beekeeper/chef who was jumping around and swatting bees. Had to be sooo embarrassing for the executive chef. Just another day in the public spotlight for Laureen Harper. Why so calm? She's probably like that all the time, but it helps that Laureen grew up on a little farm near Turner Valley, south of Calgary, where the family had a greenhouse business and kept some bees. I like that she put the lid back on the hive, keeping the bees from getting even more irritated. You can watch the video (it's worth viewing) by going to this link. She seems a natural beekeeper - wish she had also been Canada's prime minister for these past eight years.
---
Canola - a tasteful upgrade
Canola: the yellow new food for the hungry masses

Canola is in peak bloom here this week. The cultivated oil-seed crop is a phenomenal honey producer. Canadian farmers plant just over 20 million acres of the crop each year. It yields about 100 pounds of honey per acre. If there were enough bees to collect it all, Canada would have a crop of 2 billion pounds of canola honey. As it is, we produce about 90 million pounds, but that includes alfalfa, sweetclover, fireweed, buckwheat, goldenrod, and a host of other exotics. I would guess Canada's canola honey production is about 30 million pounds a year, hence leaving 98% of the nectar to drip to the ground for lack of honey bees. But canola is a crop that might have never existed. Except for a couple of earnest crop scientists and the magic of genetic manipulation.
When I moved to western Canada about 40 years ago, the farmers were puzzling over a crop they called rape. Or rapeseed. The more discerning called it by its Latin name, rapa, which means turnip. A few said the stuff was big mustard, but they were wrong, although mustard seed is a distant cousin. I never liked the sound of the old name and I'm glad farmers no longer plant rape here. However, I have to wonder what happened to the old, odd sign I used to see upon entering the town of Tisdale, Saskatchewan: "Welcome to Tisdale, Land of Rape & Honey" - it was the sign that greeted me when I went to the honey co-op in that town back in the 1970s. The greeting was on that billboard because northern Saskatchewan was rife with those yellow unruly cultivars and bees made gold from their flowers. The sign, by the way, was inspirational fodder for the British band Ministry, a heavy-metal gang that released an album called "The Land of Rape and Honey" in 1988. But fortunately, political correctness and genetic engineering put an end to rapeseed.
Heart disease. Rape, as Brassica napus was known, began its domestic life in China as the vegetable yu choy, then arrived in Europe around 600 years ago. It became popular on the northern Canadian plains because it could be planted late and harvested early, beating the cold weather on both ends of the season. For quite a few years, it was used as an engine lubricant but was pushed off the market by cheap petro-substitutes. So people here started frying their perogies with the oil. When I came to be part of Saskatchewan's landscape in the 1970s, Canadian government botanists had discovered that rapeseed - pressed and squeezed into cooking oil - contained erucic acid which caused heart disease. Rape was being phased out - worse, the government was hinting the crop might be banned by royal decree.
How to make a better oil. Keith Downey and Buldur Stefansson contravened the threatened ban by a bold move. They genetically coaxed rape into becoming canola. Canola (derived from the words CANadian OiL, A?) came about because Downey and Stefansson tediously cut the tiny seed's endosperm from its embryo by using tiny scalpels. Then they analyzed the oil's acids, selecting seeds that were the least erucic-ish. By 1974 the scientists ended up with a seed rich in oleic acid instead of harmful erucic. The result was the lowest content of saturated fat in any oil on the market. It was an immediate darling on health food shelves - and it found a place outside of everyone's heart.
Not every beekeeper loves canola. Today I drove out to my daughter and son-in-law's honey farm. I passed a few fields of canola before reaching their property, which is mostly in alfalfa and sweetclover ranch country. If they could, they would avoid canola as a nectar source for their bees. Although the honey is mild, white, and thick, it has one disagreeable attribute for the kids who are trying to make a living producing comb honey. Canola granulates, or crystallizes, really quickly. Within days. Even in pristine comb honey sections, much to the disappointment of the beekeepers. So, if someone is looking for a breeding project, perhaps canola that produces a non-granulating nectar could be the next thing to tackle.
---
Hive Homes: Hives for Humanity

Hives for Humans
I had not heard of "Hives for Humanity" until yesterday when I stumbled upon an article that talked about a garden in Vancouver where an outfit calling itself "Hives for Humanity" has placed bees. The article goes on to say that the organization would like to put a few hives on various private properties, give landowners a bit of honey, and use any profits to support the endeavour. This, of course, perfectly describes what beekeepers have been doing for hundreds of years.
But it got me thinking. Why is it that only bees get to live in beehives? (OK, bees and mice and wasps and hive beetles, wax moths, varroa mites and the occasional racoon sleeping off a hangover.) Why not take the organization's name as a literal invitation? Hives for Humanity: A hive for every human. Just like the houses in the picture above. These Turkish hive-homes seem perfect. Thick walls to keep the place cool in winter; peaky tops to hold all those TV receivers. How quaint.
---
Our Bees, Ourselves
"I'll take one of each."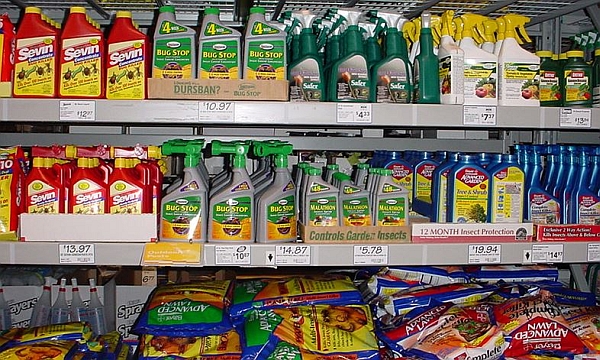 Interesting Op-Ed column in the New York Times. Mark Winston, a senior prof at British Columbia's Simon Fraser, wrote about the widespread collapse of honey bees. Winston is one of those super-brains who studied bees and entomology for years and has more recently stepped back to take a wide view of the big ecological picture, without losing touch with his stinging friends. He is one of the ablest of scientists to warn us (yet again) to listen to the little canaries in our cage. His aptly titled piece, "Our Bees, Ourselves: Bees and Colony Collapse" invites us to scare ourselves sleepless about the future demise of our bees - and our own species. He is right to issue the warning.
More than 120 pesticides. Dr Winston says that a "A typical honeybee colony contains residue from more than 120 pesticides." I would never eat honey again, except the professor adds that each alone "represents a benign dose." Great, I will keep eating honey... but then he continues (and this is the red meat in his editorial) to say that together the pesticides "form a toxic soup of chemicals." The interplay of all those poisons affects the bees' immune systems, leading to big problems for the little bugs, and significantly impacting Colony Collapse Disorder.
Synergy. We usually think of synergy as a big positive. "The whole is more than the sum of the parts" as Mrs Rabinowitz, my grade-nine geometry teacher used to say. One plus one equals three. No, not the new math - the new reality. Two people working smartly together can carry a 300-pound baby hippo easier than two people separately, each giving it a try. That's all good and positive, until you start talking about bad things. Bald tires might get you to the bee yard. An icy road might be passable. But put bald tires on an icy road, and their synergy spells ditch.
Mark Winston reminds us of some of the things that hurt bees:

	Monoculture - the bees don't get a mixed diet;
	Varroa mites - big blood-sucking monsters;
	Habitat destruction - lack of diversity, soil moisture retention, and wind break;
	Pesticides outside the hive - fungicides, insecticides, herbicides;
	Pesticides inside the hive - with residues that build up in the wax;
	Stress of commercial beekeeping - moving hives and packing them densely in yards;
	Genetics - maybe Winston didn't mention this, but inbreeding abounds;
	Fungal, bacterial, and viral pests - the little things that we can't see.
		
My bees are tough. They can lick any one or two of these enemies. But not two or three (or 120) simultaneously. And this is where the "Ourselves" part of Winston's story comes in. We are at risk of HCD (Human Collapse Disorder) with our unending messing with the environment. Specifically, Dr Winston points out that in humans it is known that pharmaceutical interactions can be fatal when prescription drugs are used together. We are belatedly studying this. We are not studying the same effect on people from combinations of chemicals cast about in the environment. I'd like to add that one big difference between CCD (Colony Collapse Disorder) and HCD (Human Collapse Disorder) is that the bees didn't create their disorder.
---
Medhat Nasr, teaching queen breeding in Alberta

Best place to keep bees?
I don't know what causes colony collapse disorder. CCD is likely due to poor nutrition, weak genetics, farm pesticides, chemicals used inside beehives, varroa mites, and viruses carried by mites and injected into whatever gooey stuff bees use as blood. CCD is complicated - that's why it is controversial and that's why it has been hard to predict and hard to prevent. I think one reason Alberta beekeepers have not (yet) had huge bee losses has been the extraordinary help, advocacy, and educational projects provided by Alberta's Chief Apiculturalist, Dr Medhat Nasr and his staff. They have worked extremely hard to help Alberta beekeepers keep their bees healthy - especially in areas of nosema and varroa mite control.
Alberta has a lot going for it. Our two big cities - Edmonton and Calgary - each have a million people. Another two million Albertans live out on the land. And it is a big land - the size of Texas. This Canadian province stretches from grasslands along the Montana border to parklands bordering the Northwest Territories. And Alberta includes some gorgeous Rocky Mountains. People here live well - we have the highest per capital income in North America of any state/province - roughly $80,500 for every person. With it comes great schools, universal health care, and some pretty nice biking trails. Honey is produced everywhere in Alberta that has farms and ranches. You may have heard of the Peace River Country - that's here, too. Honey crops in the Peace can (and often do) top 250 pounds per hive. The province has 250,000 colonies and honey crops average 150 pounds; but this includes 50,000 colonies kept mostly for canola pollination contracts - those bees aren't expected to produce much honey. The summer climate is mild, days are really long, and there are millions of acres of alfalfa, canola, and sweet clover - all of which produce white, mild-flavoured nectar.
Alberta has a lot going for it. With the lowest taxes in North America (Seriously - you didn't expect that from a place in Canada, did you?) and a fairly libertarian government, people are mostly left alone to make a living. And that brings us back to the role of a chief bee inspector. When I was a kid, I spent three summers as a Pennsylvania bee inspector. My job was to find American foulbrood. And burn hives. I was a skinny teenager and had to talk smoothly to inspect bees hidden on farms in Appalachian hillbilly country. Only once did I need state police backup. Even though sulfathiazole was a proven treatment for AFB, our out-dated laws mandated burning. It was an awkward job, to say the least. Much better to have a system where individuals are responsible for their own welfare but are offered free or inexpensive advice and tools to help them keep healthy bees.
Good government makes a difference. You can't let the biggest and meanest kid on the block take advantage of everyone else. The fellow who spends the most on lawyers isn't always right - chances are he is wrong, that's why he hires an army of lawyers. There has to be law and order and we have to participate as helpful members of the human family. When American foulbrood was the beekeepers' biggest problem, equipment was burned to stop the disease from spreading to neighbouring farms - even if the guilty party threatened lawsuits or violence. But that was long ago and far away. I moved to western Canada 40 years ago and have always felt like I won the lottery by being here. But back to the theme of this blog entry - part of the reason Alberta has been such a successful place for beekeepers is the good governance of the bee inspection office - the Office of Beekeeping Help and Advice.
---
An indoor hive
Some Indoor Honey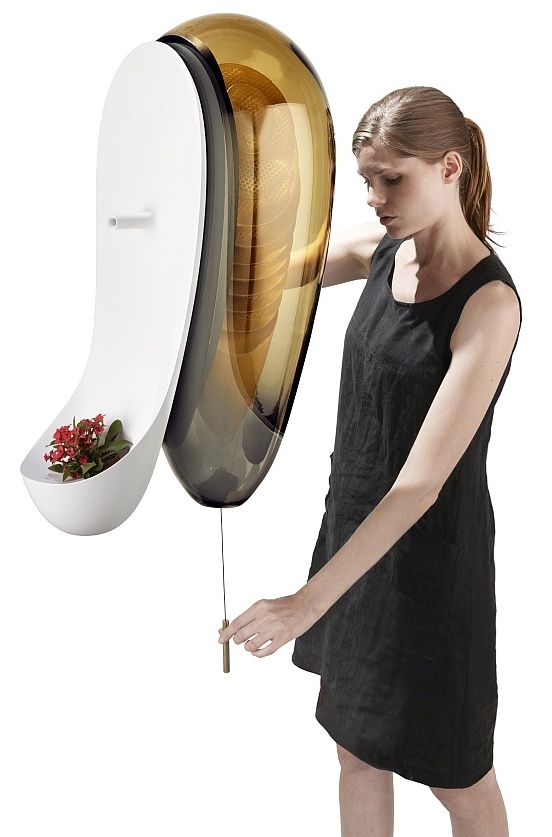 I can't even begin to imagine the clever wit that went into designing this revolutionary beehive. What you see to your right - if you are looking at the hive-gadget rather than the demonstrator - is a new hive design developed by Philips. Philips is the smart Dutch company that makes everything from water-jet dental flossers to coffee makers and electric shavers. They have classy stuff. Their website tells us that Royal Philips Electronics is a diversified health and well-being company, focused on improving people's lives through timely innovations. Their focus is on "sense and simplicity." The Philips design department apparently dreams up great product ideas for modern living - sleek designs for products that they will probably never sell. Like the Urban beehive.
A Philips team of design experts came up with this idea. "Why not keep bees in the kitchen?" someone probably asked during a brainstorming session. "Yes! Yes! And have a potted flower at the end of the bees' tube so bees can crawl through the tube, then fly down to the flower, gather some nectar, then bring it back into the hive!" said a second brainstormer. The third brainstormer would have jumped from her chair, "And we'll have a string that the owner can pull so honey will drip out of the hive!" The idea, of course, is nothing short of brilliant. But it can't be patented - beekeepers have been pulling strings and squeezing honey from their hives for centuries already.
To help Philips promote their product, I want to let you read their own sales literature: (By the way, I don't take anyone's money, I do this all for fun.)
"The design of the beehive is unconventional, appealing, and respects the natural behavior of the bees. It consists of two parts: entry passage and flower pot outside, and glass vessel containing an array of honeycomb frames, inside. The glass shell filters light to let through the orange wavelength which bees use for sight. The frames are provided with a honeycomb texture for bees to build their wax cells on. Smoke can be released into the hive to calm the bees before it is opened, in keeping with established practice.
"This is a sustainable, environmentally friendly product concept that has direct educational effects. The city benefits from the pollination, and humans benefit from the honey and the therapeutic value of observing these fascinating creatures in action. As global bee colonies are in decline, this design contributes to the preservation of the species and encourages the return of the urban bee."
Did the ad department miss any buzz words? They mentioned natural, sustainable, environmentally friendly, therapeutic, and the (imaginary) global collapse of bee colonies. But will the hive actually work? What do you think? Observation hives work. This is the loveliest observation hive you can imagine - times ten! I like the design! I wonder if I could get 400 of these and put them in apartments and houses throughout Calgary? It would be such fun going from house to house, maybe dragging a little red wagon, and pulling all those strings while the honey drips out.
As you can see in the accompanying purple-coloured blueprints, the hive and flower pot are separated by an exterior house wall. The bees climb through the tube and find themselves outside where they could maybe work on more than a single potted flower. The only thing I can't figure out is how the honey drips out the bottom when you pull the string. Chances are the designers of this hive have never actually kept bees or worked with honey combs. They will also be somewhat surprised to discover that when the hive is opened in the house, not only will the smoker set off the fire alarm, but the bees will be somewhat drawn to the kitchen lights and windows and the bees will, unfortunately, never, never, ever return to their hive. They will just hang out among the pots and pans. Other than that, it will probably work fine. But let me add this:
It is nice to see a big company such as Philips (one of the largest healthcare and electronics firms in the world) encouraging its designers, admen, and other folks to experiment, to think outside the (bee) box. Although this prototype will likely not be built, the training and learning and innovation involved are really laudatory. Seriously.
---
Alberta deadline
A Bad Beekeeper

Sorry I was late posting this. Hope you are not in big trouble now. But Albertans who keep honey bees or who own beekeeping equipment are required - by law - to register as a beekeeper by June 29 of each year. Registration is nearly painless - previously-registered beekeepers receive a form to fill out before the deadline. New beekeepers need to ask for the paperwork. Although compliance is more difficult than buying a long-gun in Alberta (which is super easy, believe me, I know from experience), the registration process isn't too tough. They need your name, location, and number of colonies. This is to help control the spread of bee diseases. If you are new to beekeeping, contact Dr Medhat Nasr, the provincial apiarist, and his staff will help you out. Their number is 1-780-415-2314.
How are Alberta's bees? With the growing concern over the role neonicotinoids play in severe overwintering problems for honey bees, Alberta beekeepers should be worried, say anti-nic activists. Of course, they are right. The stuff is poison, a pesticide designed to kill sucking bugs. Alberta is Canada's biggest honey producer (Alberta beekeepers make about 5 times as much honey each year as Ontario beekeepers.) and our main honey crop from canola. Canola grows from seeds treated with neonicotinoids and each year the farmer plants new seeds for each new canola crop. You can see where this is heading. Or maybe not. Last winter, Alberta had excellent wintering of honey bees. According to chief inspector Dr Nasr, the province lost only 10 to 15 percent of its bees. And it was a long, cold, nasty winter. In fact, the Western Producer ran a story about Alberta that beamed, "Bees come through gruelling winter in good condition" and indicated that losses averaged half of last year's numbers. I can't understand this. If the neonicotinoids are as bad as claimed (and maybe they are?) then Alberta should be ground-zero for death and destruction. But it is not. I know of one newish beekeeper who had pretty awful wintering this year due to nosema and wind exposure, but the vast majority had great wintering. Can someone help me out on this? I have heard from some western beekeepers who are seriously worried that neonics will be banned and farmers will be back to aerial spraying which slaughtered bees by the billions back in the 1980s. But if the neonics are causing the massive deaths attributed to them in other places, well no one wants that either.
---
Glow-in-the-dark bees
Dr Schulte

Finally! Glow-in-the-dark honey bees! We've all been waiting for these glow bugs to complement our glow-in-the-dark radium-painted wristwatches and glow-in-the-dark jelly bean collections. Now you can have the complete set of things you probably didn't know existed. Researchers at Germany's Heinrich Heine University have announced they were able to add a glowing gene to a fertilized honey bee egg, feed the resulting larva enough royal jelly to create a queen, then produce drones that carry the gene. The idea was not to help scout and forager bees work more effectively at night (the Heinrich Heine Tech College is working on miniature flashlights) or to help hive bees see the waggle dance more clearly (disco balls were introduced in the 70s to accomplish that), but according to post-doc tinkerer Christina Schulte, the scientists were simply trying a "proof of concept" experiment. It worked. The glowing applications will come later.
The honey bee genome was fully decoded in 2006. That was almost ten years ago. I thought by now we would have genetically-modified stingless honey bees, honey bees that never die, and, of course, bees modified by Monsanto to be resistant to Bayer's neonicotinoids. Science sometimes lags necessity, doesn't it?
---
An 1883 Urban Beekeeper
from AJ Cook's Bee-keeper's Guide
Wild bees again
A few days ago, I wrote a snappy blog entry about one researcher's efforts to alert us to a hazard of urban beekeeping. It is Dr Cartar's contention that keeping bees in an urban environment robs wild native bees of food, which in turn threatens their survival. I agree with some of the Calgary professor's position. We agree that honey bees are an invasive species - they are not native to North America - and thus they disrupt the natural ecological balance established by millions of years of evolution on our continent. We also agree that honey bees sometimes take nectar and pollen produced by native (and invasive) flowers that wild bees may have eaten. But we disagree on the severity of the problem and on Dr Cartar's premise that forage competition is the primary threat to native bees. I think enough research and evidence exists to show that the loss of habitat (nesting sites) in urban settings has jeopardized wild native bees much more than competition for food from honey bees. I also believe urban honey bee keepers should be encouraged as these people are often advocates for maintaining nesting sites for wild bees. You can read our difference of opinion in more detail in the June 12 blog entry on this page.
This blog site does not allow reader feedback, except through e-mail sent directly to me. When warranted, I publish letters received from readers. I feel that Dr Cartar deserves the opportunity to answer some of my missives, so with his permission, the bulk of his letter to me follows:
"Dear Ron,
"The point of my "every joule of honey in their jars….is a joule robbed from native bees" quote is simple. At equilibrium, the density of native bees tends to be most determined by flower availability (that is, the nectar and pollen available). More flowers = more bees, in general. This is the essence of competition, and is readily observable in nature. Bee populations build up (or get smaller) based on floral availability. And the converse is true, but over longer scales (because most bees are annuals, and most flowers are perennials; more on this later). Think of this as a game of musical chairs: native bee abundance is (on average) in proportion to the chairs in the game (i.e., the flowers). Then somebody brings in a large number of players (a colony of honey bees), but there's no change in the number of chairs. And these introduced, non-native honey bees have little chance of failing, because their keeper usually feeds the colony when foraging is insufficient to colony needs. What you've done is stack the game of musical chairs against native bees, with an expected outcome (loss of local bees). Hence, "every joule of honey is robbed from native bees"...
"But there are exceptions to this too-simplistic characterization. As I noted in my email to you, in some years, bad weather (often in spring) removes many of the bees, so there's little competition, and flowers get insufficient pollination service from natives. I see this in one year in 5 or 6, locally. In these cases, nectar accumulates in flowers. Flowers age and drop off without producing seed. You'd think that in this circumstance, adding honey bees would have little impact on natives. But the outcome depends on amount. As noted in the paper I emailed you, honey bees prefer to forage near their colony (but will fly far if necessary). So the addition of a honey bee colony, will greatly deplete nectar and pollen rewards in the local area (others have documented this, where the depletion of floral rewards makes their use by other bees unprofitable). Hence, even in the case where flowers are super-abundant relative to native bees, adding honey bees can easily push out the natives who previously had more food than they knew what to do with. This is not an empirical observation, just one that seems reasonable. The observation that honey bees deplete flowers to levels that make them unprofitable to local native bees is reasonably well established...
"Another exception of note is that, for some flower species, the joules available depend on the rate of visitation. In these species (which are not typical), flowers resorb nectar that is accumulating unharvested, and/or produce more nectar when it is harvested more rapidly. In this case, floral rewards depend on visitation, suggesting that then number of chairs in my musical chairs analogy might change. But again, these effects are easily dominated by the sheer density of honey bees in a colony, so adding honey bees is likely to hurt natives...
"Of course, other factors determine abundance of native bees. You correctly point to one: nesting habitat. But to make the argument persuasive, you need to point to evidence of nest site limitation of population abundance in the literature. I've noted that abundance of floral resources is the single best predictor of bee abundance, and this obtains at 2 levels: bees visiting flowers, and bee reproductive success. To be complete, the other determinants of local population size are diseases, predators, and parasites. Along with nest sites, all of these should operate in a density-dependent manner. But don't assume that nesting resources limit bees in Calgary, when there is such heterogeneity in human structures (bare ground for hole-diggers, tubes for cavity-nesters, vole nests and unprotected insulation for bumble bees)...
"I'm not deliberatley picking on urban beekeepers, and admire them for embracing a truly fascinating insect. I share that admiration and fascination. I'm just pointing out that ANY honey bee colony, given its enormous size (relative to local densities of native bees) and propensity for local foraging, has the potential to have big negative impacts on the local native bees. The overall impact would depend on the number of these colonies added. So one colony is too many, at least for the locals. Urban beekeeping is not a win-win (beekeeper gets free honey, plants get pollinated), unless you ignore the displaced native bees. My suggestion: DO feel guilty about keeping non-native bees, but keep your fascination with bees! Instead, consider accommodating native bees. The Xerces society provides a wonderful web resource for how to begin in this endeavour.
"Introduced, managed honey bees have negative effects, in all sorts of ways, on native bees (especially when the native bees are honey bees, like in Europe). If scientific evidence still matters in decision-making (an increasingly dubious preposition in recent years in Canada), then it's unlikely that an urban (or rural) honey beekeeper will have no local negative effects on native bees. And the extent of the problem will increase with each increase in the extent of urban and rural honey beekeeping...
"Just because everything we do (short of suicide) has negative effects on our environment should not make us throw in the towel, and ignore the environment. Let's be mindful of what we do, and embrace our love of and fascination with insect pollinators. Instead, let's channel and extend that affection and fascination to our neglected native bees. When you notice native bees, and their amazing diversity, your fascination will be well-rewarded.
Cheers, Ralph"
---
Pure Sweet Honey Farm Inc. sponsors this year's ALS Fundraiser!

Giving thanks
One last look at the Calgary ALS (Lou Gehrig's Disease) fundraising event. You may wonder what this has to do with beekeeping. I guess it reaffirms the idea that the human condition is as frail as the environment and that any beekeeper anywhere can end up with a horrible illness. It also shows that any beekeeper anywhere can help by supporting the effort to end the disease and make life as comfortable as possible for those who have ALS.
This short post is a thank you to the people and companies that supported this year's drive. This includes my friends at Medivet Pharmaceuticals, the company that makes Fumagilin-B and other bee-healthy products; Diane Dunaway and her husband Dave at Bee Happy Honey, in BC; Calgary beekeepers Dave and Liz Goldie; and the honey-packing company Pure Sweet Honey Farm Inc, in Wisconsin. I used to sell a bit of honey to Pure Sweet many years ago and the owners have remained very close friends. Pure Sweet was one of only a few high-level sponsors (see the photo, above) for the ALS fundraiser and their sponsorship made a big impact on this year's success. Thanks to all these great people - Ursula at Medivet, Diane & Dave at Bee Happy, Dave & Liz, and Stan and Willi at Pure Sweet Honey!
---
Left, A Home, not a beehive - - - Right, A 19th-Century beehive
Confused? The bees aren't.

| | |
| --- | --- |
| | |
At home in a home
A swarm of honey bees have invaded an Alberta home. Who can blame them? According to one newspaper, the bees were confused by the skep-looking geodesic dome that a rural Canadian family calls home. The bees were confused? Perhaps the news reporter was making a joke.
These are beehives.

Once again, we have succumbed to our tendency to imagine that bees think like people. The Sun newspaper reporter wrote: "That's what you get when your house happens to look like a giant beehive... the bees just seem naturally drawn to the round structure." No, not true. Not even a little itsy-bit true. The honey bees had absolutely no idea that the house they settled in looked like the old-fashioned skep hives that haven't been used in Canada for over a hundred years. Unless those bees had been reading some very, very old beekeeping journals, they would not have been thinking, "Hey, Betsy-bee, don't that look like a big beehive? Let's go fill 'er up." Nope. Bees don't think like that.
"That's what you get when your house happens to look like a giant beehive," said the newspaper. Actually, beehives built by humans are rectangular white boxes - they sort of look like most of the houses on Main Street. They don't look like geodesic domes. But the bees don't care. With their multi-lensed eyes (with tens of thousands of receptors) they do not see what we see, they don't recognize hives or homes as we do. What drew the bees? The home-owner, Cheryl Morgan got it right when she said, "Maybe they saw it as a ready-made beehive, so they moved right in." Scout bees see every crevasse, nook, and hole-in-the-wall as a potential "ready-made" beehive, which their swarm might call home. If it is dark, sheltered from sun, wind and rain, and has a small defendable entrance, it could definitely be used as a swarm's castle.
Bees invading a home can be a big problem for a home owner. In this case, I think the story ends happily. The home owner found Calgary's Urban Beekeepers' network (Apiaries and Bees for Communities) which helped put her in touch with a local beekeeper who removed the bees. An interesting interview and more details to this story are found on CBC radio at this link.
---
A bumbling bee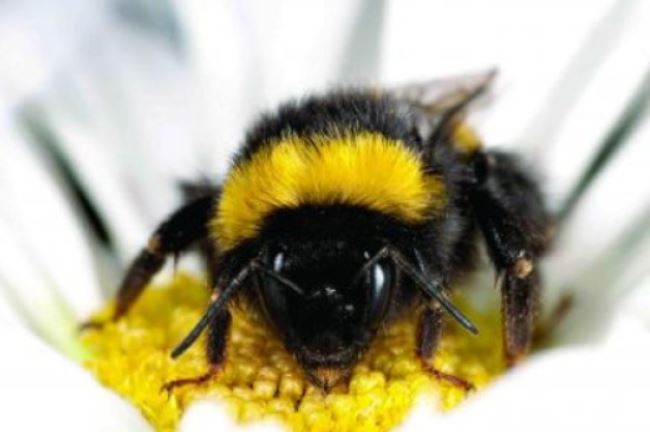 Going native
A Calgary University professor has this to say about urban beekeepers: "It is not as rosy as they think. Every jewel of honey that they get on their plate or in their jars is a jewel that has been robbed from native bees." Dr Ralph Cartar also says that urban beekeepers "swamp the world with bees and the competition becomes intensed and you risk losing those native pollinators."
How could anyone be so utterly opposed to the hobby beekeeper with a colony in the backyard? Dr Cartar, in a CBC radio interview this week, explained that honey bees are an invasive species that steals (OK, he says "robs") food from native bees. You see, honey bees are not native to North America. Or South America. Or Australia, New Zealand, India, China, and a whole bunch of places that depend on the bee for crop pollination and where a whole bunch of people who love ecology, nature, outdoor activities, and communion with buzzers have been keeping honey bees. Cartar tells us that "people seem to think that because they are important for some agricultural crops, they are good everywhere." He says Calgary urban beekeeping should stop immediately.
Is he right? I have struggled with this myself. Beekeepers don't necessarily have the high road as environmentalists. It is a fact that honey bees were introduced as an invasive species in most of the places they are fondly kept. And it may be somewhat hypocritical for us beekeepers to claim to represent the environmental movement while keeping bees. Unless we do something more than tend our artsy little hive.
Before I elaborate on my idea of a solution, I want to address some errors in Dr Cartar's flawed logic. In the radio interview, the professor said, "Every jewel of honey...in their jars is a jewel that has been robbed from native bees." This is hyperbolic nonsense. Some nectar, certainly, might have gone to a native bee. But it is not true that every drop of nectar taken by your honey bees has been stolen from the mouth of a native bee. This is because there is much, much, much, much more nectar produced than can be used by the native bees. Without honey bees, the nectar is simply lost - it does not automatically go to feed a native bee as Dr Cartar asserts.
In Calgary, there are fewer than 300 colonies of honey bees. Calgary's urban area covers 700 square kilometres - that means there are over 2 square kilometres for each hive. That's 200 hectares, or one hive per 500 acres in Calgary. We usually figure that for effective pollination, you need to place 1,000 hives on 500 acres. At this rate, instead of 300 colonies, Calgary could have ten thousand and there would still be enough food for all the bees. Of course, not all the land is growing flowers - there are lawns and parking lots and skyscrapers. But Calgary has immense public parks and huge gardens, so we might calculate that a third of our land is still somewhat floral - our parks and meadows have a gazillion dandelions - plus willows, wild cherries, caragana bushes, Russian olives, goats' beard, clovers, wild alfalfa, sweet clover, fireweed, goldenrod, asters, and I am certainly forgetting some. In his correspondence with me, Dr Cartar wrote, "If you start with the premise that populations of pollinators are best explained by floral resources (as opposed to disease, predation, weather, etc.), then a logical outcome of increasing the density of one competitor (honey bees) is to decrease the density of others." This may be true in some situations, but I reject this basic premise in the case of Calgary - the limiting factor here is not forage, but it is nesting sites for native bees. There is no shortage of forage for the honey bees and wild bees to share. Think about the flowers - just as many creatures have thousands of offspring each generation - with only a couple reaching maturity - so, too, flowers with nectar are generated with more abundance than bees could ever cover. It is a reproductive and survival tactic on the plants' part.
If anything, more honey bees result in more seeds, which results in more flowering plants the next season for all the creatures. Did you ever wonder why honey bees are kept near orchards, or hauled in by beekeepers to ensure pollination? It is to try to get as many flowers in touch with bees as possible. With only a few native bees, and no honey bees, in a very natural environment, nearly all the flowers with nectar and pollen will never have a pollinator visit. With saturations of bees, more seed, nuts, or fruit are produced because a greater number of flowers are pollinated. It is really, really hard to over-saturate an area with bees. That's why commercial beekeepers often keep 50 colonies in a single 1/10th acre lot - and they all do well! No, competition for forage from honey bees is NOT hurting native bees. I pointed this out in my e-mail to Dr Cartar and suggested that if he really wanted to help native bees, he would tackle issues around the native bees' loss of nesting sites. Native bees do not nest in man-made honey bee boxes. They most frequently nest inside the ground. Honey bees almost never nest inside the ground. I told Dr Cartar that a single car lot or shopping plaza destroys many times more native bees than all the urban bees kept in the city. Because the problem is nesting site destruction, not floral competition, his opposition to urban beekeeping is misdirected. In his reply to me, he did not address that concern. Instead he echoed his insistence that any amount of urban beekeeping is a bad thing.
Here is what I think. First, I think Dr Cartar is wrong to pick on hobby urban beekeepers. These people are his allies, not his enemies. I realize that many young professors feel they must champion a controversial cause to be noticed. I don't know if Dr Cartar is similarly motivated. I don't know him. We exchanged e-mails when I tried to uncover his thoughts in more detail and when I offered him a chance to backtrack a little in his animosity towards urban beekeepers. (He was unyielding.) He seems intelligent, articulate, and I suspect that he is a really nice fellow. But if one cares about wild bees, as Cartar very obviously does, then alienating a group that also finds bees fascinating is a mistake. It is true that we beekeepers are engaged in an activity that can disrupt native bees. But we are among a small group that can be encouraged to do more than almost any other group to help native bees.
Even the most strident environmentalist needs to eat and function in society in a normal way. As an environmentalist, one does not retreat to a cave, eschew clothing and fire, and humbly scrounge for grubs and berries. The environmentalist instead tries to balance his or her carbon footprint and environmental impact by reusing and recycling, and especially by offsetting the damage we all do by contributing to carbon sequestering (eg., forests) and environmentally constructive projects. Dr Cartar wrote that it is his philosophical position that if you know something is harmful, then you simply do not do it. He has a point, but in our society everything we do is harmful to the environment. Unless we retreat naked into that cave, we are doing harm. It is more about mititgating the damage than reducing it to zero. I, for one, prefer living in a society where children have a chance to survive infancy and can have the hope of a healthy, long life. Science, technology, and even beekeeping with invasive species, has made this possible.
So here is what we can do. Set up habitat in the backyard as nesting sites for native bees. Continue to develop awareness for bees in general. Donate or invest in native bee garden projects. Plant flowers for native bees - usually these are native, non-invasive flower varieties that are not very attractive to honey bees but co-evolved with native bees and are well suited to their needs. (Dr Cartar agrees with this - he sent this link to me that can help people select appropriate flowers: The Xerces Society for Invertebrate Conservation.) Do these things to reduce your "honey bee footprint" and don't feel guilty about keeping bees in the city. You are not part of the problem, you are part of the solution.
---
Who's your friend?
Left, Calgary's Mayor Nenshi with Friends - - - Right, Toronto's Mayor Ford with Friends


| | |
| --- | --- |
| | |
My family participated in Calgary's ALS fundraiser this weekend. It was a great success. We had a sunny and mild Sunday morning with almost 2,000 people at the North Glenmore park for this year's walk/run. A lot of money was raised to support victims of ALS with practical daily aids - things like breathing devices, beds, wheelchair ramps - and with an active support group. ALS (sometimes called Lou Gehrig's disease in the States and Motor Neuron Disorder in Europe) is a devastating fatal disease of unknown cause that results in paralysis and eventually suffocation when lung muscles no longer function. Support for the illness is largely through events like this annual gathering here in Calgary.
It was really nice to see our Mayor, Naheed Nenshi, at the event. He spoke about volunteerism (Our mayor used to be a university professor who taught NGO, or non-profit charity, management.) Mayor Nenshi told the assembly that everyone who participated was exemplifying unselfish good citizenship because ALS can affect anyone. This event, he said, was not just for friends or family, but was for strangers whom we will never meet. Calgary's Mayor Nenshi is an honourable, hard-working man who believes good citizenship involves helping others. As he spoke, I couldn't help but compare him with Toronto's Mayor Rob Ford, a rich and spoiled self-centered man, who advocates for himself. When Toronto's Ford is in the news, it is a good day for clowns. When Calgary's Nenshi makes the news, it is a good day for the city. You've heard the old adage - you know a man by his friends. My sympathies to the folks in Toronto. Hope you can do better in the fall election.
---
Dandy Days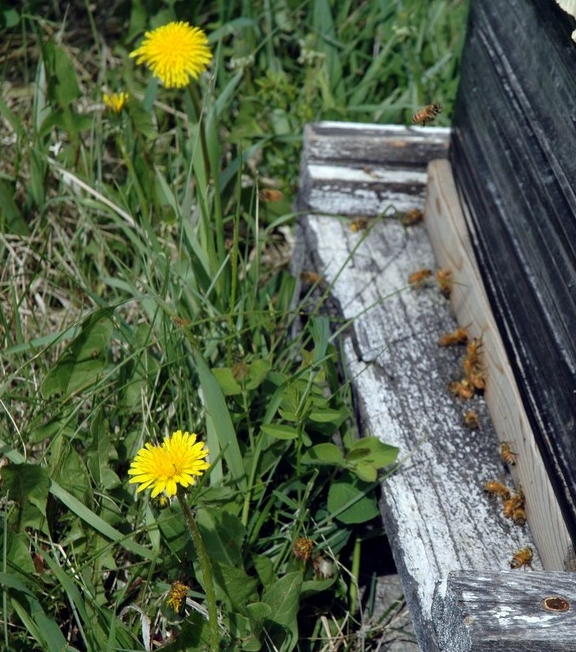 Dandy Days Indeed
For three weeks, my 7-year-old daughter has been counting dandelions nearly every day. There is a large field behind our house, a city meadow of sorts. From mid-May to early June, our meadow likes to show a bit of yellow. My daughter began her list May 12th when 4 dandelions were in flower. Her numbers increased irregularly with dozens appearing in a few days, then several hundred. By the 25th of May, the blossoming dandelions were like stars on a clear night - too numerous to count. Then suddenly the yellow turned to white as heads of seeds appeared. So now, at the end of the first week of June, they are rapidly disappearing. The number of open flowers depends on heat and rainfall. It has been cooler than normal (or maybe more normal than normal - we were getting used to hot springs). With mild weather, the dandelions lasted a bit longer this year than they have during our past few springs.
Dandelions are great. The beekeeper's friend. They are native to Europe, Asia, and the Americas, so before honey bees arrived here in the 1600s, they must have been a fantastic feast for the wild bees. Honey bees love the showy little flowers - for most northern-hemisphere beekeepers, dandelions are the first really big meal of the honey season. After the first flush of crocus, willow, and maple, which bloom when the weather is still cool and unstable, the "lion's teeth" as the French named our "dent-de-lion" are welcome for their enormous yields of pollen and nectar. I have seen bees store 20 kilos (40 pounds) of honey in just two peak weeks of flow. I've also seen relatively weak hives explode in population. Dandelion season, you see, is also the real beginning of swarm season. Hope your neighbourhood bees have had their fill from this under-rated weed. And hope they have resisted their natural temptation to flee to the trees!
---
Ron on Wheels


| | |
| --- | --- |
| | |
Running for Betty
Professor Hawking

This weekend is Calgary's ALS benefit. Calgary-area readers of this blog are invited (urged!) to head over to North Glenmore Park and "Run for Betty." 20 years ago, Betty died from ALS, aka Lou Gehrig's Disease. She was an avid runner before her illness. Like most victims of the disease, she passed away within months of her diagnosis. Her friends wanted to honour her memory, raise awareness of the disease, assist other people who become afflicted, and help search for a cure - so they started the annual fundraising-run/walk. Our mayor, Naheed Nenshi, has proclaimed June "ALS Awareness Month" here in Calgary.
You can do your part by coming out to cheer and support the runners. ALS is an incurable illness of unknown cause, always fatal, and it manifests itself with the complete loss of motor neurons. Within months, most people with ALS cannot walk, talk, use their hands, and eventually cannot breathe. Some of us have been able to hang on for years and years with slowly progressive variants - but that's very rare. At least 90% of people with ALS do not survive past 3 years after their diagnosis. It can affect even the most active people (even beekeepers!) and even the smartest people (famously, Stephen Hawking). Do your part, if you can - hope to see you Sunday at 10 for the big event! I'll post pictures afterwards... Meanwhile, if you'd like to support a great cause, here is a link to make it happen. I can tell you from my own experience, the ALS Society brought all sorts of equipment to my house to help me. This is a good organization.
---
I did it again!

Did I goof up, or what?
Last week's blog post drew a few interesting responses. Not from Monsanto, whom I expected would be outraged because I wrote that it is perhaps justifiable to vilify "the huge multinational for all manner of environmental ills." Instead, incredibly, the nasty letters I got were from people who seem to be environmentalists and my sin was pointing out the horrible truth that Monsanto does not manufacture neonicotinoids! Here is what one of the letters sent to me said: "I read your misinformed post ... and would appreciate if you did some fact checking prior to your future posts... Sorry your life seems to revolves [sic] around baseless bullying behind a keyboard, and refusal to correct your errors. Perhaps a post about your own bad journalism attempt is in order." I googled the author. Turns out the note was sent to me by a school teacher! That's why you see the picture of me, or someone who looks like I did when I was ten years old, wearing the dunce hat. I have no patience for people who resort to name-calling in any discourse - whether on the internet or in the school yard. The same person told me to check my facts, adding that Monsanto owns Dekalb and Dekalb manufactures neonicotinoids. Dekalb is a seed company. It buys neonics and treats some (but not all) the 48 varieties of corn seed which farmers may buy from Dekalb. . . So, let us try, once more, to set the facts straight - Bayer makes neonics. Why is that so painful to hear? And why is that a reason to send rude e-mail to a real beekeeper, someone who has produced millions of pounds of honey, grafted thousands of queen cells, provided bees to pollinate billions of flowers, and has actually depended on beekeeping for a living?
But wait a minute. There is more. Another note from someone else. This time respectful, except for a little snipe at the end that said, "An honourable man would append a correction to the original blog post." If I don't then I am (at least in one person's opinion) dishonourable. The correction being sought is that I should write what the correspondent would like me to write. As it turns out, the correspondent has some valid points.
In my original blog (which you can see just below), I state that Monsanto does not make neonicotinoids, Bayer does. Beyond that, I offer almost no actual facts that could be retracted. I wrote: "The March Against Monsanto trekked through the streets of Toronto hoisting the bees' coffin." It was Toronto, I fact-checked. I wrote that the protest "was intended as a statement against neonicotinoids, which most of the participants blame for the bee deaths." Admittedly, I don't know this, but the news reporter covering the story wrote "The beekeepers called for Monsanto and its subsidiaries and allied companies to stop producing GMOs and neonicotinoids."
I do ask the question, "Why is the protest being directed against Monsanto?" when Monsanto does not make neonicotinoids. So, really, it seems that since I dare ask a question, I receive interesting fan mail. Regular readers of this post know that I take an off-the-wall approach to almost every subject. I make light of the European fad of the honey massage, I humour Prince Charles's beekeeping (though I like the man), I question whether beekeepers are environmentalists when we propagate our invasive honey bee which displaces native local bees. To ask me to retract facts is like sending indignant letters to the Onion. As I write in my permanent side-notes on this same blog page, "Opinions expressed herein do not necessarily express anyone's opinions - not even the author's" and "If you strongly disagree with things you find here, send Ron a note - or keep reading as you are likely to find he also advocates an opposite point of view elsewhere on the website." Hate mail is uncalled for.
Why was the Toronto bee protest directed against Monsanto instead of Bayer or against the poor farmers trying to keep their family businesses alive? Another writer (who I think was at the protest) patiently explained to me that Monsanto sells corn seed treated with neonics and the bees sometimes gather pollen from corn (this is rare - corn does not have nectary flowers to attract bees, but if bees are desperate they may collect corn pollen from the dangling tassels). It should be noted that not all corn seed is treated with neonicotinoids - Dekalb, which is owned by Monsanto, offers 48 varieties of corn seed, about two-thirds have been treated by some form of neonics, the others have not. It is up to the farmer to select the variety they want to grow. Two-thirds is a similar ratio among the 300 growers of Ontario corn seed in the Chatham-Kent area. But I am off on a fact-chase here, I'll try to control myself and continue with the idea that some of Monsanto's corn seeds that farmers are planting in southwest Ontario (most of it over 200 kilometres from Toronto) have been treated with neonicotinoids and this insecticide kills honey bees. But the bigger question remains - is Monsanto the cause of the horrific bee losses in Ontario? Or are these sorts of protests deflecting attention away from the real cause of the total and sudden collapse of bee colonies? Ultimately, the protests may do more damage to the bee industry than good. Now that it is assumed the bee slayer has been found, other research projects will not receive the significant attention they perhaps should.
I expect that neonicotinoids will be banned. Among the dozen e-mails sent to me on this subject, one stated that an Ontario county has already agreed to the ban. That person also told me that 99% of corn grown there has been treated by neonicotinoids. With the ban, I am wondering what those farmers will do. One alternative, of course, is they could quit farming. Or maybe they could grow tobacco, which Stompin' Tom once told me used to be a big deal around Tillsonburg. Most likely, they will continue growing corn, then they will spray their fields with massive insecticide aerial assaults that drift across hedgerow and bee yard alike, killing everything. That's the way it was before the neonicotinoids, and that's the way it will be again. I had seen hundreds of colonies killed at the peak of production in a single afternoon. Unfortunately, those non-beekeepers and those name-calling school teachers with two hives of bees and no long history with beekeeping can't imagine what this was like. But it won't matter, they will have already moved along to the next trendy-thingy.
I want to end this blog entry with one of the e-mails I received. Fran Freeman was also at the protest. She presents a well-reasoned argument about why Monsanto was an appropriate target so, having received her permission, I am ending with her thoughts on the matter:
On 03/06/2014 9:44 AM, Fran Freeman wrote:

Hi Ron

Saw your May 25/14 Bad Beekeeping blog and was more than a little surprised that you mocked the Monsanto March/Requiem for Bees. The march is an annual event and the decision was made to make mass bee die-offs the particular focus this year. No one that day was claiming, as you allege in your blog, that Monsanto makes these systemic pesticides, rather they use them.

Neonics are applied as a seed coating on approximately 90% of corn seed available in Ontario and it is Monsanto that produces this seed. By buying out other seed suppliers, Monsanto has sown up the market very tightly so that it is extremely difficult to obtain corn seed that has not been treated with clothianadin or other neonics. PMRA analysis of poisoned bee samples provide a clear causal link to both seeding in the spring and tasseling in later summer of the treated corn. Research on sublethal effects of neonicotinoids is amassing and includes impaired fertility, failure to thrive, increased susceptibility to pathogens, and increased winter mortality.

Our commercial beekeeping industry in Ontario (honey production, pollination services and bee breeding particularly of hygienic bees) is being decimated. Many third- and fourth- generation beekeepers have reached the point where they feel they cannot continue beyond another year. Consequently the call May 24 was for an immediate ban on the use of neonicotinoids.

Fran Freeman
---
Requiem for the bees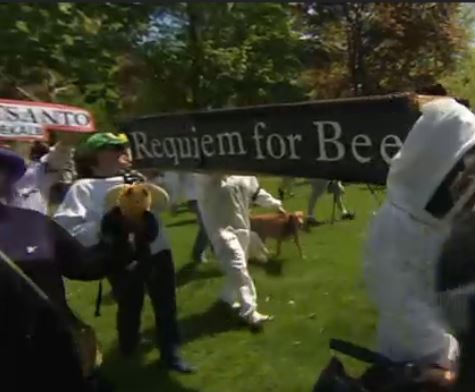 The bees' funeral
Dead bees are back on the evening news. Last night our national news broadcaster, the CBC, had relatively extensive coverage of a honey bee funeral in Toronto. These Canadian heroes, encountering death in the line of duty, were celebrated with a fitting send-off to wherever bees go when they shuffle off their mortal coils. In a headline that reads "Anti-GMO protesters rally against Monsanto - Beekeepers fill coffin full of thousands of dead bees" the CBC tells us how the third March Against Monsanto featured a "Requiem for the Bees." Ontario beekeepers collected several million dead honey bees and dumped their bodies into a casket of sorts. The March Against Monsanto trekked through the streets of Toronto hoisting the bees' coffin. It was intended as a statement against neonicotinoids, which most of the participants blame for the bee deaths.
But wait a minute. If the bee deaths are caused by neonicotinoids, why is the protest directed against Monsanto? Here is a little known piece of trivial, a fun fact that People Who Hate Monsanto almost invariably ignore: Monsanto does NOT make neonics. I know it is quite trendy to despise Monsanto and to accuse the huge multinational for all manner of environmental ills. Perhaps justifiably. But it makes the protest look pretty silly when the wrong monster is blamed. Bayer (the Aspirin company) manufactures neonicotinoids. If you are going to fight evil, at least know your opposing team's dark-side forces. This is important. It is too easy for the dark side to dismiss people who care about the environment if ignorance and rage take the place of an educated and informed response. Attack the guilty parties, do it thoughtfully, with proof and fact. Know which company manufactures neonicotinoids and know how the poison is killing bees. It makes for a much stronger protest.
---
Another bad spill.

Bee Spill
So glad I've never had one of these. This one looks bad. The 460 double-story colonies being carried from south Florida to Maine's blueberries for pollination were spewed after the driver rolled over on an I-95 exit ramp in Delaware. The 55-year-old driver, Adolfo Guerra of Miami, was fined for carrying an "insecure" load. His cargo stung him several dozen times and was hospitalized. Police responded with traffic control, firemen hosed everything (probably drowning bees in the process) and local beekeepers arrived to rehive bees and reassemble bee boxes. The exit ramp was open 12 hours later.
---
A great bee club.

Bee Meetings
Best Bee Club in the World? Attended the Calgary & District Beekeepers Association monthly meeting last night, and as I drove home in the ten o'clock twilight, my mind recycled some of what I had learned. There was an absolutely stellar presentation on spring management - focused mostly on ways to make splits, or increases. The two gentlemen knew what they were talking about and their enthusiasm was infectious. Part of the discussion was around the 2-queen systems which were praised in every way except one - here in southern Alberta, 2-queen management leads to hives making four or five hundred pounds of honey - hives get stacked so high with supers that they are hard to manage. Other than that, it was pointed out that for the price of an extra queen, the producer may double their crop, reduce swarming, and with the variation of genetic make-up in the hive, improve the hive's wintering and its house-cleaning habits. There was plenty of talk around the mechanics of making nucs, too. In a sentence: pull two or three frames of brood (without taking the queen) from the best hives (which reduces swarming) and add two or three frames of young bees from brood combs, drive off to a new location a few miles away, and put a caged queen into the newly created split. The result, at this time of year, is a producing colony.
So, there was good, practical advice for Calgary-area beekeepers. But I was equally impressed with the huge number of committees and activities sponsored by the bee club. This is the time of year for swarms, so there is a swarm committee. School bee presentations were addressed by the relevant folks. Beekeeping displays were at the annual science fair, several regional country fairs, Aggie Days, and will be at the Calgary Stampede. Honey judging at the Millarville Fair in August and the Chestermere Fair in September require honey judges and their training and recruitment are club responsibilities. There are committees that liaison with the city. The bee club is involved with a research project at a local college (South Alberta Institute of Technology) and is designing a steam-wax press for rendering old combs for the club's members. Informally, some members loan extractors to other members. A group in the bee club sent delegates to pick up packages and queens from importers and there is a group that sends equipment for irradiation treatment. Classes in queen rearing and disease inspection are regular events as is the annual summer BBQ. There are monthly formal meetings for the 100 members (65 were at last night's meeting) and there are casual get-togethers for beer and pizza at the veteran's hall in Kensington. There is much to admire about this group.
---
a web site question
I have a question for my geeky friends. I have been approached by the Chinese government regarding this website - www.badbeekeeping.com. A company inside China wants to register the domain name www.badbeekeeping.com.cn - I asked the Chinese government (actually, a director at their internet regulatory board) to deny the request, and told them I've had this domain name for 15 years and it is named after my book, Bad Beekeeping. But then I received an e-mail directly from the company. The Chinese spokesman wrote:
     Our company based in chinese office, our company has submitted 
     the "badbeekeeping " as CN(.cn/.com.cn/.net.cn/.org.cn) domain name 
     and Internet Keyword, we are waiting for Mr. Jim's approval. We think 
     this name is very important for our products in Chinese market. 
     Even though Mr. Jim advises us to change another name, we will persist in this name.
Well, this sounds ominous. I can not stop anyone from using a domain name identical to mine if it has the '.cn' extension. Does it matter? Except for the obvious fact that I myself will not be able to later register the same name in China, does it matter in terms of how internet users will access my current site? If you know the answer, please send a note to me at (miksha@shaw.ca). Thanks!
---
May 4th in Canada; May 4th in Florida
Notice a difference?

| | |
| --- | --- |
| | |
Same Planet?
Living in cold Canada, it's easy to forget some people have it hot. Especially right after we've had a big snowstorm - half a metre (over a foot) of white wet stuff in the past couple of days. So I thought I'd share the view from our back door. Meanwhile, my brother David has sent a reminder that not all trees covered in white are covered in snow. You can see his proof - he planted this eucalyptus on his Florida farm 15 years ago as a nectar source for his bees. The tree is flowering (and buzzing) brilliantly partly because central Florida had 15 cm (6 inches) of rain in the past week. And partly because that's the way it is in the Sunshine State.
---
Dürer's Honey Thief

Rise of the Bee Thieves
Hive theft has been around ever since there were beehives and beekeepers. For example, the classic watercolour of Cupid, the Honey Thief, by Dürer was painted in 1514. Jumping ahead just a little, during the early 1980s, when I bee-kept in Saskatchewan (summers) and Florida (winters), an inordinate number of hives began disappearing in south Florida. Turned out that a beekeeper with a serious drug problem was stealing hives at night, taking them to his farm, shaking the bees into his own boxes, extracting the honey, melting the wax, then burning all the stolen branded equipment. By morning, there was nothing to show of the stolen bees except a drum or two of honey, some blocks of wax, and a pile of ashes in his burning pit.
With honey bees dropping like flies from CCD, pesticides, malnutrition, or poor beekeeping, bee thefts are back in the news again. Some beekeepers can't resist repopulating their hives with other people's bees. Bee rustling is about the same as cattle rustling. Darkness, daring, and the right equipment are all the thief needs. Experience is useful - the bee robbers are always beekeepers. They know the value of what they are taking, know how to load the illicit cargo, and know what to do with the bees once they have them.
Someone ran off with 30 hives on the outskirts of Calgary this spring, but this is not just a local problem. A news report from France tells of 61 colonies (worth 60,000 Euros) stolen in Loire and recovered hundreds of kilometres away in Brittany. In Australia, The Guardian tells about a dozen hives stolen near Ipswich while the BBC mentions "45,000 bees, 3 queens, along with 3 honeycomb frames" stolen in Craichie, Scotland and a separate theft of "6 queens and 18 honeycomb frames" from a farm in Coupar Angus last week. Similar robberies have been reported in California and near Houston, Texas, in the USA. Bee theft is tough to stop - most beekeepers keep their bees in fields and orchards far from their own homes. Landowners might not be concerned about a late evening bee truck visiting the property somewhere in the woods behind their home, thinking it is the owner/beekeeper moving some hives, not suspecting it is a bee thief. Usually the legitimate owner can prevent theft if the hives are behind locked fences. Branding the wooden parts helps, but as I mentioned earlier, a really desperate thief may simply remove the good parts and burn the wood.
---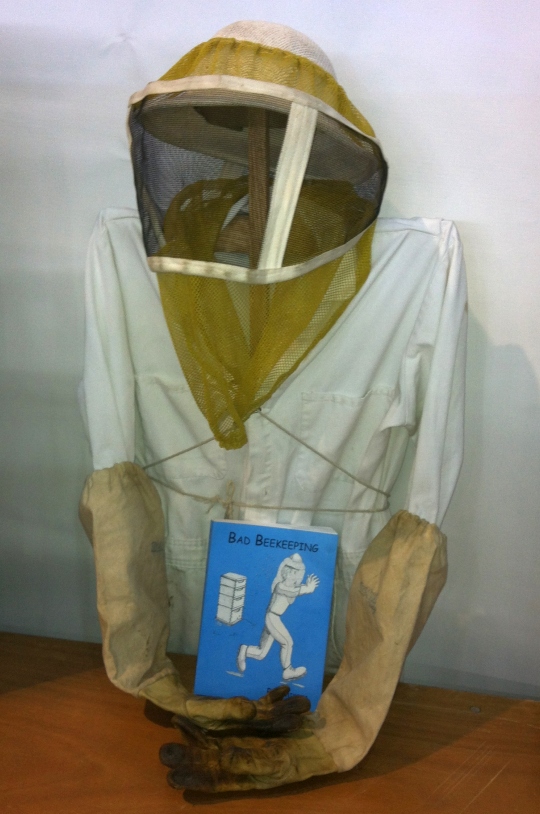 The Empty Beekeeper
At first it felt a bit creepy when my wife texted this picture of an empty beekeeper holding my book. Then I was flattered. My wife was attending the Calgary Science Fair where our son's entry (a behavioural-science study) was being judged. There were over a thousand entries, the science fair filled the Olympics Oval (built for the 1988 Winter Olympics, the big venue is used for a lot of conferences and programs). In addition to the children's science project entries, there were several displays set up by Calgary clubs and organizations to show various ways science is used in the community. For example, the university's health sciences department displayed some software used by doctors and a geology group demonstrated something about GPS. But the best-attended booth was the beekeepers' exhibit - they had an extractor, posters, free comb honey samples for the kids, demonstration hives (without bees), eager beekeepers who talked bees with the youngsters, and of course, the empty beesuit holding the Bad Beekeeping book. Why not?
The Calgary Bee Club is a fantastically active group of amateur beekeepers who love their hobby and share their enthusiasm with everyone within earshot. Years ago, I was active in the group, even served as president for a number of years, but I lacked the energy and organizational skills of the new group of club enthusiasts. These beekeepers arrange programs all over southern Alberta - elementary schools, the Aggie Days at the Calgary Stampede grounds, local fairs and farmers' markets, honey-judging contests. I should be more active with the group, they are an exuberant group of people, but I haven't attended their meetings in months. I had no idea they were setting up at the science fair. (And no idea they sent an empty beesuit to hold the bad beekeeping book.) Planning, staging, and staffing an event like this is a lot of hard work. Kudos to the club for promoting honey bees to the kids at the science fair!
---
California's State Tree?

Dead and Dying
California almond pollination season is finished. And so are many of the bees which made the trip to the west coast to participate in the largest honey bee mosh pit ever in the history of beekeeping. (For those of you over 30, I'll define mosh pit: "The controlled violence of a mindless jumble of enthralled dancers and screamers (usually experiencing a buzz) participating in a large mutually attractive event." Mosh pits typically occur at concerts, but California's honey bee mosh pit includes a beehive staging area where hundreds of thousands of colonies are off-loaded from semi-trucks arriving from New York, North Carolina, the Dakotas, and perhaps every state except Alaska and Hawaii. The beekeepers, enticed by pollination fees now approaching $200 per hive, send the little buzzers via big trucks in December or January, parking them in huge apiaries (some 'beeyards' contain ten thousand hives on a few acres) where the bees are fed sugar syrup and pollen substitutes to keep them alive until the almonds blossom. The flowers usually open in February and the beekeepers again load the bees and move them into the groves. Since most of the pollinator bees are arriving from colder climates, the California sunshine excites them, the queen lays lots of eggs, the workers head out looking for flowers (they don't find man), and the beekeeper feeds the colonies to encourage the insects' population growth. The unnatural diet and close proximity to millions of neighbour bees is a bit rough on them. So are the insecticides sprayed around California's countryside.
This year, beekeepers claim a quarter of all their honey bees died during almond pollination season. The direct cause seems to be insecticides, not malnourishment or overcrowded conditions. Increasingly, something called a "toxic tank" of poisons have been blamed. Most almond groves are controlled by enormous agribusinesses, not ma-and-pa growers. These farm corporations have been accused of mixing multiple toxins in a delicious cocktail that includes neonictinoids, fungicides, and various pesticides. Mixing such a toxic blend, instead of targeting specific problems with single passes, saves time and money. But it also escalates honey bee deaths. During the 2014 pollination season, an estimated 17,000,000,000 (17 billion) bees died from the sprays. Sticking with the grim economics, that would be about 400,000 colonies at a cost of $200 each, an eighty-million dollar value. OK, in today's economy, that is admittedly pocket change. But 400,000 hives have quite a multiplier effect: they add one billion dollars to the almond producer's crop, then the same bees (if they hadn't been killed) would travel to pollinate blueberries, cherries, apples, cukes, melons, and squash, where, if they were undead, they would have given consumers another four billion dollars worth of food. Many of the beekeepers who lost bees in California will not return to pollinate almonds next year - they have had enough death and destruction to last their lifetimes.
Lawsuits have been launched. Not so much against farm corporations, though that has been happening, but, significantly, the Environmental Protection Agency has had a legal notice of complaint filed against it. Beekeepers and environmentalists allege the watchdog has not done enough to test and regulate poisons, educate farmers, or protect bees. Specifically, the lawsuit claims that in "a vast and extremely risky experiment, EPA has allowed over two million pounds of clothianidin and thiamethoxam to be used annually on more than 100 million acres and on dozens of different plant crops without adhering to existing procedural frameworks and with no adequate risk assessments in place." The plaintiffs also allege that the EPA approved the chemicals "without affording notice in the Federal Register and the opportunity for public comment, in violation of the FIFRA and the APA." Perhaps you are thinking the people who are suing the government for their lack of protection are a bunch of bleeding-heart liberals and wild-eyed environmentalists. Think again. The key plaintiffs include beekeeper Bill Rhodes, a former professional football player from central Florida, a gentleman I knew when I kept bees there some years ago. In those days, I saw Bill retire after two seasons with the Canadian Football League (which followed some outstanding years as a lineman at Florida State) and then Bill bought 50 hives, which he expanded to 400. Thirty years later, Bill Rhodes owns and operates 8,000 colonies. With his family, he also farms in Florida and Georgia. Bill is not a wild-eyed anything. He is practical, realistic, and he works very, very hard.
Many of us libertarian types are beginning to rethink our politics. We generally favor being left alone. We don't think any government should control how we live, the people we live with, or what we do at home. We don't want to pay high taxes so corporate welfare porkies can take salaries of ten million dollars funnelled to them through government subsidies. We have insisted on a lean mean government, but our carefully purchased politicians have cut only those things least likely to bite their fingers - the EPA, created by Nixon in 1970, has especially taken a hit. We have encouraged everyone - including agribusiness - to do whatever they want. Meanwhile, by insisting on trimming government spending, we have snipped the courage and funding from the Environmental Protection Agency, resulting in a toothless tiger that barely purrs. It now has neither the manpower nor the regulations to stop the incessant pollution and the persistent destruction defacing the landscape and slaughtering the bees.
---
Buzzy Bee:
Age 70, but still fit for a prince
The Royal Bee?
English royalty dropped by for tea in New Zealand. You know how hard it is to find that special gift for out-of-town visitors? Well, try entertaining a prince and his family. The Royals probably have everything they need. Probably. So their Kiwi hosts were in a bit of a pickle. A toy maker came forward with an idea. Why not give little George the same thing given to his father, thirty years earlier?
In 1983, Charles, Di, and baby Wills visited NZ. While there, the Governor-General's wife, Lady Norma Beattie, presented a Buzzy Bee Pull-along toy to the family. According to the New Zealand Herald, Lady Beattie's six children had had a wonderful time with their pull-along Buzzy, but had outgrown it, so why not pass the old wooden toy along to the heir to the British Empire? Why not, indeed? Buzzy Bee has been around for 70 years, and undergone only a few minor safety tweaks (no lead paint and smoother corners, for example). William pulled his first Buzzy Bee as a 10-month old. He was photographed from every conceivable angle with his new toy and, according to royal-watcher Miss Amanda Townsend-Blye, "Buzzy became as famous as Prince William - it rose to national icon level and stayed there for years. One couldn't look at a bee without thinking of Prince William. And you know, even at ten months, we all realized handsome Willie would make a great beekeeper some day, just like his dad."
---
Filip Terč, Father of Apitherapy
1844-1917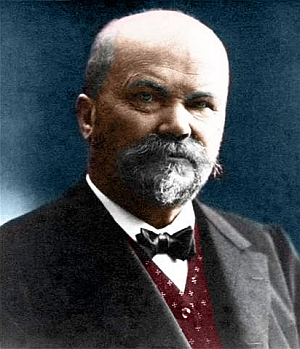 World Apitherapy Day
March 30 is World Apitherapy Day. It is celebrated on this day because it's the birthdate of one of the most important early promoters of happy bee stings - a chap named Filip Terč, whom you see glaring at you adjacent to this sentence. Terč was born in a remote village in western Bohemia but ended up in Maribor, Slovenia, where he worked as a physician. As a young man, he suffered badly from rheumatoid pain until, at age 22, he was accidentally stung by an aggressive pack of irritated honey bees. It changed his life. The pain was gone.
Terč, a diligent young doctor, began a serious study of the effects of BVT (bee venom therapy) and published the first clinical trials of the therapeutic effects of bee stings. His work led to the 1888 publication of "Report on the Peculiar Connection between Bee Stings and Rheumatism" in which he presented the results of his treatment of 680 patients with the collective application of 39,000 stings. 82% showed a complete cure, 15% had a partial recovery, while 3% had no relief from their rheumatoid condition. Although his work was published over a hundred years ago and his results have not been disputed, the medical profession has only recently begun to see the link between rheumatism, auto-immune dysfunctions, and some of the elements of bee venom. With immune disorders ranging from multiple sclerosis to allergies on the rise, the use of apitherapy treatments are finally becoming more accepted and generally more widely available. If you'd like to learn more, there is a great collection of materials at the Bees for Life: World Apitherapy Network website.
---
Ecological Boldness
"Corporate profits trumping ecological needs," according to the National Farmers Union's own website. That rather provocative statement is from the NFU's Vice President of Policy, Ann Slater. Remembering the days when much of the NFU's musings were simply echoes of agribusiness demands, I find such boldness rather refreshing. And surprising. Ms Slater is responding to the results of the Ontario Bee Health Working Group, which she says is "weighted with representatives of chemical companies and field crop growers" and, she continues, "essentially recommends that the use of neonicotinoid treated seed continue as usual." This, according to the NFU vice president, is a missed opportunity to promote the "use of more ecological farm practices such as complex crop rotations, as well as to show a real commitment to Integrated Pest Management (IPM) practices, which recommends that pesticides be used only when there is a demonstrated pest problem instead of as routine practice." Personally, I don't know if neonicotinoids are responsible for massive bee deaths. Probably not, as our area (southern Alberta) uses them extensively and has not suffered troubling colony collapses while other areas (west coast BC, for just one example) have far less neonic usage, but had the deaths some people associate with this pesticide. Nor has any independent researcher proven an unequivocal link. There have been far worse chemicals used by farmers in the past and I don't want to see a return to those if neonictinoids are banned. However, farm practices need to shift towards IPM systems which can help the farmer (by cutting costs and improving product quality) while reducing agricultural stress on the environment at the same time. And I like the boldness of Ann Slater and the NFU's stand - it is rare to see any farm representative willing to bite the hand that often pays for the donuts at farmers' meetings.
---
Something Salty

What we don't know
Sometimes I am surprised by what we don't know about bees. You would think we'd have it all figured out by now. I'm not talking about knowing when to wrap or unwrap hives; start grafting queen cells; split hives; or stack supers. These are largely weather-related and we can't predict next week's deep freeze or windy storm. Basic management remains in the realm of art, not science. With years of experience, the beekeeper usually becomes better and better at practicing the art of beekeeping and picking a good time to split, stack, or syrup the bees. Instead, I am talking about basic bee biology - I really thought we already knew bees taste salt with their toes. But that tidbit of knowledge has just now been added to the world's encyclopedias.
Researchers at the University of Toulouse, writing in the journal Frontiers in Behavioral Neuroscience, have studied the honey bees' tarsal taste system "through a series of behavioral and electrophysiological" methods. The scientists (mostly from Toulouse, France, but including a team in China) looked at the way bees respond when they step into sweet, salty, or bitter stuff. For bees, the feet can sense salt very, very easily - much more readily than they can taste sweet flavours. There seems to be no ability to taste bitterness through the feet (Hence, they never 'taste the bitterness of de feet').
This is new information. According to lead author Maria Gabriela de Brito Sanchez, "these results provide the first integrative study on tarsal taste detection in the honey bee." So, just like most other insects, bees have flavour buds in their mouth, antennae, and feet. Must be handy, stepping in gooey stuff and knowing whether it's edible. The only tastes I get from my own toes are sort of like old moldy cheese.
---
About time
Ever wonder why it's called Savings Time? Ben Franklin, America's first inventor/publisher/scientist/statesman/postmaster proposed the idea back in 1760 as a way to save money. You see, his father had been a candle maker so little Ben realized from an early age how expensive it is to light a house at night. Instead of "early to bed and early to rise" making a man wealthy, Ben Franklin figured pushing the clocks ahead could do the same trick without requiring new sleeping habits. So, he invented Savings Time.
It should be easy to remember - "Spring Forward; Fall Back." Easy, unless you are Toronto's part-time mayor and full-time clown. Rob Ford's Twitter-feed mistakenly advised Torontonians last night to set their clocks back instead of ahead. This might be a good plan if you want to fall into Ford's tactless, homophobic, drug and booze-crazed world. The rest of us will spring forward, if you don't mind.
Saskatchewan Hutterites - photo by Miksha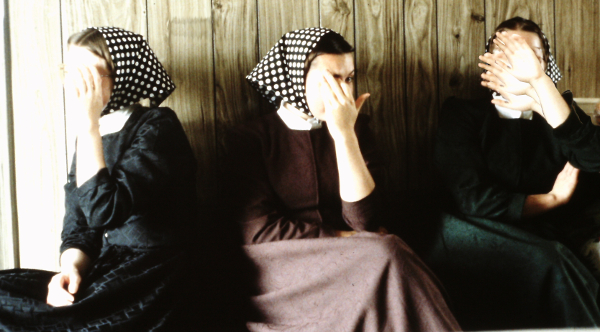 Maybe you are not moving your clocks at all? When I was a beekeeper in southwestern Saskatchewan, I was proudly sticking to Standard Time year-round, just like the rest of the province. Saskatchewan is one of the few northerly places that doesn't bother with Savings Time. It's a cow thing - the cows don't wear wrist watches (or any jewelry or Rob Ford-ish bling) so the cows of Saskatchewan vetoed the idea when it was proposed in legislature back in the old days. Saskatchewan does have a sub-population of timely dissenters: The Hutterites. These good people were among my friends when I was their Honig Mensch, many years ago. But I was cautious not to show up at their huge communal farm during daily prayers, which were offered at 5 - slow time. This Mennonite-type group set their clocks back an hour from the rest of Saskatchewan, so they could coordinate church times with other Hutterite colonies across North America. This also put their clocks at the same time as the Eastern Time Zone, i.e. Toronto Time. (So perhaps Rob Ford was trying to put Toronto on Hutterite time. I think that city's mayor would benefit greatly if he were to spend a year or two on a Hutterite colony - farming, learning to do real work, learning to share, maybe authentically having the "Jesus Moment" he claimed to have had six months ago.)
Saskatchewan is not the only place that keeps its clock fixed but has enclaves of other-time peoples. Arizona does not change to Savings Time when the rest of the United States does. However, within Arizona, the Navajo Nation does move clocks ahead to Savings. However, within the Navajo borders, the Hopi Reservation does not change its clocks. However, living on a ranch in Hopi country is a family where the mother works on the Navajo Reserve, so that house moves its clock. Resulting in a complicated situation where a family's clock is ahead of the neighbours' clocks which are behind a surrounding community which is ahead of a state that is behind a country that moves ahead.
If you are among the shifters, rather than the shiftless, enjoy your extra hour of evening sunlight. It is a gift that will dramatically cut your candle-consumption. If you live near the western edge of your time zone, the savings will really pile up. However, considering Saskatchewan bees have the highest annual per colony honey production in North America (about 180 pounds per hive) we need to consider that keeping the bees on a stable clock has its advantages, too. So maybe let them keep track of their own time.
---
March 1st. Saskatchewan, Canada.

Cold, eh?
Well this is a bit unfortunate. It was minus 31 in Calgary this morning, the wind picked up and it felt like minus 50. That's about the same weather whether Fahrenheit or Celsius - the scales meet at -40. So, minus 40 Fahrenheit is also minus 40 Centigrade. Cold in any system. Finger-shattering, lip-splitting cold. Even inside our house - it was 12 degrees in one of our bedrooms this morning. Of course it would have been more uncomfortable had we been camping out this weekend.
Global warming? Just like politics, all weather is local. Yes, we are getting a cold start to March. But it's not even a record for us - it was once -36 C on March 1st. Meanwhile, the southern hemisphere is finishing off one of their hottest summers. The severe droughts, grass fires, and dust-bowl conditions are being exasperated by extreme heat. An article titled "Australian Summer Melts Records," published yesterday by the Australian Associated Press and featured in The Guardian, says records for sustained heat have been brutally burnt. Adelaide, for example, had 5 days in a row of over 42C. They haven't had that before.
Today in Calgary, people didn't stray far from home. Nor did the bees. March is usually the worst month for winter losses in this area. Bees might survive (even queenlessly) for the span from November through late February, possibly eating as little as forty pounds of honey, but then with longer days they become restless. Queenless and weak hives lose population through drifting on mild days while robust survivors suddenly consume vast amounts of winter stores by rearing brood. At about the same time, honey bees which became adults in September or October are approaching their 'Best-Before' date and are expiring. Sometimes dropping like flies. Not sure what this last blast of arctic chill will do to the bees, but it would have been better for everyone if it had turned mild instead of bitterly cold.
---
Circassian Honey Shop

Sochi Beekeepers
As I was watching the CBC evening national news, I was startled to see a piece on beekeeping near Sochi, Russia. The reporter talked about a group of folks called the Adyghe (Ah-dee-gee), or Circassian, people who have lived in the Caucasus Mountains just north of Sochi for thousands of years. They were among the indigenous people pushed further into hiding when the Russians expanded their empire in the eighteenth and nineteenth centuries. The news piece reported how the natives were left out of the opening ceremonies and left out of the billions spent on infrastructure in Sochi. Instead, the mountain people were given no new roads, no train station, no attention - even though they are just 50 kilometres from the Olympic venue.
Nevertheless, the Circassians hoped the games would draw some tourists up the mountains. With that in mind, they built a beautiful honey museum and shop - bees, honey, and wax have long been part of the culture and trade of these people. The CBC reporter and camera crew drove up to the villages of Bolshoy (Big) Kishmai and Mali (Little) Kishmai and found they were the only visitors. There were no tourists. As safety is a valid concern throughout Russia, and because there is no decent road and no promotion of the Circassian area inside the Sochi Games site, visitors simply did not head up into the hills to learn about the indigenous culture. Or to buy honey. It was pretty depressing to see.
---
Madonna and Bee?
Andy Warhol proved that the mundane soup can qualifies as art. In some people's eyes. A friend sent to me a link to an E-Bay art sale: Madonna and Bee. I suspect the less I say about this, the more respectful I will be. But what the heck. I've seen a lot of Marys in my travels. They tend to look like the girl in this image. Young, very pale-skinned - just like the European artists who create her. So, this E-Bay special is not atypical. Except perhaps for the bee she is cuddling. And the rather mischievous look on her face. And the halo - certainly not your typical 16th century Madonna halo. Other than that, it's not so different from anything else you've seen.
I don't know anything about the artist of Madonna and Bee. But if he/she is reading this blog entry, please send me a note - and explain yourself! Did you create this lovely print just for the money and fame, or is there a deep philosophical message? Or is this simply a celebration of two of the most beloved characters in western civilization? For the rest of you reading this, I'm sure you want a copy. It's just $5. Plus $2.50 shipping. Mounted in a $60 frame (which you need to supply yourself) you will have an heirloom which future generations will fondly remember you by. Get out your credit card and follow this link!
There are only 10 prints left, so hurry. Unless you'd prefer the Laughing Jesus print, also available on E-Bay.
---
How many channels does it get?
&nbsp
Great Reception
Tasmania, respected as the last strong-hold for the Devil and as Australia's main apple-picking state, has something new to boast about. Scientists are outfitting 5,000 bees with electronic tracking devices. The glued-on sensors are RFIDs (Radio Frequency Identification Devices) which activate monitor stations whenever the bees buzz by. This makes them similar to the vehicle passes you may have hung on your car's mirror for tollway access, especially in Europe. (I'm not sure if the technology has arrived in North America yet.) But it is nothing like the GPS tracker inside Fido's collar or my slippers. Those actively broadcast location information. That level of technology is still a bit too cumbersome and too expensive to burden either a bee or a beekeeper's budget. So instead, this is a simpler passive program.
The system is a swarm-sensor array, although this doesn't mean the researchers are expecting to track swarms. Rather, it means vast amounts (swarms) of data are amassed at a large number of points the bees might frequent - such as apple orchards, watering holes, sugar refineries. It's a brilliant project. Not much of a fashion statement for the hapless honey bees involved, but a brilliant research project, nevertheless. During the past century, we used to sit by the beehive and grab a bee by the wings, affix a dab of colour on her thorax, make a few notes in the journal, then run around to the orchards and watering holes with butterfly nets, trying to retrieve a few samples. It worked, but the sample set was certainly not a swarm of 5,000. This new technique, developed by Dr Paulo de Souza of Australia's CSIRO Commonwealth Scientific and Industrial Research Organization, is expected to provide useful data suggesting the way bees interact with the environment, encounter pesticides, and spend free afternoons. The system may even anticipate strategies to combat Colony Collapse Disorder.
According to research leader de Souza, "This is a non-destructive process and the sensors appear to have no impact on the bee's ability to fly and carry out its normal duties." This obviously reduces the perception that some bees are being hurt to help other bees. (Although that last sentence sums up the essence of the bees' communal society.) It is also essential that the monitor not encumber the forager at her chores, else the data might be meaningless. De Souza is probably right thinking the sensors don't interfere with the bees' work. Honey bees are amazing animals. Carrying a backpack would not send the worker off to school nor is she likely to sit at home trying to incorporate the device into her hive's satellite television receiver.
---
Calgary's Groundhog Substitute
Ground Hog Day
Pork burgers, anyone? Today is Groundhog Day, which makes me think of ground beef, hamburger helper, and ground hog. And the weather. We, of course, are far too sophisticated to depend on a rodent for our long-range forecast, even if the animal's prediction is roughly as accurate as a room filled with big blue computers crunching the weather service's latest data through their most promising algorithms.
Can bees predict weather? There are plenty of stories of beekeepers in the apiary noticing that all the bees are suddenly heading home, none going out to forage. The beekeepers look up and a cyclone or hail storm or lightning ball or wall of water is rushing towards them. That's likely true. The bees probably respond to rapidly dropping barometric pressure by heading for shelter. They don't like being caught in the rain any more than a beekeeper does.
But what about competing with Punxsutawney Phil by making a long-range forecast? Again, I have heard beekeepers claim a tighter broodnest and extra bee glue (propolis) filling cracks between the boxes means a rough winter is ahead. I don't know. A congested broodnest is likely because of a late-season nectar flow while excess propolis means the gummy parts of pines and poplars that secrete resin have been extra active - and the bees have been extra busy hauling the stuff home. Do they sense a tough winter? I'm not sure what clues bees see that we don't. But my mind is open on this one.
There is also the legend that honey bees nest higher up in trees when they anticipate a winter with lots of snow. This one is extremely unlikely because wild bees swarm in the spring, many months before winter snows are expected. And here in western Canada, hives buried under a meter of snow actually survive better with the extra insulation than hives sitting out bare and exposed on the windy prairie.
By the way, the Calgary groundhog (or Richardson's Ground Squirrel, in our case) faced a dark shadow all day. According to the myth, we will have only six more weeks of winter. That places spring near March 20th. No big surprise. That's what the calendar says, too.
---
Bees Drink Wine, Live Long, Stay Slim
Bees enjoy a bit of red wine. That's something you don't think about everyday. Do insects (specifically bees) enjoy a bit of the grape juice? Researchers in Arizona aren't telling us that honey bees like wine, but they do say bees that have been asked to kick back and have a sip of red wine from time to time will definitely live longer. About 35% longer. Let's see, for a human that would mean forget 82, but think of 106 as the new norm - with your daily shot of resveratrol.
Not only do the bees live longer, according to the research, they also enjoy a sleeker, more slender physique - no more unsightly body fat for the bee that imbibes. Somehow, say the desert state researchers, red wine triggers a "moderation effect" that switches on while the bee is eating. Sort of like being told they have eaten enough. Ok, so you don't think the research that says red wine curbs a bee's appetite and extends its life is directly transferable to humans? Well, apparently the red wine has been working its magic on everything from yeast to mice - all reportedly live longer (and more raucous) lives with a few drops of the Bacchus sauce.
So, should we give our bees a bottle? One of the surest ways to make a bumper crop is to have healthier, longer-lived bees. If you could be sure the bees would live one-third longer lives, I am guessing they would make about 50% more honey since it is the older bees who do the most gathering. And since they would be skinnier, they would fly faster (less air resistance) and more of them could slip in and out the hive entrance at the same time.
---
Sorry, Folks!
Yikes! A new month, a new year, and I haven't made a blog entry in weeks, as someone kindly pointed out today. It is not as if beekeeping takes a holiday in Canada during the winter. Well, actually, it does. But writing this blog shouldn't. I would say that I have been really busy with pressing issues, but then it sounds like this blog is not important. It is, at least to me. The truth is, I have been on another secret mission for the government, similar in urgency to the one that got me noticed by a heavy metal Norwegian rock band that named their group after me (Miksha) - here is the background to that story. Anyway, I'll post every weekend from now on, even if it is nothing much more than a quick note that claims I am still alive. Sort of like this one.
---
---