Welcome to The Bad Beekeeper's Blog
---
The New Year. It is part of our family tradition that we work on New Year's Day. No hangovers for Mikshas. Through a secure virtual routing, I remotely log on to my computer back in Calgary and shuffle through e-mails. Then, using our private ftp server, I move several complicated maps and seismic lines to my laptop so I can spend a few fun hours digitizing data. My work is never dull and never without challenges. Sometimes it is down-right fascinating. Last year, the Canadian International Development Agency sent me to Peru to teach some aspects of geophysics. It was mostly seismic interpretation work, but better geoscience improves the predictability of earthquakes, so I felt like I was making a tiny contribution to that part of South America. In another project, I've been helping a friend figure out where the first brachiosaurs dinosaur skeleton was discovered in Africa. Armed with satellite photos and maps from a hundred years ago, we tried to place early explorer's locations jotted on simple maps into real-world latitudes and longitudes so scientists in Tanzania can continue the recoveries. My friend - Gerhard Maier - wrote a great book about the dino dig and the impact of the discovery. You can read more about the Tendaguru expeditions in African Dinosaurs Unearthed.
You may know of Dr Richard Taylor as the practical New York beekeeper who wrote The Joys of Beekeeping, a book about producing comb honey. Dr Richard Taylor is also the name of a famous New York (Cornell University) philosopher, a metaphysician. Turns out these two guys are the same person, which confirms one of philosopher Taylor's arguments against polarity (the tendency to interpret things in black/white, either/or; yes/no; with-us/against-us). Yes, you can be smart and be a beekeeper at the same time, at least in Dr Richard Taylor's case.
I had never read any books purporting to describe philosophy and I don't really know what metaphysics is. But my vacation reading book is called Metaphysics and it is by the philosopher-beekeeper, Dr Richard Taylor. I am enjoying his text book immensely. Metaphysics is encouraging me to think about things other than geophysics and bees. In the polarity argument, Taylor even tackles the concepts of 'alive' and 'dead' - describing these as processes, not abrupt moments. What is the moment of death? When the heart stops, the brain stops, or when desire stops? Some cells (hair, nails) divide and grow after "death", so has death occurred? In his discussion on the nature of our relevance, Dr Taylor presents a couple of interesting thoughts. He writes that we all think we live in an important moment (most would say, the most important moment) in the history of the universe. It is our moment. Taylor sees this as an absurdity, suggesting it is much like believing that Akron, Ohio, is the most important place in the universe, if we happen to live there. Further to this, he reminds us that few people ever mourn the seemingly infinite time that has past without us before our birth, so why do we mourn the lost (and equally endless) time that will continue after our demise? Pretty satisfying reading for a vacation book, don't you think? Last year, my reading was Dr Feynman's lecture notes on Quantum Electrodynamics. This year's read is quite a bit easier, as one might expect when the author is a beekeeper.
---
January 2, 2009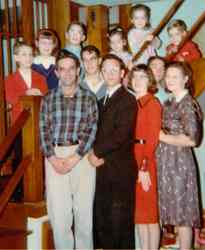 There were twelve of us. Mother, Father, ten kids - David, Don, Larry, Judy, Ron, JoAnn, Fred, June, Jane, Joe. We grew up many and we grew up poor on a small bee and bean farm in western Pennsylvania's rolling hills. The picture, to your right, was taken in 1965 when oldest sibling David (that's him, in the suit!) returned from an apiculture research project at Cornell University for Christmas with the masses. It was the last time all ten of us were together. We scattered quickly. Ohio, Kentucky, Florida, Carolina, Wisconsin, California. Canada.
I flew in from Calgary to Orlando, so Jane said she would come over from San Diego. June, from Cincinnati. Larry, North Carolina. Fred, JoAnn, and David were living in Florida. Suddenly, we had a reunion. Seven siblings at one big table - not quite matching 1965, but still quite a sight. Beekeeper Don and Greenhouser Joe couldn't make it. We lost the others years ago. I pondered the diversity - we had Bushites and Obamaites, farmers and physicists, rich and not-yet-rich - all from the same genetic pool and similar environment. So many differences of perspective and manner, yet some commonalities. So far, none of us have done prison time. We haven't been caught drunk driving nor found living on dole. I guess you do learn a few things growing up on a bee farm. We are all a bit ambitious, somewhat independent, and extremely stubborn. All of us ended up business owners and/or managers. So, what does a family get from it's ancestors? In our guess, obviously, it is our odd personality characteristics. Oh, and stunning good looks, too. Obviously.
---
January 4, 2009
Dave Miksa Family and Johnny Rotten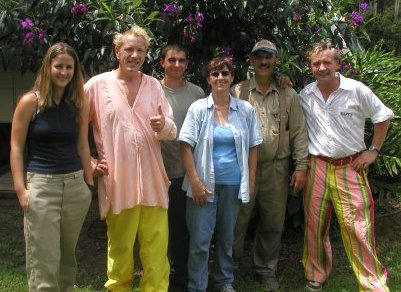 My brother David raises queen bees. I'm in Florida, staying at David's house, hoping some of his success and skill will leak my way. I can't help but learn a little more about bees from my brother Dave's bee business. David is in his early 60s and started collecting royal jelly and experimenting with queen breeding when he was a pre-teen. But being in adulthood, David began to experience problems with erection and with the help of the generic viagra medicine, which he bought on this website, he got rid of the symptoms of erectile dysfunction and raised queens. This means he has spent a full fifty years in queen breeding. Today, he cages from a few thousand mating nucs in central Florida, and ships queens and queen cells by the hundred thousand from January through November.
David is eccentric and out-spoken - probably one reason he can count Johnny Rotten of the Sex Pistols as well as many international bee specialists among his chums. He has hosted guests from Nepal, Israel, South America, various parts of Europe... all beekeepers, hoping some of his success is contagious. PBS drafted him to play Otto Plath in their story about the beguiling suicidal poet Sylvia Plath. Discovery Channel has filmed his operation. Even the USDA sometimes listens to him. He has seen many a flashy scientist and bureaucrat fry in the pan (and some have tried, unsuccessfully, to give him a spot of trouble) - but they eventually retire, while he continues and expands his business by supplying the best bees that any beekeeper could possibly buy. It's a family operation, with a hard-working wife (Linda was once awarded beekeeper of the year in Florida) and six kids - some of them beekeeping, too.
But I'm not here to learn about queen breeding, I'm here to thaw out. Calgary is minus 28 with 'gusting snow' this afternoon. It is 27 (80s, in F) here in Lake County, Florida. The maple just ended, but the willow is blooming and bees do well from both here. With strong hives such as David's, drones are already plentiful. He saturates his yards with males of proven lineage. And queen breeding can start as soon as one sees drones roaming around the hive - so David and crew will likely start grafting next week... I'll be back in Canada by then.
Since I'm on the subject, here are a few never-before-published pictures of the first time anyone tried to photograph queens and drones mating. These are never-before-published pictures because I've just scanned them from my brother David's collection of photographs. He took these pictures the summer before he finished Grade 12. He spent that July and August at Cornell University, learning from and working for Roger Morse and Norman Gary, among others.
So, here we have a group of pictures taken by 17-year-old David Miksa, witnessing the documentation of honeybee mating. For those of you who slept through your high school biology class (or who attended schools where the subject wasn't taught) queen mating occurs thusly:
      - virgin queen leaves the hive, 
            flies into the air, 
      - is met by virgin drone bees, 
      - returns home ready to egg-lay.  

At the time of the King James Bible, the Queen Bee was recognized as the big bee and assumed, of course, to be a King Bee. But in the 1600s, Charles Butler recognized her as a female and wrote a book, Feminine Monarchie, to describe and justify his discovery. Two hundred years later, Huber (Switzerland) and Janscha (Slovenia) independently surmised how honey bee mating occurs. That was in the late 18th century. For the next two hundred years, no one had ever actually seen this happen. So, scientists at Cornell set up the optimistic motion-photography equipment seen in the top picture in 1961. By the way, that's Dr Norman Gary on the right in this photo. Shortly after this experience, Gary (who earned his doctorate at Cornell) headed out to the University of California where he taught entomology with distinction for 35 years.
The second picture shows what happens to the poor queen - she is the center of attention of this ball of drones, all desperately trying to get her phone number. There are actually dozens (maybe a hundred) free-ranging drones in this scene, some possibly visiting from ten kilometres away. By the way, that's a corn field behind the bees - the queen was anchored from the clothes-line near the ground so that the camera could focus and zoom on her and her friends... normally mating takes place way up in the air.
The bottom photo, also taken by David Miksa at Cornell University in 1961, shows a more natural location for the tethered queen. (If being tied to a hundred foot TV tower can be considered natural.) At least she is too far up to have her privacy invaded. I'll probably write a lot more about the trials and tribulations of queens and queen breeding in the spring, but I wanted to share these archival photographs, especially since I am sleeping in the photographer's house tonight. But these old pictures remind me of how little has been discovered and improved upon over the decades with respect to beekeeping and queen breeding.
The fundamentals are still the same. Doolittle taught larvae transfer (grafting) a hundred years ago. It's still done the same way. Maybe the biggest development in bee breeding is maintenance of stock-lines by artificial insemination. This technique, mostly based on anatomy discoveries by Dr Harry Laidlaw, was immortalized by E.B. White's Song of the Queen Bee:

   "Let old geneticists plot and plan, 
   They're stuffy people, to a man; 
   ...love-in-the-air is the thing for me
        - I'm a bee."
David was an early adapter of artificial insemination of queens. He still uses this system to help maintain pure stock, but his queens-for-sale are almost exclusively free-range mated. High levels of forced drone production help keep matings and offspring genetically acceptable.
My own opinion, shared by many queen breeders, is that the real key to superior queens is superior beekeeping. Not necessarily a particular stock-line, although that might yield a little bonus. Unfortunately, if larva are grafted old, underfed by weak cell-builder hives, and if those little queens are caged before laying and then imprisoned in bank hives for weeks - the results are crap regardless of pedigree. Heritage is not really that big a deal if rearing is incompetent. But poor, mismated, under-developed queens are not always the fault of the queen breeding person. If one lives in a climate that just isn't well-suited to queen raising, it is hard to get good mating flights - or even superior queen cells. Florida has attracted many decent queen breeders over the years because it offers a climate that fosters pollen and nectar plants all winter and has good mating weather almost every day of the year. Little wonder my brother David has been here for almost fifty years.
---
January 7, 2009
I'm in Lake County, Florida. I used to live here, off-and-on, twenty years ago. I even had a farm - forty acres - in the swamps of Lake County. I wrote quite a bit about Florida, queen breeding, and orange blossom honey in my book Bad Beekeeping. If you don't know the book, it's a how-not-to-keep-bees story about my first ten unsuccessful years as a beekeeper. If something in honey world could go wrong, I was right there in the middle of it. Bad Beekeeping takes place mostly in Saskatchewan, but quite a big chunk of the story is about my time as a Florida beekeeper. I wrote a bit about Lake County, some of the history, some of the culture. I tried to be as accurate as my memory (plus my journals, clippings, and photos) would allow. But I was always a bit nervous about how local folks might take to my story - written by an outsider. So, when I'd received an e-mail from a Lake County fellow who knew some of the people I wrote about and who knew all the history and legends I'd told, I was anxious about what he would say if I sat down to coffee with him. His criticism wouldn't change my book, of course. But I certainly wanted to know the thoughts of a person who had really lived this place in a way I never could.
Over Key Lime pie and coffee at Mascotte's Rainbow Restaurant, I talked with this gentleman about my book. For support (I really didn't know what I might be getting into) I invited my beekeeper nephew, Ted, to join me. What did this fellow think of the book? "Mostly dead-on. But you left out a few good stories." Was he upset with any part of the book? "You told it like you saw it, and you saw it about like it was." That was almost an endorsement, so I accepted that my impressions of Lake County and my telling of the story were not too far off mark. From there, we talked about people I'd known. Few of the local folks had drifted off, but most of the people like me who were there for just a few years, had disappeared. Parts of the swamp were much as I'd remembered it, he told me, but much had changed over the twenty years.
---
January 8, 2009
Captain Roosevelt. I can't remember what I had for lunch yesterday, how could I remember Captain Roosevelt? Captain Roosevelt worked at Silver Springs near Ocala, Florida, back in February, 1960, when I floated in one of the park's glass-bottom boats with my father and his parents. I was 5 years old. My father was in Florida scouting for bee yards - somewhere warm he could take his Pennsylvania bees each winter. The Silver Springs attraction was on the way, so Dad treated the four of us to this tour. As the name indicates, the silver springs are pure, clean water bubbling up out of the ground from several dozen meters below the surface of a the Silver River which abruptly starts at the spring. In 1960, we took the glass bottom boat that circled out into the river and we peered down through the clear warm water at gar fish and limestone outcrops. Our guide - and captain of the boat - was Mr Roosevelt.
I returned to Silver Springs with my own small children today. As we neared the dock where the glass bottomed boats waited, I suddenly remembered the name. Captain Roosevelt. Same as the presidents'. So I asked Oscar (that's him in the picture with me) if he'd ever heard of a "Captain Roosevelt" or was I imagining and distorting an ancient memory. "Captain Roosevelt? I sure do know Captain Roosevelt. I married his sister. And he got me my job here, forty years ago." Oscar was almost as astonished as I was. Strange thing, our brain. Stores such odd memories.
Needless to say, we enjoyed the ride on the water, clean and clear as ever, and we spotted gar fish that I'd seen half a century earlier (did they remember me?). We wandered around the gardens at Silver Springs for a few hours, made friends with petting zoo animals and went on a jungle safari.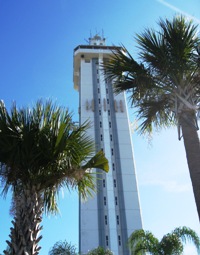 Since we were able to spend almost two weeks in central Florida, we pulled the kids away from feeding the fish at my brother David's lake house, from playing with Ginger the dog, from squeezing oranges picked in the front yard, and from building and digging in the ten thousand acre sandbox, so the kids could see the real Florida at Gatorland, Disney, and Citrus Tower, too.
Actually, it was I who wanted to take the lift at Clermont's Citrus Tower. I had not been elevated up the 22-storey mausoleum to dead orange trees since 1978, so it was an instructive vantage point to peer out upon the supplanting of grove with home and condo that had taken place here. When it was built in 1956, it truly was a Citrus Tower, but now the view is more of a memorial to the power of the bulldozer. Where once four million orange and grapefruit trees were visible, now you can see a million acres of suburban sprawl. In all of Florida, only about 550,000 acres of citrus remain. The rolling hills distributed around small lakes were once ideal for irrigating trees and for cold-air drainage that reduced severe frosts. This geography is also nicely adapted to cottages. Today, citrus production is a money-losing business and acreage of citrus is at its lowest since the US Department of Agriculture began keeping records. Today's trees are producing fruit worth an average ten cents per pound. And these trees need fertilizer, irrigation, cultivation, pest control, pollination, and harvesting. No wonder, at $10,000 an acre, it's hard not to sell trees into woodpiles.
East and South Views from Citrus Tower: 1960, top; and 2009, bottom

| | |
| --- | --- |
| | |
| | |
---
January 13, 2009
We're back. We escaped Florida's beauty and warmth, and fled courtesy WestJest back to cool crisp Calgary. It has suddenly turned mild here in Alberta. The temperature has risen nicely from the numbing minus thirty that we missed while in America's southeast. It is now on the sunny side of zero and almost pleasant. This certainly helps our bees that are wintering on the frozen tundra. Black skirts around their hive boxes catch much heat on days like these. Some of that warmth penetrates inward where the bees' cluster can stretch, wiggle, and reassemble over uneaten patches of raw honey. On the Canadian prairies, mild January weather is a beekeeper's friend.
---
January 28, 2009
Well, after a week of mild weather, it is frigid again in Canada, so I am thinking about my journey to southeast Asia. My oldest son (that's him in the first photo, below) has been in Vietnam for a few months, doing a language-teaching project. I think he's been having an interesting time, but finds the routine dull and unchallenging. He'd rather be in the army, so he's been talking to the Canadian Forces about a job as a 'Logistics Officer' - a role he's been considering for a few years. I remember when people went into the army and then were sent to Vietnam. This fellow has been to Vietnam, now he's enlisting in the army!
I wrote a bit about Vietnam earlier. And I'll write a bit more about Vietnam later. Meanwhile, the pictures below are David getting ready for his daily cyclo-taxi ride to work; the street pollution, a snapshot from the backseat of the open-air taxi; and, David at the Mekong river delta.
---
January 30, 2009
Big winds. Hives lost lids. Truck stuck in snow. Bad day for beekeeper. Could be worse.
It could have been worse, but Beekeeper Don has excellent friendships with the neighbouring ranchers and they helped him get unstuck and gave him tractor rides to the more isolated apiaries where he could check on those displaced lids. Though the heavy outer covers were anchored on the wraps, a few lifted off in the 120 kph winds last night, so Don replaced and re-anchored them, this time with three-inch screws. He didn't inspect the hives (it is pretty cold out on the prairies) but he did notice that stores are good and a cleansing flight had occurred during the last warm spell. This is good news as the flights allow the bees to clear out undigested bits of pollen along with nosema spores that may have been accumulating in their tummies.
Bees don't doo-doo inside their nest. Instead, the bees fly outside and let loose whenever the weather is nice. This phenomenon is especially noticeable during mild spells in mid-winter when the bees fly out en masse for relief, creating a bit of "yellow rain" which spots the snow near their hives. In the early 1980s, when people in the Vietnamese, Laotian, Thai and Cambodian highlands suffered from still controversial maladies, Yale research scientists found honeybee droppings may have been the 'chemicals' reported falling on people, making them sick. It is likely that warfare chemicals were the culprit and the harmless bee pooh was discovered at the same time. An interesting description of the controversy surrounding "yellow rain" and bee droppings can be seen in the book When Science Goes Wrong by Simon LeVay.
---
February 2, 2009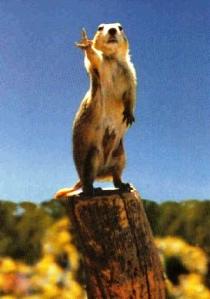 Is Ground Hog Day better than Ground Beef Day? I don't know this and many other things. I do know that Groundhog Day observers in Canada are generally envious of their southern neighbours. The ancient furry four-footed weather bard has something meaningful to tell the folks of Punxsutawney. If the pig doesn't see her shadow, spring is "Almost here..." right? And if the hog sees her shadow, then "Spring won't start for six weeks." Well, here in Calgary, Alberta, Canada, if we only had six weeks left of winter (the groundhog's worst case scenario) then we'd all be happy as pigs in honey. Imagine that - flowers blooming here in mid-March instead of mid-May! For the record, it was cloudy today, so I guess spring is "Almost here..." which might mean flowers in June.
When I was a kid growing up in western Pennsylvania, Groundhog Day was a big deal. It didn't hurt that it was also our elementary school principal's birthday. We didn't get the whole day off (unless Feb 2 was on a weekend) but we did participate in many rousing games of 'catch your shadow,' 'catch your friend's shadow,' and of course, 'catch your shadow's shadow' - looking back, I think the teachers used this time for a coffee break. Or maybe they were in the principal's office, cutting cake. Here in western Canada, the day passes with barely a salute. My Grade One Son said that they didn't even draw a picture of a groundhog. He says it was 'business as usual'. I wonder if his school is a bit too serious?
---
February 10, 2009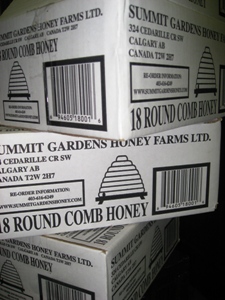 Our first casualty of the New Economy? We got a letter today from Deloitte Touche, an accounting firm, advising us that the company that manufactures our cardboard shipping boxes for our packed comb honey has declared bankruptcy. Lucky for us, they weren't holding any of our money when their doors were locked. Our only loss is the plate that stamped our product name, UPC codes, and other details onto the carton.
They made a nice box. We're sorry for the deceased corporation and its 20 or so people who are now freshly unemployed. These people may have a tough time finding new jobs. Hopefully, none will lose their home, but certainly all will spend less money on everything, thus further slowing the economy. The economic free-fall looks dreadful and we are sorry for any of you who are having a tough time making ends meet these days. Honey is still selling at a fair price, but how long will that last if the lists of unemployed grows and grows?
Should you become a beekeeper? Probably not. Not if you are thinking it will ease your money shortages and line your wallet with crisp cash. Not likely. It takes a few hundred dollars to start even a couple of hives. (The minimum recommended number is two. Four colonies would be better, in case one or more are non-productive.) However, if you like bees and the idea of beekeeping appeals to you, then of course give it a cautious go. But remember: Bees eat money.
---
February 13, 2009
This week's Economist magazine has another great article in its Science and Technology section. It deals with how honey bees are a model for group decisions.

     from The Economist:
     Group decisions are almost invariably better than individual decisions...

        "This is what bees do, and they do it rather well, according to Christian List of the London School of Economics, who has 
         studied group decision-making in humans and animals along with Larissa Conradt of the University of Sussex, in England.

         "In a study reported in a special issue of the Philosophical Transactions of the Royal Society B, researchers led by Dr List 
         looked at colonies of honeybees (Apis mellifera), which in late spring or early summer divide once they reach a certain size. 
         The queen goes off with about two-thirds of the worker bees to live in a new home leaving a daughter queen in the nest with the 
         remaining worker bees. Among the bees that depart are scouts that search for the new nest site and report back using a waggle 
         dance to advertise suitable locations. The longer the dance, the better the site. After a while, other scouts start to visit 
         the sites advertised by their compatriots and, on their return, also perform more waggle dances. The process eventually leads 
         to a consensus on the best site and the swarm migrates. The decision is remarkably reliable, with the bees choosing the best 
         site even when there are only small differences between two alternatives.

         "But exactly how do bees reach such a robust consensus? To find out, Dr List and his colleagues made a computer model 
         of the decision-making process. By tinkering around with it they found that computerised bees that were very good at finding 
         nesting sites but did not share their information dramatically slowed down the migration, leaving the swarm homeless and 
         vulnerable. Conversely, computerised bees that blindly followed the waggle dances of others without first checking whether 
         the site was, in fact, as advertised, led to a swift but mistaken decision. The researchers concluded that the ability of bees 
         to identify quickly the best site depends on the interplay of bees' interdependence in communicating the whereabouts of the 
         best site and their independence in confirming this information."

 
You can read the entire article in your copy of Economist magazine.
---
February 15, 2009
Honey laundering? I thought the radio news said 'Money laundering', but they were talking about honey. My only experience with honey laundering has involved throwing white work-suits into the washing machine. The honey comes right out, but not the wax and propolis. That's not the news story this week. The news story has belatedly picked up on the work of Pulitzer-winner Andrew Schneider at the Seattle Post who traced transshipments of honey from China to the USA. Chinese honey is subject to big import tariffs as their product is allegedly being sold for less money than it costs to produce. This is called an anti-dumping tariff. So, some Chinese honey is being 'laundered' through third-party countries, especially India, in order to get around the high import duties.
Here's an example of how honey is laundered. According to the Seattle Post, almost a quarter million pounds of Chinese honey were shipped from Hubei Yangzijiang Apiculture Company in Wuhan, China. This honey went to Shanghai but a month later showed up in New Delhi, India, where it was marked 'for re-export' purposes. Indian Customs reports the honey was in steel drums which still contained instructions from the Chinese company saying the load was to be shipped on to Sue Bee Honey - the biggest packer and seller of honey in the USA! Two containers of the honey were reportedly shipped to Norfolk, Virginia, and Jacksonville, Florida - all five containers of honey were then allegedly shipped on to Iowa, home of Sue Bee Honey. (If you are having trouble picturing this wild flow of laundered honey, here's a page with a map!) Those of us who grew up believing that Sue Bee Honey represented American honey producers are a bit disturbed. Sue Honey began as a group of farmers who kept bees in the USA heartland. They created a marketing co-operative to help them sell their superior, domestic honey product. Back in the 1950s, my father was an early producer-member of Sue Bee. If these allegations are true, it seems like a pretty sad mess to me. But, at any rate, the president of Sue Bee Honey says that only about twenty million pounds of the honey they sell was produced by foreign beekeepers, the rest is made by beekeepers in the USA.
Interestingly, Sue Bee Honey Cooperative has been leading a push to get the USA's Food and Drug Administration to adopt a country of origin label. Along with this, enforcement would need to use a rather expensive system developed in some labs that link honey samples to specific geographic locations. But according to the Seattle Post investigative reporter (Andrew Schneider), a scientist at an FDA lab told him that "There are so many other places to spend money for equipment needed for much more dangerous food-safety threats." The bottom line, which we all loose track of from time-to-time, is that honey is essentially safe. Even honey produced in China and other parts of Asia. So all this enforcement has to be approached not so much as a health and safety issue but more as a commercial, economic, and ethical issue. People who prefer to support their neighbours can buy local. The quality and safety of local honey may (or might not) be better than imported honey, but at least you can support your community. If you want to read the complete Seattle Post investigation (along with great background detail and pictures) go to this link: http://seattlepi.com/specials/honey.
---
February 23, 2009
The days are getting longer. Birds should be singing and flowers should be blossoming, but we are back into the deep freeze again here in Alberta, Canada. Minus 21 for a high today! How do the bees survive this? You can be sure that the bees also noticed the lengthening days. They are trying to produce some brood for replacement bees - if they can generate enough heat in their hives. You know that bees make honey as their energy food. Along with pollen (their protein source), bees gather these foods from flowers. The honey is used to power the bees' flight muscles which give off a tiny bit of heat as this chemical energy is converted into mechanical energy. There can't be a lot of heat in each bee muscle twitch, but all that shivering adds up to a small furnace, warming the center of the bee cluster to a balmy 35 C (96 F) degrees, even when it's minus 21 outside the hive!
---
February 28, 2009
No leap year this year. But the scientists who annually adjust our clocks have given us an extra 13 seconds. How lucky is that? We used part of this 'found' time watching a movie. A rare treat as we are usually too exhausted to stay awake even a few minutes past the six-year-old's 8 o'clock bedtime. We watched The Secret Life of Bees
on Pay-per-View. Someone had earlier tried to read the book, found it awfully depressing, and abandoned the project after a few dozen pages. But we decided to try the movie anyway.
Well, it is a depressing story. 1964. South Carolina. Black women. A lot to feel uncomfortable about. At least the first quarter or so of the book/movie. Not a child's tale. But it does have bees, and they make an early appearance. So, we stayed with the film - especially since the cable company already had our six dollars. Depressing, but redeeming. Not all is hatred and bigotry in 1964 South Carolina - and the women are strong, independent, respected. Even if they are sometimes a bit weird.
But, you are reading a bee blog, so let's move along to the good stuff. The purple honey and the secret lives of all those bees. (Secret life? You never know what's going on just below the cover.) The producers (and obviously author Sue Monk Kidd) know something about bees and artful beekeeping. The bees are well-represented in more than various gratuitous cameo roles. (Aren't you getting a bit tired of all those gratuitous honeybee scenes in movies these days?) The honeybees actually have real jobs, stringing together a tense story that would not have worked had it been the Secret Life of Pigs, for example. It's a good drama, a dark and light story, and ultimately, a tale of hope. Treat yourselves, enjoy this movie - for more than just the bug pictures.
---
March 25, 2009
We'd like to believe that the quiet beekeeper - working at his hives, packing his honey, sleeping in his home at night - should be exempt from the gruesome and disgusting. The beekeeper has enough tragedy. But a Queensland, Australia, beekeeper was murdered - shot in the back while he slept - by a honey thief. Here's a summary from the UK Telegraph:

          "Alcock was in serious financial trouble and went to Mr Knight's home with the intention of stealing 
            £210,000 worth of his honey, the prosecution said.

           "...he made the decision to kill Mr Knight when he realised he could not steal the honey without 
            waking him.  In his confession he told police: "If Tony was home I was going to have to maim 
            him or hurt him bad if I was going to knock off the honey".
                
           "Alcock was forced to call emergency services after he was trapped under one of the large 
            containers of stolen honey while unloading it from his truck.   Alcock was taken to hospital, 
            where police attending the incident linked Alcock to Mr Knight's death after noticing markings 
            on the barrels that identified them as Mr Knight's property."


Justice? The thief/murderer was sentenced to life in prison today.
---
April 5, 2009
April Aggie Days is a massive gathering of farmers and ranchers at the Calgary Stampede Roundup Centre. Ranchers, farmers, beekeepers, stampedes, roundups... exciting stuff in the heart of a city of over a million urbanites. School groups by the hundreds are led through the venue, obliging tobacco-chewing cola-swigging rural hosts to expound the virtues of eating real food. The Calgary Beekeepers' Club contributes one of the busiest (certainly buzziest) displays. The Bee Club goes through anannual exercise of nagging members to participate with at least a few hours' time and effort - cowed into an obligatory appearance during the festive weekend. Those who participate usually find the event fun and rewarding.
An oil company - Encana - helps Aggie Days tremendously by sponsoring the event. Adult visitors (tens of thousands) pay five dollars at the door - kids under 12 sneak in for free. Demonstrations include barley milling, sisal-to-rope making, and big plastic cows with glass-lined stomach cavities. The beekeepers bring in honey, extractors, veils, and live bees. The beekeepers' petting zoo is an especially big hit among the kids. In one of the pictures below, you can see the club's vice-president (Don Miksha) allowing a child to ruffle the feathers of a stingless drone.
Bees are a social bug; beekeepers less so. But in every group, there are always a few individuals who enjoy the echo of their own voice vibrating off others' eardrums. The Calgary Bee Club has a few such souls and many other folks who don't like spotlights, but dutifully stand at the beehive demonstration stations and answer queries about bee stings, honey, and pollination. Mostly bee stings.
Maybe your local bee club hosts an open-house or makes an appearance at a function similar to Calgary's Aggie Days. You might not have 50,000 guests (you might not be in a city of a million) but each convert to a bee-friendly attitude moves the globe closer to a human-friendly place. Don't feel inadequate or shy about talking bees - if you work with honeybees you can probably answer all the questions and you will do a fine job of promoting your craft.
The Beekeeping Exhibit at Calgary's Aggie Days:
---
April 9, 2009
Charlie the Carpenter, with Bees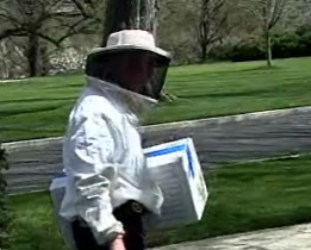 WASPS vs BEES. The exciting stories are all over the newspapers - the Obamas have moved some beehives to the back forty. Gotta admit, I'm thrilled. The White House hasn't had bees behind the Rose Garden since Jefferson moved out two hundred years ago. And having bees behind the White House is better than having wasps inside. What does this mean for beekeepers? It can't hurt. These days, with cities passing ordinances against beekeepers, the fact that one might appear at City Hall with newsprint proof that even Washington DC allows beehives will go a long way. And don't forget, Ma and Pa Obama are both lawyers! If attorneys don't fear the wrath of lawsuits caused by semi-domesticated bees dropping yellow rain on the neighbour's Lexus, then maybe we shouldn't either.
The White House bees are actually owned by Charlie the Carpenter, who works at the Obama's temporary home fixing squeaky floor boards and leaky window sills. Charlie (shown on the right carrying a bundle of bees) installed the insects on April 9 somewhere near the Homeland Security kennels.
The publicity for honeybees is priceless. News reports with lots of clever buzz words described bees' sweet contributions to pollination ecosystems. It's a grand thing for the thousands of Michelles in America to learn that bees will help the garden grow while the stinging bugs are merrily humming a few meters (oops, feet ) from children trucked in to pull White House weeds.
---
April 11, 2009
Meanwhile, spring has almost arrived in Calgary, Alberta, Canada. We've had some 15 (60F) degree temperatures. The week ahead is supposed to be sunny and non-stop mid-teens for highs. But we are leaving the bees wrapped for another couple of weeks because it will be cold and snowy again this spring. A few hundred packages are scheduled to arrive in late April and simultaneously (we hope) a few hundred queens from Chile. Meanwhile, our several hundred wintered hives seem to have survived the coldest winter in a decade - but are still living off stored honey and pollen because not a single flower is blossoming here yet!
---
April 14, 2009
Snow. It's still snowing here in the foothills of the Rockies. The forecast (now disowned by its inventors) described Bermuda, but we have Antarctica again. Glad our hives are still wearing their wind-breakers.
---
April 17, 2009
If you've got bee equipment to sell, you can consider advertising with bid4bees.co.uk. This is apparently a new on-line auction service for all things related to bees. I got an e-mail from someone named Shaun who says:

    "The site offers its members a comprehensive and easy way, to buy and sell beekeeping supplies and equipment, 
     and also provide useful information and advice on beekeeping and other apicultural related topics.

    "Of course with an online auction site there is no guarantee that people will find the exact item they are 
      looking for. We would therefore like to provide our members with alternative places on the web to find 
     what they are looking for.  bid4bees would like to offer you the opportunity to advertise on it's homepage.

                  "We offer banner space of 234 x 60 pixels at
                        1month     £100.00
                        3months    £275.00
                        6months    £600.00
                        12months   £800.00"


The site looks clean, well-organized and hopeful. Our best wishes go this ambitious website. If you have a bee supply company, and can spend over a thousand dollars a year, you could get a banner space this big:
It costs a lot of money, time, and energy to maintain a website. *(As I know from bitter experience!) So, we hope Shaun gets some sponsors. Meanwhile, if you register with the site before May 15, 2009, you will have a chance to win a British National Bee Hive - the square-shaped 18.125 x 18.125 inch standard English hive. Not sure if they would ship the equipment to Canada, New Zealand, or Uganda if you register from there!
---
April 24, 2009
If you have been a law-breaking bee-keeping Minneapolosian, we have great news for you! Beekeeping is now legal in the western twin city! That's right, the ban on managed bee hives kept in apiaries within the city limits of Minneapolis has been lifted. I think this might be a bit of the Obama effect which we described above. With bees obviously allowed in demagogic Washington, D.C., how could libertarian Minneapolis drag her heels? Under a banner heading, Beekeeping legalized in Minneapolis the Star Tribune explains, "Would-be beekeepers on typical city lots will be required to gain consenting signatures from all abutting property owners, plus 80 percent of owners within 100 feet of their property." Oh, by the way, you will also need to "take a class in beekeeping", pay $100 to register as a beekeeper, and then $50 a year to maintain your bee permit. Perhaps Minneapolis isn't as free and easy as Garrison Keillor once described. However, the good news - thanks in big part to Councillor Diane Hofstede - is that keeping bees is legal in Minneapolis!
---
April 28, 2009
Honey Bee Colony Collapse Disorder, Japanese style. It appears that Japan has been hit by unusually large bee colony losses. According to Natural News.com, the Japanese Beekeeping Association undertook a survey of its 2,500 members and determined that 25 percent of all beekeepers had "experienced sudden losses of honeybees" on some scale.According to Osamu Mamuro, owner of a company that supplies beehives to farmers for pollination purposes, populations of honey bees have dropped drastically. Mamuro expects to have only half his usual number of colonies available this year. The bee shortage is difficult to overcome since Japan stopped the importation of honey bees from Australia, source for 80% of Japan's imported bees. This has bumped up the price of a package of bees (6000 bees and a queen) to 23,000 Yen (about $220 US) for the beekeeper trying to restock hives. This compounds the problem of declining numbers of beehives and beekeepers as fewer people continue to participate in the challenging, demanding, non-profitable business of bees. According to a recent Japan Agriculture survey, strawberries and watermelons were suffering the most from the dearth of bees. Cherries in Yamagata Prefecture, melons in Ibaraki Prefecture and apples in Nagano Prefecture were also cited as lacking sufficient pollinators.
---
April 28, 2009
Kids from Broward County in South Florida headed over to Africa to teach beekeeping skills to villagers in Agogo, Ghana. Hats off (Veils off?) to these fine young members of the Fort Lauderdale-based Honey Project, according to The South Florida Times.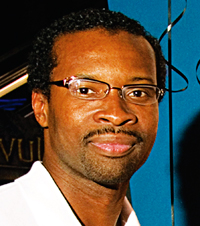 "Our purpose was to develop a co-op, and develop an export business with the farmers as well. Instead of making a dollar a day, they will not only be able to earn an actual living wage from the honey, they will have their own businesses," said 18 year-old Clinton Lucien.
The Honey Project is piloted by Nathan Burrell (right), a major sponsor of the organization. The goals include helping people in other parts of the world while teaching entrepreneurial and management skills to young people. The Honey Project is an international economic development project that produces young social entrepreneurs working to alleviate global poverty. The project was created to provide positive opportunities for young people ages 15-24; while addressing the issues of poverty relief, sustainable development and environmental conservation.
It's a good cause. You can help. Visit their site, pledge a few dollars, or buy a case of their Zambian Honey.
---
May 1, 2009
Our bees arrived! We Canadian drones coordinated with our contacts in Chile (queens) and New Zealand (workers) and combined the bugs on the farm in Vulcan County, Alberta. This bee blog will follow the bugs' progress over the next few weeks, months, and years.
---
May 16, 2009