Welcome to The Bad Beekeeper's Blog
Using a mobile or tablet device? Check our WordPress Bad Beekeeping Blog.
---
Moving Day: Our New Location: www.badbeekeepingblog.com
Hello Bee Fans! Most of you have noticed that this website has been a bit neglected lately. Due to pressure from readers like you, I have been migrating my material and blog updates to a new site: www.badbeekeepingblog.com. It's a lot of work and I know I will lose some readers, but the new location offers three big advantages to you:
First, you can scream at me more easily. Some of you have noted that it is hard to correct my misguided opinions about honey bee extinction (not real), GMOs, climate change (real), religion, urban beekeeping, virgin wool sweaters, and so on. At the new site, you can post comments. That's something I never figured out how to do on this html-classic site which you are reading right now.
Second, many of you have said that this site doesn't look so great on mobile devices - I-phones, Blackberries, I-pads, water witching sticks. "It doesn't scale," I have been told. I really thought that most readers use workstations and Commodore 64s and hence this is not an issue. But apparently you have grown away from me.
Finally, you may see more frequent updates. The new site is easier for me to write into. It is mostly Wordpress-powered what-you-see-is-what-you-get magic. WYSIWYG doesn't require the same amount of coding. Hopefully, that means I will post more frequently.
Please update your links to www.badbeekeepingblog.com and follow me to the new and improved (for your enhanced experience) site. This current page will continue to exist until I get more of the old pages reformatted and placed on the other side. If you subscribe through an RSS feed, you'll still get update notices. If you use a blog reader app, you can now subscribe at the new Wordpress site. Eventually all the older popular pages will appear at their new home. Thanks for continuing to read and for supporting this effort!
---
English Lady with Bad Teeth Reportedly Steals Honey
Is there a relationship between honey and bad teeth? Between the English and bad teeth? Read more.
---
American foulbrood is still a killer of bees. See how it is destroying beekeeping in South Africa. Read more.
---
Smoke. What happens when bees are buried in the haze of a forest fire's smoke? Read more.
---
Bumblebees may be disappearing. But not this year in out backyard. Read more.
---
You bee the judge. See what's innvolved in judging honey at a big fair. It's more complicated than you might expect. Read more.
---
Norway has a Honey Bee Highway. See what that means for Polli Pollinator and her friends. Read more.
---
How Honey Bees Discovered Vaccines
Recent news reports claim that honey bees discovered vaccines millions of years before humans did. Here's why that claim is so wrong.. Read more.
---
Genetically, cats and dogs are more closely related than bumblebees and honey bees. Read more.
---
Sherlock Holmes is more than an ordinary beekeeper - as you'll find out in this summer's new movie, Mr Holmes. Read more.
---
What happens when bees go to church to prey? In Ontario, they end up dead. Read more.
---
Some thoughts on Stonehenge, Tolkien's grave, and timelessness. Read more.
---
Drones have a bad reputation: in the hive, they are lazy; on the battlefield, they are brutal. Finally some good press. Bees are delivering beer. Honey beer. Read more.
---
A bee won't hurt you if you leave it alone. Now that the city of Edmonton has legalized urban beekeeping, the city is teaching residents about good bees and bad bugs. Read more.
---
A major new study, just released in the journal Science, warns that climate change is causing grief to bumblebees. Their range is shrinking. One fix may be 'assisted migration' - moving bumblebee populations to more favourable locales. Read more.
---
Burt Shavitz died this weekend. Burt was co-founder of Burt's Bees, a billion-dollar natural-ingredient personal care company. Read the story of this fascinating hippie over at our new blog site: www.badbeekeepingblog.com.
---
Some Mountain Beekeeping
Catching the beekeeper in his natural element.
A month ago, friends invited me to see some bees at a ranch up in the foothills of the Canadian Rockies. Beekeeper Stephen, a fellow geophysicist, guided us as we meandered the secondary roads west of Calgary. We gradually gained a bit of elevation (from 1,100 metres at my home to nearly 1,500 metres at the ranch). I was curious to see how bees might survive in that largely forested locale - remote from large fields of alfalfa and canola, and in an area where grizzly bears roam and frost and snow are possible intruders even during the summer months. The bees I saw were not merely surviving, they were thriving.
The resident beekeeper, Mike, had installed 20 packages. The first round of brood was hatching and the bees looked great. They were smartly provided a perch beside the workshop, overlooking a broad valley spotted with hay pastures. Dandelions were blooming and nectar and pollen were arriving by airborne express. I wondered about the grizzlies, the potentially windy exposure, and the fact that the best forage was down in the valley, about a hundred metres below us. But Mike had been keeping bees at this spot for a few years. They did well, in both quantity and quality of honey. This bee yard had produced honey that won Best of Show at three different competitions last year. I reminded myself that not every location is perfect and you work with what you have. Here are a few pictures from last month's expedition.
Who's seen the queen?

---
Stephen, Mike, and Ron.
---
Quite a view, eh? But as usual, beekeepers only see bees when bees are around.

---
Mike and Ron.

Quite a dramatic location, isn't it? In the pictures above, you see an easily moveable plywood windbreak that Mike made. This doesn't stay in the bee yard. It is just in place for a few moments to help calm the bees and to keep smoke from whiffing away in a sudden gust. The blocks that you see hold the lids down when it gets windy. Their orientation is a reminder to the beekeeper if something is amiss. If this sounds a bit odd, it actually stops the beekeeper from roaring through the hives, lifting lids and forgetting that one hive or another had supersedure queen cells or any other issue that should bring caution to the hivetool. It was a great day, and a wonderful feast was provided by Brenda Peatch. Brenda also took all of the photos you see in today's posting. Many, many thanks to everyone!
---
How Fast is your Honey?
We don't usually think of honey in terms of speed. One of the coolest things about beekeeping is that the craft encourages the crafty to learn about everything. Honey, pollination, wax, social behaviour of insects, ecology, and much more is there for the amateur to discover and experiment upon. I'll tell you how fast honey moves in a moment. But first, a hint - it's not slower than molasses in January.
I just returned from the Science Writer's Conference in Saskatoon. The author of The Velocity of Honey, Jay Ingram, was everywhere at the meeting. He is a hard-working guy. You may remember Jay from Discovery Channel's Daily Planet (a science-news TV program). He was the host from 1995-2011. If you are old as I am, you may also remember that Jay Ingram first burst upon the national scene with the CBC's weekly science radio broadcast, Quirks and Quarks, in 1979. These days, you may have a chance to catch Jay giving a lecture - don't pass up such an opportunity. Although Jay Ingram is a whiz at explaining every type of science - from physics and chemistry to the latest medical breakthroughs - he was in Saskatoon at the writer's conference to help attendees become better science communicators. He also introduced his new book, The End of Memory: A Natural History of Aging and Alzheimer's. The Alzheimer's lecture was a great presentation. The next day Jay spoke of the art of science story-telling and he held a workshop. Jay Ingram stayed the length of the conference, spending a lot of his time with science students. Even on Sunday morning when most of us were boarding planes and automobiles, he was in a session with those young men and women, instilling valuable writing tips and fostering skills that sharpen science messages.
Jay Ingram and the art of science communication

So, what is the velocity of honey? Pretty slow. For a more detailed answer, I'll refer you to Jay Ingram's book, The Velocity of Honey And More Science of Everyday Life, a collection of science essays covering topics from spinning coins and skipping stones to math-literate animals and dripping honey.
Until you have a chance to read it, here is something to experiment with, and it comes from Jay's book. Honey is more viscous than water, so it flows more slowly. You could place a piece of toast on a plate and slowly pour a stream of water on the toast. Great, you've ruined your toast. But in the meanwhile, you might have noticed that the water didn't pile up on the toast. Instead, it raced off in all directions and sort of randomly flooded the plate and floor. Now get a new piece of toast. Drip some liquid honey on the toast. If your honey spoon is close to the toast, you may have a slow moving stream that bulges upwards toward the spoon. Slowly elevate the spoon and the stream narrows as the velocity of honey increases. Pay attention to the type of bulge you are creating on your toast. Depending on the dispenser, you may find a ribbon that wobbles back and forth or perhaps a circle that loops around and around. Experiment with height, which changes the distance the honey falls, which increases the velocity of the honey as you make it fall from a higher position. There are some pretty cool things going on but you would never see them if you used water instead of viscous honey. You get more interesting effects with honey. And much better toast.
---
Science Writers Writing Science
My ultimate destination on the weekend was the place you see to the right, Marquis Hall at the University of Saskatchewan. In three days, I spent twenty hours in this room, absorbing much-needed writing skills. And eating, for it is in this room that an endless supply of some of the best muffins and worst coffee I've ever encountered were served. Overall, it was a comfortable venue with well-managed acoustics and well-spoken participants.
I knew no one here, except the fellow who helped me and my wheelchair get around the campus. Gerhard Maier is a good friend, and both the city of Saskatoon and this meeting were of some interest to him. Gerhard is a science writer, having published African Dinosaurs Unearthed. His book is an in-depth chronicle of the century-old discovery of the biggest dino dig in Africa. Without Gerhard's help and the excellent work of the organizers at the Canadian Science Writer's Association. They had brewed up an irresistible roster of speakers and topics. We would hear Jay Ingram, a tireless science communicator who once hosted CBC's Quirks and Quarks and Discovery Channel's Daily Planet. Also, from Brooklyn via Skype, we learned how to latch on to news trends by one of the proprietors of Mashable. There were various panels - food security, critical thinking, clear writing - which included about 50 scientist and panelists. There were tours on the South Saskatchewan River, and in the University of Saskatchewan's dairy research centre, vaccine centre, and the Canadian Light Source synchrotron, Canada's brightest light, which is used to decipher RNA code among many other things. There was much more, of course. Lunch speakers, more tours, and some obscure thing called "networking" which I couldn't figure out very well.
I had joined the science writer's organization less than a year ago. I have spent the past couple of years trying to learn how to communicate science, but it has been a haphazard education. I picked up a few good writing books (Steven Pinker's Sense of Style, for example) and I read articles and blogs about writing whenever I could. I had heard that incessant writing builds skill, so I try to publish a blog piece every week at this site and at my geophysics blog, The Mountain Mystery. The idea that becoming a writer requires a lot of practice was confirmed by some grizzled reporters and writers at the conference. I also gleaned some clever tools to help me write more clearly. Science writing for a general audience, for example, should be similar to story-telling in a conversational manner. Try to avoid high-falutin words like apiarist when beekeeper says the same thing in a more simple way. Emotional appeal, humour, and personal perspectives are encouraged when conveying science messages. Analogs are useful tools but caution should be exercised to be certain they are accurate enough. (One example is the now discredited and over-used analogy of the atom drawn and explained like a miniature solar system. It isn't.)
It was a great conference, but don't expect this blog to suddenly blossom into a phenomenal work of art with well-written witty tales about beekeeping. I will try, but I don't anticipate miracles will happen. Not for a few days, anyway.
---
Saskatchewan's University
The doors that led to my geophysics career.

Today, I am at the University of Saskatchewan. I am here to attend the 44th annual conference of the Canadian Science Writer's Association. I hope to learn to be a better writer (maybe this Bad Beekeeping Blog will become less a less invidious palaver). But I am also here - at the U of S - to visit my alma mater, the campus where I earned my geophysics badge 25 years ago. I had not seen the campus in 20 years. The last time I was here, I was interviewing science graduates and trying to entice them with promises of fun, games, and money at a company I worked for in Calgary. That was 20 years ago. The intervening years were busy: I was diagnosed with a motor neuron disorder, I married, had two more children (they are now 8 and 13), and I built a honey farm near Calgary, then sold it. I also traveled at least once to Chile, Vietnam, Peru, Croatia, Hungary, England, Ireland, and nine other countries. But I had not come back to the university. Until today.
I met my favourite profs. Jim Merriam, my geophysics mentor, and Chary Rangacharyulu, my main physics professor. Both became heads of their respective departments while I was away. Surprisingly, they both recognized me, though I'm afraid that I changed much more than either of them. My 25 years out of school were rough, and it shows. But these gentlemen - and other professors I met today - looked like they had just finished a lecture they taught me and my mates in 1991. We chatted about the school, their lives and families. It was a great visit. I met others who remembered me at the school, too, though many of my associates had retired. We are aging. A little bit, anyway.
The Laureates of the U of S

The University of Saskatchewan is a beautiful campus. There are gorgeous trees, expansive green stretches, and most building are constructed from sandstone blocks - many of them hewed a hundred years ago from local rock. The school may seem obscure to you as it sits in a small city in the middle of a big province in a big country. You would be surprised to discover that two Nobel Laureates did their research here. The school has North America's finest veterinarian college and has produced oodles of ag-scientists and geologists.
Someone who works on the Arts and Sciences Scholarship Committee at the University of Saskatchewan told me that they had received a nice grant a few years ago. (I was not told the source.) It was a scholarship open to any student, in any area of study, unless the recipient was a bad beekeeper. The university committee realized at once that the bad beekeeper was me. They likely thought it was quite funny, as do I. I knew that a few people from among the Saskatchewan bee industry were jealous of my success. I never thought they would immortalize me in such a charming way. I'll have to learn more about this so I can contribute to that fund myself.
---
The Long Road to Saskatoon
I am heading off to Saskatoon today. It has been 20 years since I was last there. Rather shameful delay, actually, since I earned my geophysics badge in Saskatoon and was treated really well by all the professors at the University of Saskatchewan. (In other words, none of them failed me.) I should have not waited twenty years to return for a visit, but it is an eight-hour drive from my home in Calgary. That makes it too far to drive, yet too close to fly. So, I just don't go there. However, with the help of a good friend, I finally drove. The route between the two cities is a rather monotonous trail. Lots of wheat and canola. And hundreds of ranches with alfalfa and clover - great nectar sources that make the area one of the best in the world for honey production. Today's blog posting is simply a few pictures and labels from the drive.
Not all of Alberta's energy comes from underground.

---
Youngstown, Alberta. There is another Youngstown (in Ohio) not far from my childhood home in Pennsylvania.
(I have heard it is also losing population.)
---
Saskatchewan in sight.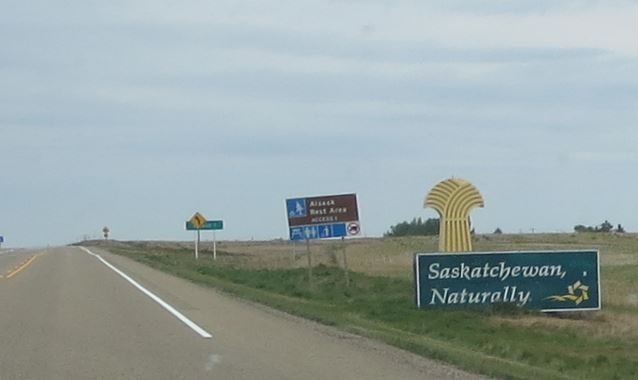 ---
Pure Sweet Honey and the ALS Run
Left, my son Daniel and my wife Eszter - Daniel is giving Calgary Mayor Nenshi his runner's T-Shirt.
Right, Co-ordinator Jane tries to defend the mayor from an apparent Star Wars attacker.

| | |
| --- | --- |
| | |
Once again, our friends at Pure Sweet Honey Farm have made a wonderful contribution to Calgary's ALS fundraiser - a walk/run/roll called Betty's Run. Here is a great big THANK YOU to Willi and Stan at Pure Sweet. They help this organization a lot. The money raised each year by the ALS Society in Calgary helps with all sorts of equipment and aids to daily living for victims of the disease. Contributions to the society also supports research. It is all appreciated so much!
For all my readers and friends (Man, there are a lot of you!), I'll do my annual quality-of-life update. I'm OK. My type of ALS is really, really slow. Diagnosed 14 years ago, but I can still walk a little, still drive my van, still write my blogs, and still do my geophysics. The quality-of-life department includes family and friends and they have all been a great support. Thank you!
Left, Stan and I with Helen (sporting rabbit ears)
Right, The T-shirt, flip side. Can you spot the Pure Sweet label?

| | |
| --- | --- |
| | |
---
Your Dead Bees are in the Mail
Canadian Queen - photo by Stephen Bennett, Calgary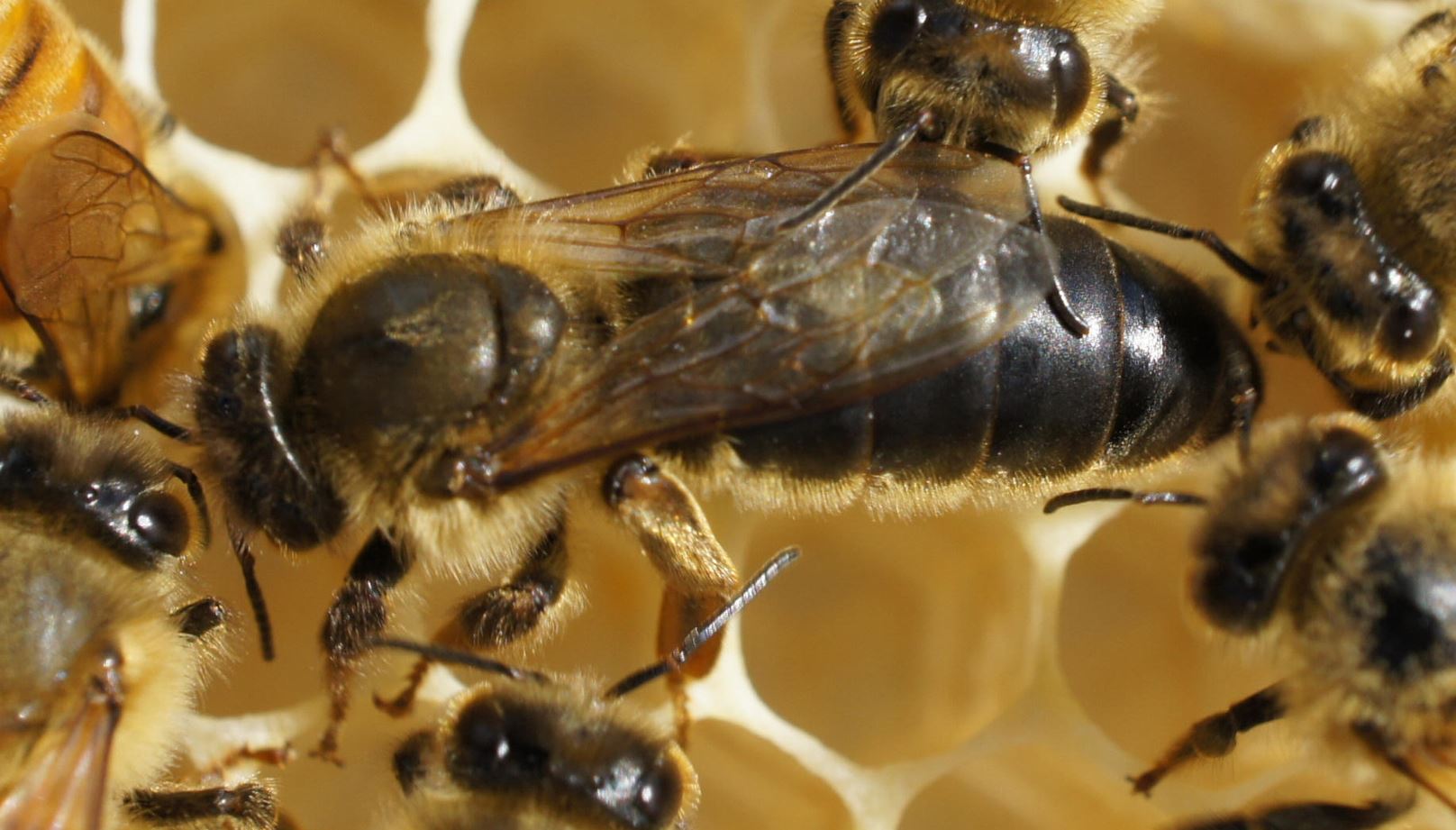 Well, this is pretty sad. Canada Post killed some bees. Queen bees are in short supply in Canada. Because of our late springs and short seasons, most queen bees are imported from warmer climates - Hawaii, New Zealand, and Chile are prime sources. These are used to replace colonies that have died over winter or to increase a beekeeper's number of hives. It would be great if Canadian beekeepers raised queens and sold them to other beekeepers, but Canadian beekeepers sell fewer than one-tenth of the 300,000 or so imported queens used here each year. The rest arrive from far away. Beekeepers order the queens months in advance, send full payment in advance, and wait for the overworked and harried queen-producers to send the queens during the Canadian spring. The queens are fragile - they can't survive in a parcel for long. So, when a batch of them go missing, it is a rather tough problem.
Canada Post lost one hundred queens! They all died. The most probable cause of the deaths of these insects was heat exhaustion, the result of being confined without proper ventilation and air circulation. It's also possible they simply ran out of food, though the shippers would have likely provided enough honey or supplements to last a couple of week. The really sad twist to this story is that these queens were not coming from the other side of the world. This bunch of queens was raised in Canada - out in the eastern townships of Quebec. They were only being mailed as far as Montreal. Canada Post found the parcel after five days - the (now dead) queens and their attendant bees were in a warehouse instead of in the beekeeper's hands. The post office is willing to refund the $200 freight they had charged. But they are not willing to pay the thousands of dollars that the post's negligence cost the beekeepers who ordered the queens, even though they admitted internal miscommunication had caused the loss. However, Canada Post wrote to the beekeeper and said, "We sincerely apologize for the results of this experience." They are very, very sorry.
---
Teaching the Bees to Speak
"I keep the Welsh language alive through bees," Welsh beekeeper Wil Griffiths told a Financial Times reporter. This could be a huge scientific break-through. Around the world, linguists have been alarmed with the rapid loss of many of the world's 6,000 languages. They expect half of those languages will suffer an unspeakable future by the end of this century. The Welsh language could be among them. Teaching bees to speak might stop that decline. Already, bees communicate to each other through their fancy dances and they communicate to us through their angry buzzes. Maybe they can learn Welsh. Unless, of course, Mr Griffiths means something else when he talks about keeping his language alive through bees. You can check out the whole story here. Maybe you will find an interesting story about a bee club in Wales that holds its meetings in Welsh (instead of English) in order to keep the endangered language alive. "Pob lwc iddynt!" as my Welsh neighbour used to say when he heard about something that was going to be hard to do.
---
The Ultimate Bee Beard
Perhaps "National Cover Yourself in Bees Day" is underway in China. This 55-year-old beekeeper (seen smoking, center of the pictures) from Shandong Province was assisted in growing the ultimate bee beard by a team wearing army camouflage fatigues. His helpers can be seen shoveling honey bees over the beekeeper (literally - watch for the shovel near the end of this video). The beekeeper set a new record - 1,100,000 bees, weighing 110 kilograms (about 250 pounds) cover the man as he seems to bear a cross in the last scene of the film. It took an hour to pile on the bees. The insects were probably not hurt, but would have been rather confused. To keep them on the beekeeper and not on the Chinese Army, the beekeeper had "dozens of bees" strapped to his clothing. When not performing stunts, the million plus bees can normally be found foraging for nectar and pollen.
---
Dandelions make their grand appearance

Dandy Season
A few weeks ago, I wrote that spring had arrived and pollen (plus a little nectar) was coming into the hives - mostly from willow and crocus. I also wrote that the main spring flow here in western Canada (along the Rocky Mountain foothills) is from the lowly dandelion, and it doesn't reach peak bloom until around May 25th. After I posted those words, the weather turned startlingly warm (it set a record high) and masses of dandelions started to open three weeks early. So, I figured that I got my guess wrong (wouldn't be the first time). Then it snowed. We had a week of cold weather. Now, finally, on May 25th, the dandelions are making their grand appearance.
In much of North America, the despised dandelion is the beekeeper's best spring-time friend. Rather than sprinkling the lawn with Ortho® Weed-B-Gon MAX® Weed Killer For Lawns, the beekeeper is more likely to collect dandelion seeds and quietly spread them by helicopter at night. It's a communing with nature sort of thing.
The battle between lovers and haters of dandelions got me wondering about when and how people got so uptight about their lawns. By people, I mean mostly northern Europeans and their cultural descendants in North America, Australia, and New Zealand. The rest of the world is a bit more relaxed about the state of their greens. For example, over the years, I have spent several months in central Europe. Flower baskets and public gardens are everywhere. But yards around family homes tend to be left a bit natural. A bit ragged. Grass may reach knees while dandelions and their associates live safe comfortable lives. It's different further north - our word for lawn comes from an Old French word (launde) which means barrens or heath. A dead place - or at least a place of little vitality.
Somehow, keeping a barrens around the house has become a middle class pursuit among those of us lucky enough to be middle class members of the world's wealthier nations. It messes with our minds when stray yellow dots break through the green monotony of the well-tended lawn. Meanwhile, many of us with the nicest yards and the snarkiest sneers for the untidy neighbour are also wondering what is happening to nature's little pollinators. We bemoan the loss of butterflies and fuzzy bumbling bees, wishing they would drop by to enjoy our neatly manicured lawns. But they seem to be missing.
---
Proof of Sherlock Holmes's residence

Elementary Beekeeping
Today is the world's most famous detective's birthday. No, not James Bond. Sherlock Holmes, if he ever lived at all, would have been well over 150 years old today. Or, at least, his creator, Sir Arthur Conan Doyle would be - he was born May 22, 1859.
You likely know some of the old Sherlock Holmes stories. With incredible wit, problem-solving skills, tenacity, deduction, and plain old-fashioned stubbornness, the detective solved the most complicated and beguiling mysteries. So what does such a witty, smart, and stubborn person do in retirement? He becomes a beekeeper, of course.
We are told that Holmes retired to the countryside to make his living from bees. The detective never had much money - Watson helped with his rent at 221B Baker Street - so he probably didn't notice a big drop in income when he became a retired gentleman selling honey at the farm in Sussex Downs. I am thinking he continued wearing tweeds and certainly his pipe would double as a handy smoker. His bees would have worked wildflowers and made batches of dark pungent honey for the master detective.
One wonders why author Sir Doyle chose to outfit Holmes with a hivetool when he could have left him teaching at Scotland Yard, sharing his tricks with future generations of detectives. Doyle seems mum on this. He doesn't divulge his thoughts, he just retires his star character to a small holding near a small village and he puts him to work keeping bees. Perhaps it was because Holmes was suffering from a touch of rheumatism near the end of his career (according to Doyle) and bee stings have always been rumoured good for stiff joints.
The bees are introduced rather shyly. There are no long passages describing the bees or any misadventures of the detective prowling among the garden hives, harvesting honey. Quite the contrary. Here is the sum total of the bee references in Holmes's retirement story, His Last Bow, taking place in the first decade of the twentieth century:
Says Watson: "But you have retired, Holmes. We heard of you as living the life of a hermit among your bees and your books in a small farm upon the South Downs."
Holmes replies: "Exactly, Watson. Here is the fruit of my leisured ease, the magnum opus of my latter years!"
He picked up the volume from the table and read out the whole title, Practical Handbook of Bee Culture, with Some Observations upon the Segregation of the Queen.
Holmes continues:"Alone I wrote it. Behold the fruit of pensive nights and laborious days when I watched the little working gangs as once I watched the criminal world of London."
Thus we learn that the great Sherlock Holmes has written a practical beekeeping guide in his retirement. If I find a copy, I'll do a book review for you.
Sherlock Holmes's retirement house, near Tiger Inn, East Dean, England.

---
OMG: Straight from the Bible!
Bees blacken the sky over Farnham!

A Swarm of Biblical Proportions
The headline reads:
Swarm of bees that turned sky over British town black
was like "something out of the bible"
Biblical. That's the way frightened victims in the English town of Farnham reportedly reacted when their daily ritual of buying nappies and playing snookers in the establishments edging the village square was interrupted by a swarm of bees that "Came from nowhere." and "Blackened the sky." If indeed the insects "came from nowhere" then the hand of God was certainly involved. Only God can make an entire swarm of, say, 40,000 bees appear instantly from thin air - as he has done on at least one prior occasion. (I looked it up in my huge Bible Concordance - there was the incident of bees forming in the carcass of a lion.)
Curiously, if you go to the news/gossip site reporting the incident, you will see a 30-second video filmed from an office suite. The camera is pointed outside and - if you look very closely - you will see a few dozen bees dotted around the bright clear blue sky. The sky is not blackened, Armageddon did not happen in Surrey County yesterday.
Not to downplay the horror and distress that a swarm of unexpected bees inflicts upon a village, but swarms are usually very tame. And swarms are quite natural - they are God's way of fighting colony collapse disorder, so they may actually be 'biblical', too. It's too late to give advice to the Farnhammites of Surrey County, but if a swarm ever blackens your sky, here is what you should do. Be calm. Don't swing your arms around the air (that's an invitation to fight). Slowly retreat to the doorway of the Black Swan, or any other place that helps you blend into the scenery. And by all means, stiffen the upper lip and continue with the snookers game.
---
May Flowers

May flowers and May frosts
My kids picked these flowers as a Mother's Day gift for my wife. All the blossoms were collected from the yard around our house. Nice bouquet, eh? There is not much in the vase that a honey bee would find attractive (except for the apple and cherry blossoms) but the kids' mother really liked the little bouquet. The flowers were picked on Saturday, the day before Mother's Day. It was 21° C (70° F). Then it snowed. A big heavy snowfall with gigantic flakes. Made me wonder about those flowers still out on the shrubs and trees.
They were OK. It turns out there is a difference between a frost and a freeze. We had a frost. The air temperature, despite the snow and its skiff of accumulation on the ground, stayed above freezing. The ground cooled, of course, but it was breezy and humid so the air temperature stayed mild enough to prevent damaging our future crop of crab apples. It is often like that in this part of the world in the spring. On the other hand, autumns are almost always rather dry here. Many years, the honey season ends abruptly on cold August or September nights when the dry air and lack of cloud cover combine with still calm air. On those sort of nights, the thermometer plunges five or more degrees below freezing. The clover and alfalfa blossoms turn black the next day and the bees are irritable and suddenly without nectar.
There is another dimension to the frost-freeze issue. Weather, as just described, is really important (Clear calm nights are bad; breezy cloudy nights are sometimes OK), but obviously the type of flower is important, too. Some plants can produce flowers and keep them blooming even in rather frigid conditions. I assume they are fortified by some sort of natural antifreeze. Flowers such as crocus, willow, skunk cabbage, and asters are quite cold-resistant. On the other hand, many species of plants native to tropical climates are injured in cool weather - even if it stays well above the freezing point. For generations, researchers have tried to breed plants that can survive ambient temperatures cooler than the plant's comfort zone. But breeding for cold weather tolerance has largely failed.
However, geneticists have recently isolated some of the genes responsible for weathering the cold. In the case of rice, as many as 242 different genes interact to invigorate hardiness in cooler weather. One March, while I traveled in northern Vietnam, in an area near Hanoi, I saw the delayed planting of rice while 1200 kilometres south, near Ho Chi Minh City (Saigon) the first of three sequential harvestings was starting. Stretching the season could feed millions. But modifying even some of the more critical genes out of 242 is a huge challenge. The goal of researching the genetics of frost is motivated by the need to more efficiently feed people. In Vietnam, three crops are grown on each plot in the south; just two in the north. A third crop in the paddies near Hanoi would not require tilling more scarce land; it would require a faster maturing, cold-resistant variety of rice. I would not want delicate begonias blooming in mid-winter in our yard, and would object to research that made such an ugliness of such a beautiful flower possible. We are quite happy with the natural bouquet that our kids picked this spring. On the other hand, if the people with tiny plots of land near Hanoi could each harvest one extra tonne of rice, I would not want to prevent the research that would make it happen.
---
Mother's Day at the Hive
Biologists have been debating the role that mixed genetic heritage plays in your beehive. As children, we learned that there are three castes of honey bees - queen, workers, and drones. Queens are mothers (Happy Mother's Day), drones are males, and workers do all the work. A genetic quandary grew out of the recognition that few animals willingly tend the offspring of others - it makes no sense from a purely evolutionary-biology perspective. Yet, worker bees are perpetual spinsters, devoting themselves to the care, feeding, training, and safety of their younger sisters. According to modern genetics theory, that probably shouldn't be happening.
It wasn't until the 1960s that the idea of eusociality (the social activity of the caste division in animals) was more generally understood and the odd behaviour was explained. Biologists have come to learn that sister creatures with haploid fathers (as drones are) are extremely closely related - each shares 75% of the same DNA. (In humans and most other animals, the relatedness between sisters is 50%). So, by caring for many sisters, a worker is assured that her own DNA is passed along for another generation.
But there is another aspect to the genetic success of the honey bee, and that's the idea that the colony itself is a live organism - each bee is a tiny unit, each bee acts effectively like an individual cell. Groups of bees make up organs in a manner similar to cells making up organs - within the colony, there are groups of bees that work together to feed, clean, circulate air, build new tissue (wax), defend against intruders, and care for offspring. Unlike cells in a body, of course, bees are almost identical and can move from one organ-activity to another. Seen in this context, the colony represents an individual which reproduces by swarming. As a unit, the colony's DNA is preserved and spread.
Relatedness and eusociality are fascinating parts of the honey bee's natural history. Eusociality has been described by Suzanne Batra (1966), and later E.O. Wilson, to include the social structure of creatures such as ants, wasps, and bees (Hymenoptera) and termites (Isoptera) which practice communal living where (1) generations overlap, (2) there is a reproductive division of labour (sterile and non-sterile members), and (3) cooperative work occurs, including foraging and raising of brood. There is much more to this, including the idea of super-sisters, or blocks within the colony which are extremely closely related, and the controversial aspect of kin selection, but those stories will wait for a future posting. Until then, Happy Mothers' Day to all the bees in the hive. (Except for those lazy, inept, and mostly useless drones, of course.)
---
The long-awaited bling-bling of spring

Searching for Flowers
I had a road trip earlier this week and was struck by the paucity of natural bling-bling. It's almost May. Where are the flowers? I ask this lachrymose question every spring, especially after we've had a pleasant string plus 20 °C (70F) days. It takes a long time for the ground to warm up, though at this time of year we already have sunshine from 6 am to 9 pm - with quite a long dawn and dusk atop that. So, the slow emergence of flowering plants is always an annoyance. Bees have been sporadically gathering sanguine flakes of pale pollen from crocus and willow blossoms, but our main spring nectar and pollen flow is still a month away. Typically, we expect billions of dandelions to yellow our yards and alfalfa fields around the 25th of May. Good colonies and good weather can result in 40 pounds of honey from dandelion in the Calgary area.
I mentioned that I had driven around Calgary and the surrounding region on a floral scavenger hunt a few days ago. I was quite surprised when I returned to our drive and saw a little sapling tucked away at a hidden southeast corner of our house. That's today's picture, the fruit tree with white 5-petal flowers, weighing upon it like late spring snow. There may be a lesson in this somewhere - stay home and smell your own flowers, for example - but I will do my best to ignore any implied trenchant messages.
---
It's Bee Time!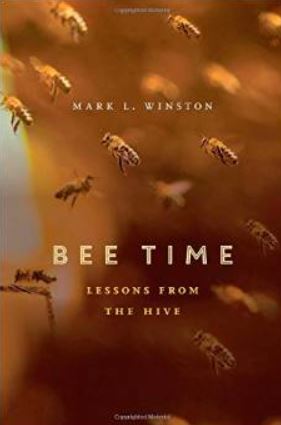 Bee Time Again: Lessons from the Hive
A few months ago, I had high praise for Mark Winston's latest book, Bee Time: Lessons from the Hive. Now I have heard that Winston's book has been awarded the prestigious Canadian Science Writers Association recognition as 2014's best "science and society" book. This is a great accolade: the 5 members of the short list were outstanding books. It was nice to see Winston's Bee Time chosen from well-written books about such diverse subjects as memory and Alzheimer's, the science of work hazards, and Canadian space-walking astronauts. If you have not yet read Bee Time, I encourage you to get a copy.
Bee Time is a personal story. I especially appreciated the last segment of the book, the Epilogue - Walking Out of the Apiary. But I will quote from the penultimate section, from Winston's chapter called Lessons from the Hive. It'll give you a bit of the flavour of the book:
"Bees can be the richest of guides to the most personal understandings about who we are and the consequences of the choices we make in inhabiting the environment around us. Conversations with beekeepers about how they are affected by their time in the bee yard show a remarkable consistency. Words like "calming," "peaceful," and "meditative" come up over and over again, and beekeepers visibly relax when talking about their bees." - Mark Winston, 2014
---
April 23, 2015   Solving the World's Problems
Closing in on the Rockies, near Bragg Creek, Alberta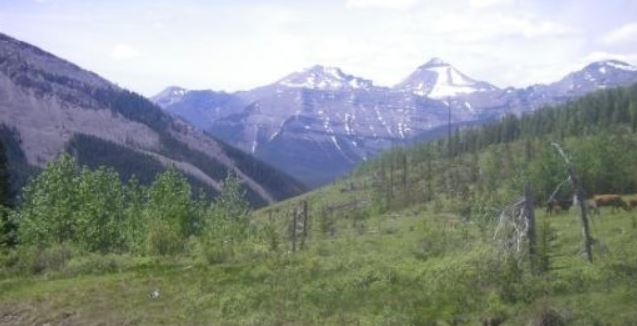 For the past short while I've enjoyed meeting some beekeeping friends each month. We have a two-hour coffee and try to figure out how we can fix the world. Well, actually, we get together to talk about building stuff and about beekeeping. I look forward to these rambling discussions. I don't get out enough - too often, I stay home and talk to myself. I am a good audience for myself, but tend to be a bit weak on objectivity while talking to the wall. The two guys I've been meeting up with are able to pull my chain back to earth and help me examine my thoughts a little more rationally. So here is my suggestion to you for the day: find a group or two to regularly bounce ideas off. It is worth a lot. If you are stuck in a box of your own making, the only way out is through the help of friends. I originally met these guys at the local bee club, and you should be able to encounter some idea-bouncers of your own in a similar venue. Meetings are great for mixing and learning, but a two-hour coffee with just a couple of friends creates opportunities you don't get at structured formal bee meetings.
We didn't solve any of the world's worst problems, the planet is too messed up for even us to fix in a single day. So instead we talked about the drippy hippy honey-tap hive (Sorry, we voted it down on mechanical and ethical grounds.) and we talked about how package bees are installed and how to best prepare hives for winter. (I know, it's spring here, but you can never start planning too early for a Canadian winter.) Over the three cups of coffee and two hours of chatting, I was reminded that there are a lot of really interesting beekeeping ideas out there. And those ideas usually need adapted to fit our climate and geography. That's another way that gabbing with beekeeping friends can help. They often have faced the same stubborn location-specific issues as you and they can offer suggestions or commiserate with your struggles. So, I urge you to find your own mini-group to discuss your bee issues. If you do, I hope you can find as great a meeting place as we had today - our coffee shop was in Bragg Creek, in the foothills of the Rockies. My buddies live near there. For me, it was just a 50 kilometre drive west of my city, through rolling farmland then up into the alpine forest. The Rockies were gorgeous with glistening late spring snow while the air was fresh and warm. Made me happy to talk bees, even if we ended our session with some of the world's problems unresolved.
---
April 21, 2015   A 60-year-old Image Problem
Tisdale's eye-catching sign
After 60 years, the good people of Tisdale, Saskatchewan, are thinking of changing their slogan from "Land of Rape and Honey" to . . . something else. Well, it's about time. Every town and village should reconsider logos, symbols, signs, and slogans that have been around for 50 or 60 years. Shake things up a bit.
Apparently, the old slogan made sense at the time. Tisdale, up in the northeast part of Saskatchewan's black soil district was a great place for farmers and beekeepers sixty years ago. There was so much honey produced in the area that a big co-op warehouse was built to handle, process, and export several million pounds of the sweet stuff every year. Rape seed - genetically engineered and rebranded as canola - was the biggest cash crop. When I kept bees in northern Saskatchewan in the 1980s, canola was just catching on. Farmers loved the stuff - it grew well on freshly deforested parkland, and it sold for a fair price. (It is remarkable to realize that new farmland was still opening up by the thousands of acres a year, just thirty years ago in Canada.) Farmers loved canola, but they still called it rape. Just as the 60-year-old slogan in Tisdale still does.
Tisdale is thinking about changing with the times. The obviously crude slogan became even more crude when rape disappeared and canola took its place in the fields of Saskatchewan. Meanwhile, the farmers' vocabulary remained stagnant. The town held a survey 20 years ago, trying to decide if it was time for an update back in 1992, but the vote was evenly split, so the slogan stayed. But times change. Today, less than one percent of the local cropland is planted in rapeseed. So the change-the-words campaign is holding another vote and is inviting submissions for a new slogan. "A Great Place to Bee" and "Hub of the Northeast" seem to be front runners. But "Less Rape and More Honey" will probably be the winner.
---
Beekeepers' Problems Solved
Tew's Problem Solver
A publisher sent a new beekeeping book to me. As usual, I promised to read and review it - but warned the publisher that I am an awfully slow reader, and even worse - I can be awkwardly honest. (As you may have noticed in my reviews of the movie Bee People and the "Honey Tap Hive" - both of which I'd avoid like mites and measles.) I am never paid for spewing my inner beekeeper on these pages - but if I am going to review your book or movie, you should send me a free copy, else my basal ganglia's inertia may prevent me from ever buying your Tolstoyesque tome. If you do send me a review copy, I'll remind you that I am a slow reader and an honest critic. But if I like the work, I'll gush the truth, as I will do here with James Tew's new book.
The Beekeeper's Problem Solver, was sent to me by Quarto Publishing of Minneapolis (USA). It was written by James Tew, a veteran beekeeper (over 40 years behind the veil). Tew sports an entomology PhD and a way with words (see his semi-eponymous blog, onetew.com). His new book is very nicely arranged. Each left-hand page lists a Problem, followed immediately by the Cause (as Tew perceives it), and then a lengthy Solution. These are supported by colour photographs, inset boxes with side-issues, and enough detail in the text to resolve the problem. It's a friendly format.
I could try to convince you to buy a copy for every beekeeper you know (especially a NewBie). I could easily persuade you, simply by referring to Dr Tew's willingly dispersed largesse of experience and his commitment to bees and beekeepers. Instead, I will show you what his book offers. Tew tackles issues as diverse as the serious (My apiary has flooded), the practical (My hive equipment doesn't match), and the unusual (My neighbour has found bee droppings on their car). You will have to buy Professor Tew's book to get his answers to these.
I will, however, give one example from among his hundred problems:
The Problem: "I'm unsure how to guarantee varietal sources"

The Cause: "Honey is frequently promoted by varietal source, such as orange blossom, blueberry, or basswood. In reality, it is difficult to guarantee what percent of the extracted crop is specifically from the source listed in the name. Normally it is not an issue, so long as the source is not a popular type of honey such as Melaleuca or Sourwood."

The Solution: I'll paraphrase part of Dr Tew's answer. He points out that a conclusive guarantee is usually not possible. Large packers may send samples off for pollen and 'DNA profiling'. For average beekeepers' needs, Tew gives advice on timing of supering and harvesting. He points out that not all honey can perfectly match the label, just as "from similar areas there are good and not-so-good varieties of wine, yet they are all from the same area. The consumer is the final judge."
As James Tew says about honey varieties, I will likewise say about bee books. "The consumer is the final judge." You will have to decide if this book is worthwhile. I think it is. The book is very good and quite attractive, but not perfect. For example, in the example just given, Dr Tew refers to Melaleuca honey as 'popular' - it is if you like vile honey that looks, smells, and tastes like motor oil. I suspect that Tew intended to write Manuka, not Melaleuca. Manuka is touted as an antioxidant honey from New Zealand and its pedigree is important to justify its high price. However, such slips are rare in this book. If you'd like a copy, you'll find a place to order it at the end of this sentence.
---
"The bees are coming!" said the hotel.
If you have been a beekeeper for a long time, you will remember the days when you had to hide your nasty habit (and your nasty bees) from the public. Bees were once very uncool. The Africanized bees terrorized America. One wasp at a picnic was a swarm of angry honey bees in the eyes of ordinary concerned citizens. But times have changed. (Except at the White House lawn - see the story just below.) Last month, I spent a weekend on Vancouver Island, partly a business trip, partly a family holiday. Our hotel - the Chateau Victoria - was fine, reasonably underpriced, and close to the work I needed to do. It is an 18-story building in the Inner Harbour area and it has a restaurant and resident hives of bees. I didn't see the bees, but I saw a sign about them. It was posted in one of the elevators and I reproduced it for you here.
In the recent past, a hotel would not announce the arrival of bees. It might not even admit that bees sometimes visit flowers on the property. But these days, the executive chef serves locally produced honey (very locally produced - the bees are kept at the hotel) and guests are invited to celebrate the arrival of the buzzers. And to buy hotel honey.
This is progress. Another piece of progress worth celebrating is a fantastic garden a few minutes' drive north of downtown Victoria. Butchart Garden's beautiful spring flowers - lots of hyacinths, tulips, azaleas, daffodils - were a delight. But I was intrigued with the history of Butchart Gardens. One hundred years ago, the Butcharts made a fortune by digging a huge hole in their backyard. They excavated limestone, set up furnaces, and produced cement. When mixed with beach sand and stream gravel, the family's cement made the concrete that built Victoria. Mrs Butchart found the dig rather unsightly. The family had lots of money and a nice mansion, but Mrs Butchart was surely the first person to have said, "Not in my backyard" when the limestone quarry started.
NIMBY (Not-in-my-back-yard) is a common enough expression these days when citizens try to keep drug rehab centres and recycling stations out of their neighbourhoods - while admitting this are good and necessary things that should be built in some other neighbourhood. Mrs Butchart of the Gardens was stuck with her ugly stone pit so she went about decorating it. She turned the quarry into a 'Sunken Gardens' and hired a native of Japan to design the nearby Japanese Gardens. An Italian landscaper built the Italian Gardens while elsewhere on the property someone named Rose planted a rose garden. That was a century ago. Today, people pay thirty dollars or so to stroll around the grounds for a day. It has become the iconic Canadian gardens and it proves that abandoned stone quarries can become things of beauty. As Mrs Butchart might have said, "If someone hands you a hole in the ground, plant a garden." Of course, it helps if that hole in the ground made you a millionaire.
Butchart Garden's Sunken Gardens - the old limestone quarry
---
Bees are Good.
This is one of the best things I've seen on the news in a long time. The American president is on the lawn on a beautiful spring afternoon. He's reading Where the Wild Things Are to a hundred kids who are distracted by . . . a BEE. Goodness. From the screaming, you'd think Obama was presenting medical insurance to Congress. Then the president says the three coolest words of his six years in the White House. "Bees are good."
I'd like to say that the kids settled down upon hearing the soothing tone and wise words of their president. But, as I suggested earlier, this was a Congressionalish crowd of children. One screamed out, "I'm scared." Certainly, the child was scared. Where does that come from? Perhaps a parent who has trained the child to fear things that could be beneficial. But, as the American president said, "Bees are good." On this, hopefully we can all agree with him.
---
What's wrong with this picture?
To celebrate spring, Google's Doodle uses an artsy little bumblebee disturbing some pretty flowers. As a beekeeper I am always happy to see bee thingies, but I wish that such artists would consider a wee dab of natural science in their creations. It is a common myth that bees like garden flowers. Usually they do not.
Although bees and flowers partnered up about 100 million years ago, not every flower is enticing to every bee. Among the 20,000 bee species, there are specialized bees (long-tongued bees, early-morning bees, etc.) filing ecological niches matched by specialized flowers (deeply recessed nectaries, early-morning bloomers, etc.). The flowers that are the most attractive to bees seldom match the flowers selected by human eyes to beautify parks and gardens.
I am not a botanist, but it seems to me that the bumblebee in the Google Doodle would have little interest in the flowers shown. The most identifiable, the tulip farthest on the right, is certainly a spring flower, but I have rarely seen any bee on a tulip – unless she is tired, lost, or confused. In the Google image, the tulip is red (as is a flower near the center, which appears to be a carnation). Bee vision is spectrum-shifted. Red (to us) appears black to a bee and is not attractive at all, while the colour we perceive as boring white is often a very attractive ultra-violet in the bee's mind.
Nevertheless, I know it is all the rage to "Save the Bees" (even though they are not disappearing) and it is a fine gesture on the part of the Google Doodlers to show the flowers and the bee. Even if their science is a bit amiss.
---
You, me, the bee, and the wind
Saturday was Windsday here. The forecast claimed we would see record high temperatures and some wind. They were almost right with the temps - it was close to a record and continued the trend of the past two months: warm and dry. T-shirt weather, in the winter, in Canada. But the weather folks were a bit subtle when they told us to expect some wind. It was the wind that legends are made of.
What happens to bees on a windy day? Even though it was quite mild and honey bees would normally enjoy a bit of exercise, windy-day bees stay home, eat honey, and play cards. Or they become argumentative grumps like the rest of us. Beekeepers know that bees are aggressive on windy days. This weekend, it would have been impossible to work bees anyway. The smoker couldn't be tamed and lids and frames would be airlifted to other apiaries. But it is windy-day aggression that intrigues me at the moment.
Decades ago, scientists noted that flat, expansive, windy places have sadder people. Statistically, North Dakota leads the nation in both depression and dusty wind. Abroad, Hungary has long been studied as Europe's nation with the highest rate of suicide and depression. (Hungary is a land-locked, mostly flat country with a huge windy prairie.) Is there a link between the wind and depression statistics, or are these just coincidental? The Swiss Meteorological Institute believed the link and looked into health problems appearing during spells when the Foehn Winds blew down from the Alps. The people at the institute attributed stress, anxiety, depression, exhaustion, fatigue, dizziness, and body aches to the winds, resulting in increased rates of suicide and highway accidents. It seems winds can sometimes bring misery and chaos. But why?
Why does the wind make us sad and make our honey bees aggressive? Some research points to the tendency for dry dusty places to have more particulate ionization during windy weather. The friction of moving air with and against dust ionizes the particles. An excess of positive ions occurs in some windy conditions and it seems that the positive ions are not a very positive thing when it comes to human moods. Possibly related are the effects of living near wind turbines, which may stir the air and further ionize it. Complaints have been coming from people living near large wind farms (you can read a CBC news story here) with people citing depression, elevated blood pressure, and mood swings - although it may simply be the result of the noise and the unsightly turbine views.
Medically, the increased positive ions around our heads may be enough to disrupt neural activity. Even at a very minor level, such disruption could make it harder to concentrate, think, and even motivate movement. The brain may compensate for the stress by working harder, bringing on headaches, fatigue, and sleeplessness. All this may sound like pseudo science (and maybe it is), but there probably is some general malady at play. Obviously, not everyone responds the same and the grumpiness is not universal. Personally, I am not prone to depression, but when I farmed in southern Saskatchewan, my motivation and energy were invariably sapped on windy days.
How about the bees? People and insects don't always respond the same way to similar external pressures, of course. It's not usually safe to extend our attitudes and motivations to our bees - that's a tendency called anthropomorphism and it leads to comments like, "Hey, look at that bee on the clover - do you see that? She's smiling!" It may be true that ionic particulates make bees aggressive, but it may be a stretch to believe their lips are sweetly curled on nice days. However, it is pretty good advice to avoid working bees on days when it is so windy that both the smoker and the smoke become airborne.
---
Knowing Nothing
He might teach you something.
When I wrote my book Bad Beekeeping, the title came to me as a response to meeting a pompous, self-absorbed beekeeper. You know the sort - the person with a year or two experience who has an undeservedly inflated ego. Such a fellow is likely to write a book about his idea of brilliant beekeeping. But if he persists at keeping bees, he may eventually discover that he doesn't really know very much. My favourite beekeeping adage is "Beekeeping is an activity where you start out knowing everything and as the years pass, you figure out you know less and less. Eventually, you realize that you don't know anything at all." The next time you meet a beekeeper who confidently has all the answers, remind yourself of that adage. Then slowly back away from that expert's fountain of wisdom.
If you would like to avoid the pitfalls of knowing everything, there are two things that might fix you. (1) You can keep blundering along with an attitude of smarty-pants-ness and after enough years, your confidence will break and you will become a better beekeeper. Or (2) you can seek out a local beekeeper who seems to have a humble demeanor and years of experience. Marry him/her. If that's not to your liking, see if you can be adopted. Whatever it takes, stick around like granulated honey. Offer to carry a hive tool. Smoke her bees. There is really no better or faster way to learn to be a beekeeper. Our local bee club has a mentor program. Perhaps yours does, too. You can hook up with someone who needs help and offers training. Good luck with your education. May you one day discover that you know nothing. And that's not such a bad thing. It keeps beekeeping interesting.
---
Airport Honey
Looking for a noisy place to keep some bees? Urban beekeepers struggle to find spots to set landing boards for their hives. Most towns and cities have limits on the number of hives that can be kept in the backyard. Three? OK. Thirty? Probably not. But there are a few areas tucked within some city boundaries where as many as 75 colonies are comfortably kept. Big city airports.
I had not thought of this before, but apparently the idea has been around for at least 15 years. Airports want to be noticed as the eco-friendly green patches that they think they are, so inviting bees on the property gets some positive attention. Sometimes the honey is sold at the airports' gift shops, boosting the airports' meagre profits.
Bee hives next to busy airports has probably been happening ever since the Kitty Hawk Apiaries were established in December 1903, but according to a New York Times article, the modern trend dates back to Hamburg, Germany, in 1999. At least a dozen other airports in Europe have also welcomed beekeepers. America's O'Hare has 75 hives, making it both the busiest and the buzziest airport on the continent. Prominently featured in the NY Times is Montreal's Mirabel which has 6,000 beckoning acres. The airport authorities reached out to Montreal's Miel Montreal, a honey makers' cooperative. The group responded with the five hives of bees now kept at the airport.
You might wonder how the bees feel about their new location. It's almost certainly a good thing. The hives are kept out of sight, somewhere on the back 6,000. They aren't going to bother anyone - no one ever wanders around on a commercial airfield and any pilot who runs into the hives has bigger problems to think about than the hives he just hit. The fields at most airports are not farmed so pesticides are not likely an issue. What about the noise? The bees won't complain - they don't have ears.
---
Thermo-Zapper-Gun
My 12-year-old ordered a laser gun from Amazon. Apparently it could burn your eyes out, but we are hoping not to test that. It's a thermometer. The laser part is just a pointer, the laser actually has nothing to do with gauging heat or cold. It just helps you know you are pointing the gun at the right thing. We've tested it on snow (-2C), boiling water (94C here along the Rockies), armpits (34C). It seems accurate and it's certainly easy to use. It's not a toy. Maybe you know all about it already - I heard it's available at Costco. (I wouldn't know about that because I was expelled from their campus the day I cleaned out their week's sugar supply.) This gun cost my boy less than $20, delivery included, from Amazon.ca
I can see a lot of beekeeping applications for the thermal gun. It could be a quick way of checking the temperature of honey tanks and wax melters. When people ask me about heating honey before straining it, I'd always say, "make it hot, but not too hot." 140 Fahrenheit (60 C) is good, then strain the honey and cool it as quickly as you can. (Containers into cold water usually does the trick.) But lacking a thermometer, I'd suggest making the tank so hot you could just barely keep your hand on it - and not any hotter than that. But then I found out my palms are pretty thick and can take more heat than those of some other folks. The thermo-gun removes ambiguity. If you make a freezer to store your comb honey, you can check all the corners to see that the temp is consistent and heat is not leaking in anywhere. I am also thinking that you might use it to check your hives mid-winter. Shining the red laser beam into a hive's top entrance should result in a temperature warmer than ambient air. You might have to do a number of hives to see if any are anomalously cold (which might be dead) or warm (the bees might already be up in the top chamber and may soon be hungry). I won't collect a commission on this device, but you might make use of it, so here are links to (Canada) Amazon.ca and (USA) Amazon.com. If you think of some other uses, let me know.
---
Honey on tap?
In the past, I've written rather cynically about the various kickstarter projects aimed at people who care about bees. Entrepreneurs have been sucking up cash to "Save the Bees" and to sponsor new beehive designs for quite a few years. Here's another. I won't go all cynical on you yet - I'll give these people a chance to prove themselves first. Watch their video. If for nothing else, for the inspiring music, the resurrected 1960s hippies, and the three-year-old girl dipping her finger into the honey. The video is expertly (and I guess, expensively) designed to tug at your heart and your purse. But there is a fundamental flaw in the whole scheme.
If it works at all, the honey flow beehive (www.honeyflow.com) deems to separate us yet another step away from our food supply. Rather than becoming intimate with the makers of our honey, we conceal them in a magic box - the ultimate in "Black-box Technology." No need to get your hands dirty, to become aware of the harm - or good - you may be doing to the hive of bees as their honey is being "tapped". (In the southern USA, where I lived for ten years, it was called "robbing the bees" which helps the beekeeper remember what his role really is during harvest.) Don't misunderstand me - I produced over a million pounds of honey from my bees, wrestling with my little colleagues for each ounce. I care about bees, I love honey, I know how to produce it, and I have done the battle. But it was hands-on. If a hive was short of honey and didn't have what it needed for winter, I gave the colony honey. Getting your hands dirty while harvesting gives you a chance to be sure you are not hurting the bees and over-harvesting. It helps you appreciate what the bees did for you more than turning a tap ever will. This honeyflow hive allows us to be much more casual about the process. Perhaps it would be like leading a calf into a box, pushing a lever, and watching hamburgers and hotdogs drop out the other side. OK, that was a bit cynical - I think it was the soundtrack of the video that got to me. Also Sprach Zarathustra would have been more subtle. But if you'd like to support them, "Like our Facebook page, join our mailing list, and stay in the loop," says hive maker Cedar Anderson.
---
Honey hearts.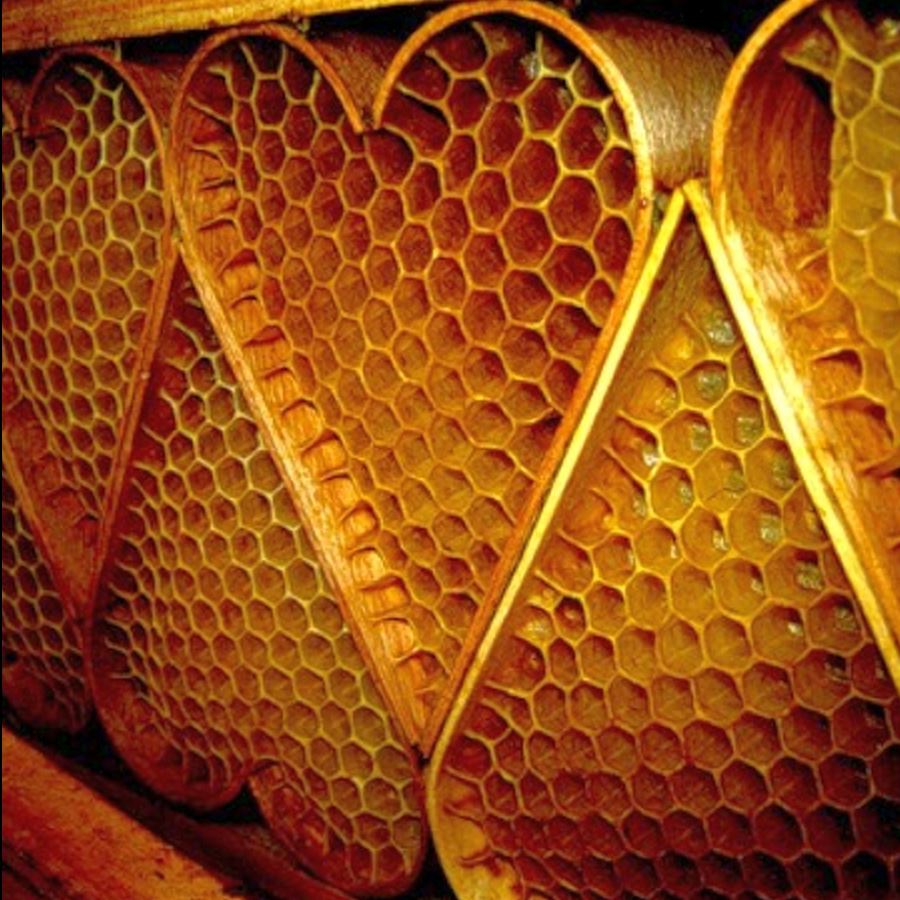 The Ultimate Valentine
I know, beekeepers usually are not sentimental. For most of us, Saint Valentine was some mythical character built upon Lupercalia, an occasion observed by the Romans for three days (February 13–15) each year, and intimately connected to fertility. Like many Roman customs Lupercalia was borrowed by a start-up church in Rome almost 2,000 years ago. They used the holiday to remember a sainted martyr named Valentino who would grow a new heart every night and give his old heart to anyone who was sick, feeble, or heartless. Or maybe those were chocolate hearts for some favourite pigsneys. Anyway, that's about all most beekeepers know about Valentine's Day. But at least one beekeeper - someone whom I shall probably never meet - employed enormous energy and talent to make the really cool heart-shaped comb in today's picture. I ran across it on a Polish language bee-talk forum where members were showing various comb-honey gadgets. I couldn't understand very much of what I read on that site, but the pictures are great. (I have grandparents from Slavic countries and I studied Russian at university, but the Polish language is many degrees above my abilities.) If you have seen these heart-combs before or know the person who makes them, please drop me a note so I can credit the appropriate craftsman. Until then, maybe you can make a few of these yourself. You know, just before taking your special honey out to dinner.
---
Two new beekeeping books.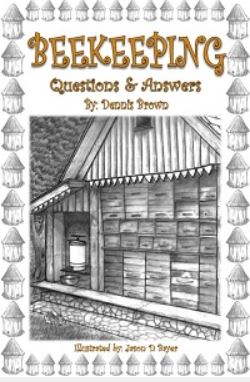 Journeys in Books
A reader of this blog asked if I would add his two books to the ones you see floating around the left edge of this page. I like beekeeping books and own several. Several hundred. A few are ancient classics, written and printed over three hundred years ago. My copy of Bee Treatise (1593) by Thomas Hill predates Shakespeare. Except for edges singed during the Great London Fire, it is in pretty good shape and makes entertaining reading. Sort of like a Shakespearean beekeeping manual. Some 15 generations of beekeepers have held this book.
My Hungarian in-laws have given me a number of central European classics: one is Méhész Naptár (1856), a prized beekeeping manual in my collection. It was printed on the exact same printing press that inked the 1848 declaration of Hungarian independence from Austria. (That revolution failed and its leaders were executed.) Among my other foreign language books is a first edition volume of Nouvelles Observations sur les Abeiles (1792) written by the blind beekeeper Francois Huber, the fellow who figured out how queen bees mate. It is a brilliant and practical book. (Huber describes an observation 'leaf-hive' with frames that flip like pages of a book - a precursor of Langstroth's moveable frame hive.) For easy reading, an account of Huber's story is told by Sara George in The Beekeeper's Apprentice (2002), a romantic novel based on the lives of Huber, his wife, and his beekeeping assistant. By the way, that paperback novel was a bit cheaper than the gilded Huber original I picked from a bin of old books on a trip long ago.
I like these unique and vintage bee books, but most of my beekeeping volumes are modern. They resemble text books and have titles like The Bee Craftsman, The Art of Beekeeping, and The Behaviour and Social Life of Honeybees. There are also dozens of specialized books on things like raising queens, producing comb honey, and diagnosing diseases of honeybees. These are all good instructive volumes, but my favourite beekeeping books are the ones that tell stories about beekeepers. That's part of the reason that I wrote Bad Beekeeping back in 2004. I like stories about the failures and successes of beekeeping, especially when told from a personal perspective. Bad Beekeeping, released just eight years ago, tells the story of my younger days as a commercial beekeeper and it (as I have been told) has become something of a minor classic in the bee literature. I am grateful for that, but I have encountered a number of much better books that tell better yarns about beekeeping of yore.
My favourite personal-account beekeeping book is Fifty Years among the Bees (1911) by C.C. Miller. That book is a true classic. Like me, Miller was from western Pennsylvania and headed west to become a commercial beekeeper. That's pretty much where the similarities end. CC, as most people called Dr Miller, was brilliant - arguably the best beekeeper of his generation. He lived during the "Golden Age of Beekeeping" - an era about a hundred years ago when good beekeepers managed 300 hives, produced 50,000 comb sections a year, and made a comfortable living of it. CC originally trained as a physician. He gave that up because he was in constant fear of making a mistake that might kill someone. He kept bees instead. Fifty Years is a fantastic story, a very personal tale of how one can live a good life as a beekeeper. If you can't find a decent hard-cover edition (Years ago, my father gave me his copy.), you can download it online as a PDF here at Archive.org. The book was published over a hundred years ago, the copyright has expired, and over a thousand people have likewise downloaded Dr Miller's informative and amusing story.
The reader of this blog who asked if I would link his work is Dennis Brown. He runs a website at Lone Star Farms and he offers two books: a question and answer collection and a personal journey tale. I can't say if Mr Brown's book, Beekeeping: A Personal Journey, is as good as Dr CC Miller's Fifty Years, but the title is promising. And if you follow the link to Amazon, you can "Look Inside" and read a few sample pages. I did and I decided to order a copy of the Personal Journey so I can read the rest of the story. I hope I find it interesting. Sometimes the most useful lessons are taught by people who have made a few mistakes and then shared their experiences. It's certainly less painful than creating one's own stupid follies and then trying to recover from them.
---
Rustic Hive
Furniture catalogs may have to add a new line - Rustic Hive. If you are like most commercial beekeepers, you've used bee boxes for desks, boot organizers, and book shelves. When I was a child, we kept bees on the family farm, so hive furniture was vogue there, too. In fact, when the twins were born, their home-birth was a month early and my little sisters spent their first few days in a make-shift beehive crib - an empty rim with a cover nailed on the bottom. As you might guess, my siblings don't suffer much from allergies.
Empty deep supers were my first furniture when I left home when I was a teenager. But Rustic Hive is for grownups, too. Maybe it's hereditary - my daughter has this same great look in her farm house. That's where I took these pictures last week. If you - beekeeper or non-beek - want in on this kitschy new trend, drop me a line and I'll tell you how you may buy your very own Rustic Hive space organizers. (But don't tell Martha Stewart.)
Rustic Hive Storage
in the kid's area and the mud room.
---
This is clearly not honey,
but what about all the other jars?
Is Grocery-Store Honey Safe?
A school chum sent me this: "With everything we hear about honey these days, how do we know how to pick out real honey at the grocery store?"
I answered his question and thought I'd share some of my thoughts here.
You have a reason to be concerned about some of the honey found in grocery stores. As much as one-third is believed to be either mixed with cheaper and less healthy products such as HFCS (high-fructose corn syrup) and sucrose (beet/cane sugar) or the honey may be contaminated with agricultural pesticides - sometimes drifting in from farmers' spraying. As of yet, I have not heard of any adult becoming ill from honey contaminants, though low-levels of unwanted chemicals from any and all food sources may have a cumulative effect.
You have probably heard that "germs can't live in honey". This is true for most bacteria which find the mild acidity and hygroscopicity (ie, water-sucking quality) of honey deadly. Imported honey is rigorously sampled and inspected by USDA/Customs inspectors. Unfortunately, domestic American honey is not inspected except in rare circumstances when it is already on the store shelf. Nevertheless, honey purchased in stores is almost always safe when consumed by people over the age of 2. So, the issue is really more about food quality than food safety.
The quality of most honey in stores is fine. But how can you recognize which is the real honey and which is adulterated by HFCS or sucrose? You can't, unless it is clearly labeled as a "honey blend" as shown in this picture. (By the way, this example is legal and probably tastes fine. It sells for $2.65 US for 12 ounces, or $3.53/lb) - but a honey blend is obviously not pure honey. To be sure that most honey on US grocery shelves is good, a tiny sampling is randomly pulled off shelves in most states and is run through a battery of tests. If found adulterated, the honey is recalled and the packer is usually hit with a fine and some embarrassment.
To complicate things:
- Honey has a range of colours. It is almost black if the floral source is buckwheat and almost white if it is high-prairie alfalfa. Goldenrod, common in the eastern states, is dark yellow - we promoted it as golden. Other flower sources yield the whole spectrum of colours. An odd colour has nothing to do with adulteration or contamination.
- Honey has a variety of flavours and scents. Just as every flower smells different, the flowers' nectars give differently flavoured honey. Again, this is not a good way of selecting honey – unless the honey smells fermented. Fermentation (eventually leading to vinegar or mead) happens if honey has more that 18.6% water content. Packers avoid mixing too much water with the honey they pack because it might spoil and the shopkeeper will demand a recall. Honey sold in stores is usually 18 to 18.6% moisture. Nectar from flowers is 90% water, so the busy bees remove the excess by fanning their wings inside the hive, drying the nectar.
- Honey granulates. Usually. You have seen "sugared" or "crystallized" honey. This happens to most pure natural honey. As noted above, honey naturally contains water, making it a supersaturated solution. With time, solids crystallize. However, some honey never crystallizes – for example, the famous tupelo honey from the rivers banks of north Florida. (Watch the movie Ulee's Gold, starring Peter Fonda, for more about that.) Granulation correlates with a higher fructose/glucose ratio. Crystallized honey can be made liquid by heating a jar in the microwave or in hot water. (Too much heat can "cook" the honey, ruining its flavour and darkening it, so be careful.)
- Pollen in honey. Raw, locally produced honey usually has a bit of healthy local pollen in it. Some buyers use this as a test of quality, thinking that honey without pollen is not real honey. They are wrong about this. Others claim pollen in honey is a contaminant - so far governments have not seen pollen as an impurity. Most honey sold in stores has been filtered to remove pollen, but it is still honey. The amount of pollen in raw, unfiltered honey varies but is too small to detect without a microscope. Some consumers feel that those extremely low doses of pollen helps their resistance against allergies.
The real deal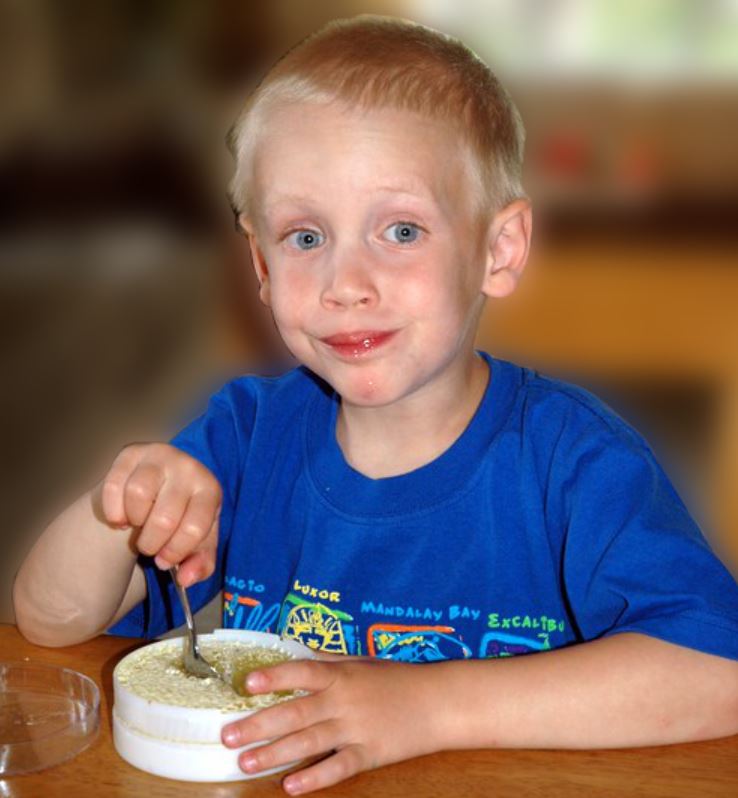 Bottom line? If you can find a local beekeeper, check out his/her shop and buy direct from the producer. The honey and shop will not be inspected, but if the outfit looks clean, neat, and organized, it is probably better than the majority of (um, rather messy) honey businesses I have seen across the USA. You might also consider buying old-fashioned comb honey. Comb honey is not processed in any way – it is taken straight from the hives in the form it is created. No suspicious mixing or handling by potentially dirty equipment. If you do use comb honey, then you can squeeze it or carefully melt it to get the liquid honey out. Or just eat the honey, natural beeswax and all. As a disclosure, my daughter's honey farm specializes in comb honey. (She and her husband bought our Canadian farm a few years ago.) She ships all over the world. (Believe it or not, China is a big customer of Canadian comb honey!)
But I think you still might like to find a local producer to support. Check out the farmers markets and ask the vendor if you could drop by at their farm and pick up some honey. I also would not totally ignore the grocery stores. Honey in retail shops is often cheaper, convenient, and as I mentioned, even if it falls into the adulterated and contaminated group, it is 'probably' not going to be harmful. However, if you want to be sure it is real and imbues health, check out the local beekeepers.
Post Script: That sums up how I answered my friend, a non-beekeeper, when he asked about buying honey from a grocery store. If you are a beekeeper or honey packer reading this, let me know if you think I've missed something important and I'll pass it along to readers.
---
Long lines of hives are not recommended,
but upper vents definitely are.
Cold Bees
It's not the cold, it's the humidity. We hear people say this a lot. That's one reason 20º Fahrenheit (-7º C) in the eastern US can feel a lot colder than -20º in Montana. Generally, it's the humidity that makes a colony of bees suffer the most through winter, too. As bees eat honey they physically convert some of the honey's calories into heat, keeping the center of their nest far above the ambient temperature. You might remember that when animals eat, sugars combine with oxygen and carbon dioxide and water are respired. Remember that honey is about 17% water. If the bees eat 50 pounds of honey, over 8 pounds of water is released. If that moisture doesn't leave the bees' nest, it rises, condenses above the bees, and drips back down on the cluster. That is deadly.
The reason so many successful beekeepers keep upper entrances open during the winter is to allow excess moisture to drift out and away from the hive. You have probably heard the recipe for a good bee location - among other things, southern exposure, sloping landscape, and good air flow are usually cited. These all help keep the air around the bee yard dry. But first the water has to exit the colony. In addition to upper vents, I have even seen wintered hives supplied with burlap sacks draped over the top bars and extended out beyond the cover, thus serving as a moisture-wick. The wee bit of exposed burlap tends to stay dry and a capillary effect sets in, drawing moisture out of the hive. I have not seen this used out here in the dry west, but upper vents are almost always supplied.
Does the cold kill bees? Of course it does. A small cluster of bees exposed to minus 20º for a few hours will die. This is one reason package shippers don't like to send 2-pound packages off to northern states in March. Nor should you install a package in bitterly cold weather. But large clusters of bees inside insulated hives typically survive even the longest coldest winters. That's why beekeeping can be successful in the far north. The bees hug tightly for months, then quickly build strong spring populations and gather honey 16 hours a day during the long summertime flower feasts.
It's not the cold, it's the humidity. Seems to be true for bees, too. A Swedish beekeeper once told me that in his country a beekeeper's success is not measured by pounds of honey produced but by the number of colonies that survive the winter. And, he told me, "I always expect 100% of the colonies to be good in the spring." I have never had such good results in the north, but I always felt that any losses greater than 15% meant I was doing something wrong. Perfect wintering may be almost impossible to achieve in a larger outfit, but anything over one hive in six dead probably means some part of your wintering system needs to be fixed.
---
Here Comes the Sun
If you are in the far north, your bees are not quite at mid-point in their winter marathon. But days are getting longer. It is amazing how bees - and flowering plants - recognize even a few minutes of extra light. I kept bees in Florida for about a dozen winters and was always surprised by the maples and willows during the first week of January. The trees were already waking up from their three-week winter drowse. Buds were swelling and maples were producing pollen in early January. In central Florida, days are 9 minutes longer now than on the shortest day of the year. The plants notice. And the bees, of course, notice the plants.
Central Florida has seasons. Some trees loose leaves; there might be frost. And after six months of shortening daylight, the winter's brief pause, and then slowly lengthening days, flowers like to blossom. Central Florida - home to some of the country's best queen breeders - experiences a genuine spring. But some places don't enjoy such a reawakening. I heard that queen breeders on Hawaii's big island may take some colonies part way up Mounts Kea or Loa (which rise over 13,000 feet or 4,000 metres above sea level) so the bees enjoy a touch of winter. A few weeks later, they move the dormant bees back to the eternal gardens below the looming mountains, having tricked the bees into believing spring has arrived. The advantage to all this mischievous chicanery by the queen breeders is that the bees raise more drones, and queen cell production is easier. The bees think it is spring - and they do what bees are supposed to do in the spring.
Meanwhile, here in western Canada, a few hours north of Montana, the days are also getting longer. Once again we have survived the worst that the tilted Earth can throw at us. Our shortest day had less than 8 hours but already we've won back a delightful amount of sunshine. But the Canadian flowers - buried under snow - don't seem to know it yet.
---
---