From the Book, Bad Beekeeping, by Ron Miksha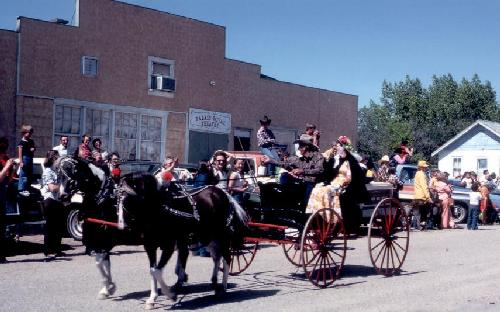 The Val Marie Parade
Joe and I stood along Main, east of the Bryan Trottier Arena. Joe, just fifteen, had never seen a live Saskatchewan parade before. Eighteen floats drifted by. We cheered for every one of them. People must have worked for a week to prepare for the ten minute show. We watched the last clown on a bicycle pass. Then the parade was out of sight, having gone west along Main, then south on Highway 4. Joe and I clapped. Loudly. There were not many of us on the street, most of the people of Val Marie were in the parade. We felt this had all been done for Joe and me. We turned to leave.
"Don't go yet." A voice said from behind.
We stayed. Unsure why. But in a moment, the parade that had passed us by was back, having completed the short loop around the village. The music started again. The fire engine clanged past, followed by the decorated truck, the senior's flat bed trailer, the whole parade.
Everyone on the street waved and cheered, as if they had never seen a parade before.
RETURN