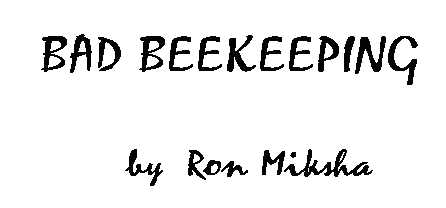 Following are a few short passages from
Chapter 21: Departure...
Bright summer afternoon. Alfalfa and wild clover blooming. An excited young bee lands at the entrance of a hive. The bee's tummy is full of nectar, its small pollen baskets dusted with yellow powder. Confused, a novice, the young bee has landed at a wrong hive. It happens. Bees get lost. But the guard bees of this hive, overwhelmed by the sweet scent of fresh nectar becoming honey within the walls of their nest, ignore the mistake. Besides, the lost bee is bringing pollen and nectar. The new bee becomes a member of the hive. From now on, it will build new combs and store honey and pollen to profit the adopted colony. Life goes on for the bee and for the hive.
The same guard bees, on a windy day in late autumn, would not be so tolerant. With winter coming, they would drag old drones from the hive to their deaths. On a bad day, guards would reject a young lost bee as a thieving opportunist. They would grab the innocent insect, shred its wings and legs. And discard the mutilated body.
Revenue Canada is the same as the IRS in the States, except it's Canadian and therefore even more polite. During my eighth year of beekeeping in Val Marie, things were not going very well. This drew the attention of federal auditors. They were wondering how I was able to eat while continually posting a negative income. They sent someone down from Regina to investigate.

"See you next week, Sincerely, Ashri Rashani," said the letter. It arrived at a bad time - busy season. But I doubt there is a good time to get a letter like that from Revenue Canada. It was summer. I was working fourteen hours a day. I didn't know if I could find the shoe boxes labeled "1983" and "1984." I knew I wouldn't have time to look at the papers - even if I found them.

In those days, in rural Canada, the auditor would drive out to the village or farm house. This gave the poor guy stuck in the office a chance to meet his people and to run up a tab on his expense account. Most auditors sent to investigate farms were new on the job, usually accountants in training. Not a pleasant job.

I told a neighbour that the tax man was coming. Soon I had calls from people all over Val Marie, offering me advice on what to say, what not to say; what to hide, and how to hide it. The recurring wisdom of my neighbours manifested an urgent suggestion that I not let the tax man take any papers away from my house. "They take your papers, they lose your papers, then they give you a re-assessment and a big tax bill. And you can't prove anything because they took your papers and they lost your papers. It happened to Eric Neusonne." According to various versions of this local legend, Eric, a south Saskatchewan farmer, let the tax man take his papers away for audit in Regina. They were accidentally shredded. Then Eric was told that he owed three million dollars in back taxes. He had to sell his farm and move away. Now he lives under a bridge in Calgary, I was told.

I didn't want to end up under a bridge in Calgary. But I didn't want to be uncooperative, either. I wasn't sure what to expect from Agent Rashani when he tapped on my door. I told Ashri the story about Eric who lives under the bridge and he agreed that it happens all the time, but he said he'd be very careful with my papers. I told him he could live in my house as long as he wanted, or at least until he got the audit done, but he really wanted to take my bills, receipts, and bank statements and go away. Finally, we compromised. He could take my papers for two days but he wouldn't travel any farther than a hundred kilometers. That put him in Gravelbourg where he booked a room and set up a temporary office.

When Ashri returned (with my papers) two days later, I was sticky from honey. I had been using my bee smoker and I smelled like a burning hay stack. He was polite anyway. He asked me if there was any reasonable explanation as to why I would claim ninety per cent of my truck expenses one year, and a hundred per cent the next.

"Didn't you sometimes use the truck for personal use?" he asked.

"Oops." I said.

"Well, then, you owe us two hundred and fifty dollars for 1983, but then I noticed that you forgot to use a tax credit for two hundred twenty dollars in 1984, so the two mistakes cancel each other out. We won't be changing your tax bill."

Then, he wanted to leave. But at this point, I felt like I had established a rapport with Agent Rashani. He was my friend, perhaps. I asked him if he had any advice - after all, I didn't have a balanced, double entry accounting system. I had shoe boxes. I expected he would want to tell me how to keep better books.

"No, no, your papers were all together. No problem. I see this sort of mess all the time. But if you would like some advice, Mr. Ron Miksha, I have gone through two years of your incomes and expenses and I would advise you to consider a better way of making a living than keeping bees. You should quit this beekeeping as soon as possible..."

***

On our last week in Val Marie, we drove to Climax. We met Dale and Dora Bennet at the United Church. Later, while Dora worked on Sunday supper, Dale offered to take us on a tour. A south Saskatchewan loop tour. Erika and David played in the living room, in sight of Dora. Sandy, Dale, and I climbed into Dale's old farm truck and headed south on a grid road.

A trail of July dust followed us. Dale slowed and stopped his truck. We hopped out. "There," he said pointing to a marshy slough, "that's where I learned how to swim. It had a beach, with sand, forty years ago. Farmers dug the slough out, it was a pretty big lake then. Everyone brought a picnic lunch, we'd spend the whole day. There'd be a hundred people splashing about. Right there." Dale was still pointing. Pointing at a mass of weeds, alkali grass, willow.

"Where'd those hundred people come from? Bracken? Climax?" I asked.

"Oh, some of them. Mostly it was folks who lived right around here." He spread his arms out, pointing towards big wheat fields and small patches of poplar trees. "No one lives on this road anymore, but it used to have hundreds of people. Hundreds. Every quarter mile, there was another farm house, another big family. No one lives here at all anymore."

No one lives here anymore. Once, farmers worked small patches of land, kept hogs and cows and chickens. Tractors were simple enough to repair with chicken fence wire and a screw driver. Not a Phillip's or a Robertson's or a plastic handled metric screw driver. Just a simple slotted one. That and some chicken wire, a half-inch open- ended wrench and in twenty minutes, seeding could continue. Women canned vegetables, made jam from rhubarb and the wild pin cherries that lined their yards. Families splashed in the lake - now a marsh - on weekends.

Back in the truck, we drove past abandoned farm houses, mason jars and pickling urns long since removed. Dale stopped at the Montana border. We looked across a single strand of barbed wire at American farmland. "Durum," Dale said. "We had a lot of friends across the line. They're mostly gone, too."

At the border, we rode east for a few miles, then took the grid road back north. We passed the place a school had stood twenty years earlier. A small plaque, cemented to a concrete post, marked the spot. Past old wooden barns, boards loose, but still standing up against the wicked prairie winds. Our journey into Saskatchewan's past, present, and future lasted two hours. We had traveled forty miles. A loop through history.

Dale Bennet found no fault with his passengers, two young people joining all the other farmers who had already moved on. "Well, I can't blame any of the folks for leaving. There's lots better ways to make a living than farming..."

RETURN to CHAPTERS

Place an Order for this Book

RETURN to MAIN PAGE

Copyright 2002, All Rights Reserved